What's the difference between batch one and batch two of that whiskey you're searching for, and should you care? Bourbon Review asked the best whiskey makers to find out.
My friend Cameron is a Booker's lover. Truth be told, everyone should be a Booker's lover, but for Cameron, Booker's was the first great whiskey he ever tried. It's a good thing to have a friend who loves a whiskey you can actually buy, and so for the last few years I've always celebrated birthdays and milestones with a quick trip to the store to pick up a bottle.
But a peculiar thing happened a few months ago when he was over at my place after a long work week. I asked him what he'd like to drink and, as expected, he said Booker's. Flush with a substantial collection of recent releases, I pridefully asked the obvious question, "which one?"
Cameron studied the shelf for a moment, before turning to me and asking what turned out to be a far more obvious question, "what's the difference?"
It caught me off guard momentarily that a guy who loves this product wouldn't necessarily know these things, but in the moment both Cameron and I were stumped. I've been on several Booker's Roundtable tasting panels, and I've consumed the stuff professionally for years, but there I was—stumped. Fumbling, I started reading off proof points, before heading to google in search of some tasting breakdowns. But as I searched for some criteria to differentiate Granny's batch from Teresa's, Kitchen Table from Country Ham, it became clear that the question was deeper than what I was going to pull up online.
Why Batching Matters
Contrary to the belief of many a whiskey drinker, there is no magic pipeline going straight into the bottling room, and barrels are not dumped endlessly into it day after day. If they were, the taste of the first and second bottles you bought would likely vary greatly, sometimes spicy, sometimes loaded with caramel sweetness.
Instead, distillers rely on the process of batching to pull a group of barrels together that taste the way the final product is supposed to taste: a little spicy, with an appropriate amount of caramel and all the other expected flavor notes.
Batching is an essential part of the whiskey making process. Everything—short of a single barrel—is batched in some way. Call it mingling, blending, marrying—they're all words for the same process of gathering a number of barrels together to make a unified whiskey in a volume that will (hopefully) meet demand.
But batching is, more than anything, the way distilleries deal with something most whiskey drinkers will never hear them say out loud: flavor drift.
Flavor drift, simply put, is the tendency of whiskey to not always taste the same, batch to batch, year to year. While brand ambassadors would love for us to think otherwise, every barrel of whiskey tastes a little different, and the art of making a familiar product (or not) is in how you combine barrels.
Think about it this way. You're making a 7-year-old bourbon, and you have 100 barrels at 7 years of age. Last year, you had 100 too: 50 that leaned sweet, and 50 that leaned spicy. But this year, you have 60 that lean spicy, and only 40 that lean sweet. Combine them the way you did last year, and you'll have a very different whiskey. Keep the proportions the same as last year, and you'll only be able to bottle 80 barrels worth of whiskey.
This is the perennial problem of distilleries big and small. It accounts for supply dips, and for brands that want to taste the same every year, it can create huge problems. It's why age statements are dropped, and it's why sometimes distilleries need to use 8-year stock in a 7-year bottle just to make production quotes.
Fighting Flavor Drift
Some distillers are emphatic about keeping those batches tasting the same from one release to the next—to the point that you as a consumer don't even know they're coming from different batches. Maker's Mark master distiller Denny Potter takes pride in it when I tell him I think Maker's Mark is among the most consistent whiskeys on the market.
We've been barreling it for 66 years," explains Potter, "So it's extremely important for us to make sure we're not moving off that mark."
Maker's Mark is important to this conversation because, more than any other distillery, they've gone to great lengths to combat flavor drift from day one. "We haven't changed our process," he says. "We still use the same style roller mill, we still run the 10,000 gallon batch size, which for us is about 25 barrels, we go in the barrel at 110."
Most of all, Maker's Mark combats flavor drift at the level of the individual barrel, by rotating their warehouses. "Every barrel that goes in the warehouse goes on the top three floors, and after three summers gets rotated down," he says, "so the impact of climate isn't as extreme."
Maker's Mark is, in effect, trying to eliminate extreme fluctuations in their liquid. "If you have a barrel that sits on the top floor for six years," explains Potter, "you could see some radical variation in flavor. For the most part, there's no better way to try to control consistency from barrel to barrel, which has always been our focus. It's not necessarily batch to batch. We pretty much want every barrel that comes out of the warehouse to taste the same as the one before it."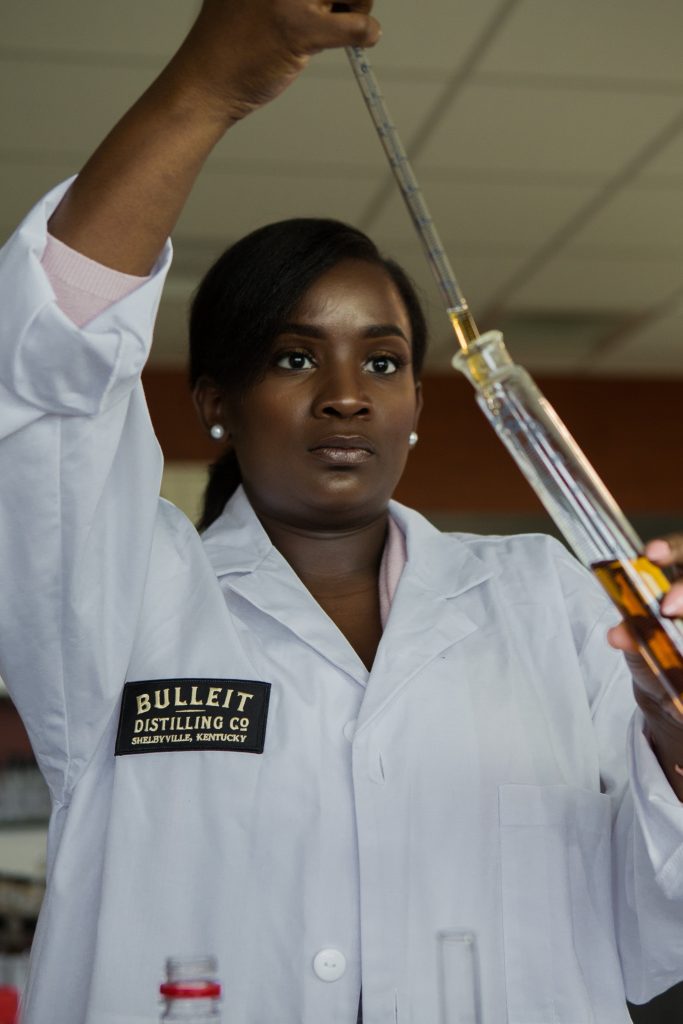 50 miles away in the Bulleit sensory lab, the process looks decidedly different. Bulleit also aims to eliminate drift batch to batch, and so sensory tests are done to codify barrels in terms of deviations from the "house style."
When Bulleit looks at barrel samples, they're given codes based on how they taste. "We have unique identifiers," explains Whiskey blender Eboni Major, "so there are some that will get deviated to have a four point quality rating. And then they have letters that go after it. So a quality four would be your standard and if it's slightly deviated it would get rated quality three. It could be light. It could be woody."
Major explains that prospective new batches have to be indiscernible from previous batches. They test this by blind nosing the new batch against the old stuff to see how unique it is. "If you can pick the same glass five times in a row," she says, "you start over [with the batch]. The purpose is to not be able to detect a difference between the two. So you can look out in a few formulas a year or you can look out in 24 formulas until you get that."
Major, who created the first ever Bulleit Blender's Select, says that the identification system also allows them to tag and track things that are interesting and might eventually end up in innovations. We have some that identify deviations, but we also have some that are uniquely different and can be used for other things in the future," she explains. "You can have something that's fruitier than what you expected, or richer, and that's how you can identify those barrels for future use."
Mastering Controlled Drift
But deviations can also be a great thing. While some whiskeys are best batched to be reliably similar, the modern whiskey collector is looking for those deviations. It's the reason the single barrel market is so competitive for weird and novelty whiskeys. But it's also why certain small batches have obsessive, collect-them-all followings.
Nobody is perhaps more aware of that trend than Buffalo Trace's master blender, Drew Mayville. Mayville, who came from Diageo and Seagram's previously, cut his blending teeth abolishing flavor drift. But once he joined the Buffalo Trace team, he was introduced to the idea of single barrels. "That's where my whole world shifted," he says.
Mayville is the guy who has to hear about it when critics blast the Antique Collection as "not as good as last year." "It's frustrating sometimes," he says, "because you go to a lot of trouble to make sure we're in the same taste profile. Customers are customers, but unfortunately I think sometimes their sensory memory is really short."
Living with flavor drift is an inherent part of blending older whiskey stocks—there's less to work with. Luckily, older whiskey releases are often where people desire something new and different from year to year.
Old Forester plays this exact problem up with their Birthday Bourbon releases; those annual batches are usually very deviated from the norm.
Mayville sees the Buffalo Trace Antique Collection similarly. "Actually, if it's too similar I'm not a happy camper. I like it to be slightly different [year to year], because consumers really expect it to be slightly different… I think because of the proposition that it's a yearly release."
But change doesn't mean an absence of a house style, nor does it mean an absence of standards. And once a whiskey's internal "style" is established, changes are rare to the program.
Which isn't to say things won't be changed later. "We changed the Eagle Rare 17 to 101 from 90," Mayville explains, "but that created a lot of interest and buzz, and people liked it. But that's not too often—we don't do that a lot."
The Point of It All
So what defines and differentiates batches varies from brand to brand? For a sourced whiskey like Metallica's Blackened, for instance, which is blended and then married in a warehouse full of red-lining speakers blasting Metallica's music, the variation from batch to batch is, primarily, the playlist the whiskey listens to. Whether the choice of songs has an impact on the flavor isn't as important as the fact that the drinker knows something intimate about that whiskey's journey.
Distilleries like Heaven Hill, meanwhile, feel comfortable exploring different proof points with lines like Elijah Craig Barrel Proof, and Larceny Barrel Proof. And they like exploring different ages with products like the Old Fitzgerald decanter series.
Heaven Hill master distiller Conor O'Driscoll says that the wide range of age statements from that line so far is in keeping with the brand's identity: well-aged Bottled-in-Bond bourbon. Still, there are some limits they've self imposed: there's a floor on the aging. "In very blunt terms? I don't think we'll ever bring out a four year old, Old Fitz decanter and say, hey, this is good. I think that would not be a smart call. "But again, you know, we've got a 9- year-old, we have a 15-year-old and both have been really well received."
But just because Old Fitz may see a wide range of ages, that doesn't mean there aren't style limitations to be considered. And there are internal limitations, with regards to how barrels of the mash bill are racked to age. "We also know we need to put some away for Old Fitz, right? It's going to age longer. So it needs to be on lower floors of maybe bigger warehouses."
O'Driscoll says Old Fitz decanter whiskey needs to be stored in certain types of warehouses. "They're big brick concrete buildings that have much more gentle climate swings through the year, than maybe a small tin-sided, one, so the maturation is a lot softer… gentler."
The house style, essentially, is a more free-flowing process than many other whiskeys made by Heaven Hill; rather than matching flavor from batch to batch, they're essentially looking to create the best whiskey they can from supply that meets the requirements to be "Old Fitz Decanter" bourbon, which means a lot more drift in what the final product actually tastes like—and the goal is something extraordinary.
It turns out, that's more or less how Booker's is made, too.
Most of us know the story: Booker's in an uncut, unfiltered version of Beam bourbon created by the late Booker Noe decades ago. Each batch is around 7 years of age (some under, some over), and bottled at 120-plus proof in a style that would be considered as big and full of life as Booker himself.
But warehouse placement is also a profoundly important part of Booker's, especially compared with a sister brand like Knob Creek. Booker's barrels are mostly from the center of the Beam warehouses, which gives them a more rounded profile.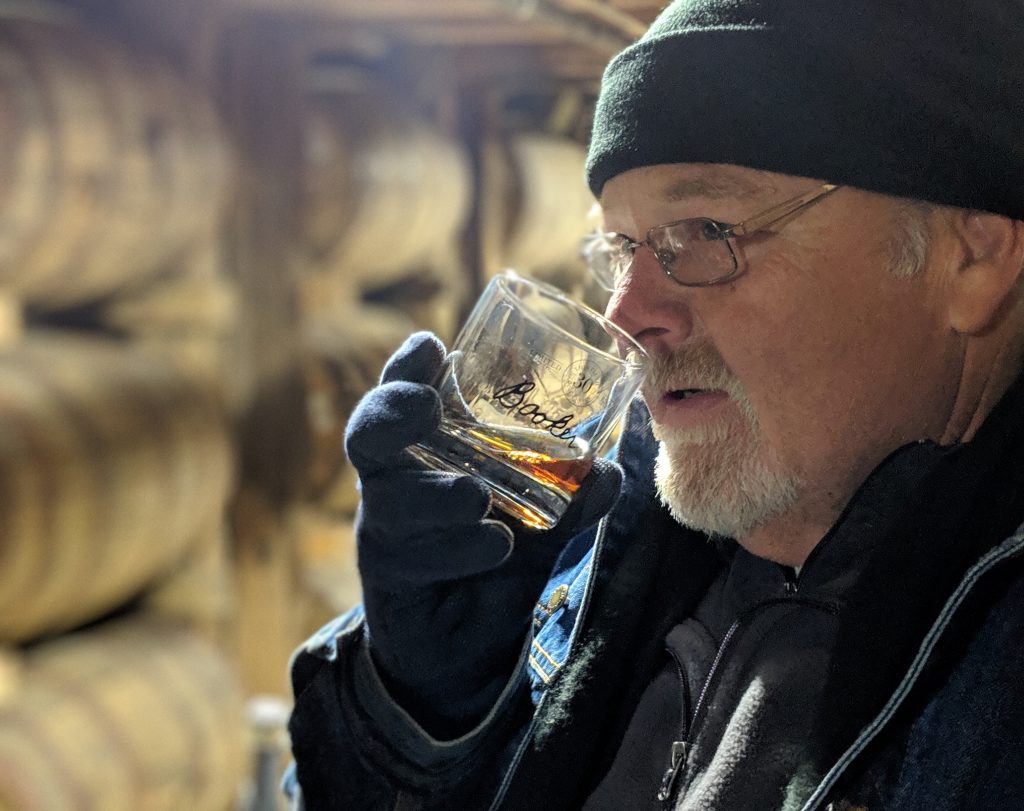 "It's different," explains Fred Noe, "in the fact that we'll take the [Knob Creek] barrels and scatter them within a bigger portion of the rackhouse, we'll go up higher and go down lower. We use about 80 percent of the house for Knob Creek. And then we'll mingle all the barrels together from top, middle and low, where with Booker's, it stays pretty close to the center of the warehouse. We take all the barrels, but they're not that varied."
Where Knob Creek is batched for consistency, the approach is more about "good" for Booker's. Part of this comes from a more limited supply: Booker's batches will max out around 300 barrels, where Knob Creek will be double that from batch to batch.
But it's also about finding nuance within the style of whiskey his dad created. Noe says that's what the Booker's lovers want. "We try to make them a little different if possible, because, if you don't it's just the same thing. Then what's the point of naming the batches? Some people, some loyal fans, they like to go back and compare one to another."
What's really important about a bourbon like bookers—what it comes down to—is what tastes good to Fred, in that moment when he's drinking it.
"When we just do a batch," he says "we play with it, look for something that suits my palate. And it can change from batch to batch. In the winter time, I know what tastes good to me is different than, say, if I did a batch today, when it's 90 degrees outside, you know, your taste buds… you're expecting a different flavor."
For Noe and whiskeys like Booker's, the value of batches then isn't so much in the ratings, or the numbers, but in the story. For that reason, maybe trying every batch is a worthwhile effort, once you've found a whiskey you love.