It's been a tough year for bourbon bars. From tiny taverns in one horse towns to the sleekest lounges in the biggest cities, they've needed every bit of our support. Some bars have been closed for months, waiting for a safe time to reopen. Some have hustled through the dark days, bottling drinks to go and selling bourbon by the bottle, doubling down on sanitizing, scrambling to set up outdoor dining, and working every shift to the fullest. And still others have shut their doors for good, with one last call closing out years of memories.
We believe that 2020 is the most important year yet to honor our favorite bars, and in partnership with Buffalo Trace, we've never been more proud to bring you our list of America's Best Bourbon Bars. Every year since 2013, our editorial board has combed the country to find the places that have the most expansive whiskey lists, mix the most exciting cocktails, select the best single barrels, and most importantly – have a team of hardworking, passionate, and knowledgeable bourbon lovers behind the bar.
We've divided our list into five regions, each known for something special. Covid restrictions on bars vary from region to region, but all five have amazing places fighting to survive in these stressful and uncertain times. With 36 bars in Bourbon Country, 13 in the Northeast, 22 in the Midwest, 24 in the South, and 20 in the West, our 2020 list is our longest yet – and every bar on it deserves the accolade.
Between the pandemic, hurricanes, wild fires, and protests, almost all of our Best Bourbon Bars have closed their doors for at least a few weeks this year. If there's any indication they'll reopen someday, we've kept them live on our list, believing that one day they'll return to pour, mix, and share their love of America's Native Spirit. In the meantime, know that the vast majority of these bars are still open – but that they may not be next year if we don't go have a drink.
So take this as your happy hour hall pass, your day drinking patio permit, or whatever else you need to go see your favorite local bourbon bar. We hope our list helps you hunt down a special spot in your corner of the country – and we hope you raise a glass to all the hard work they've put in this year. Cheers to all of America's Best Bourbon Bars – let's get started with Bourbon Country!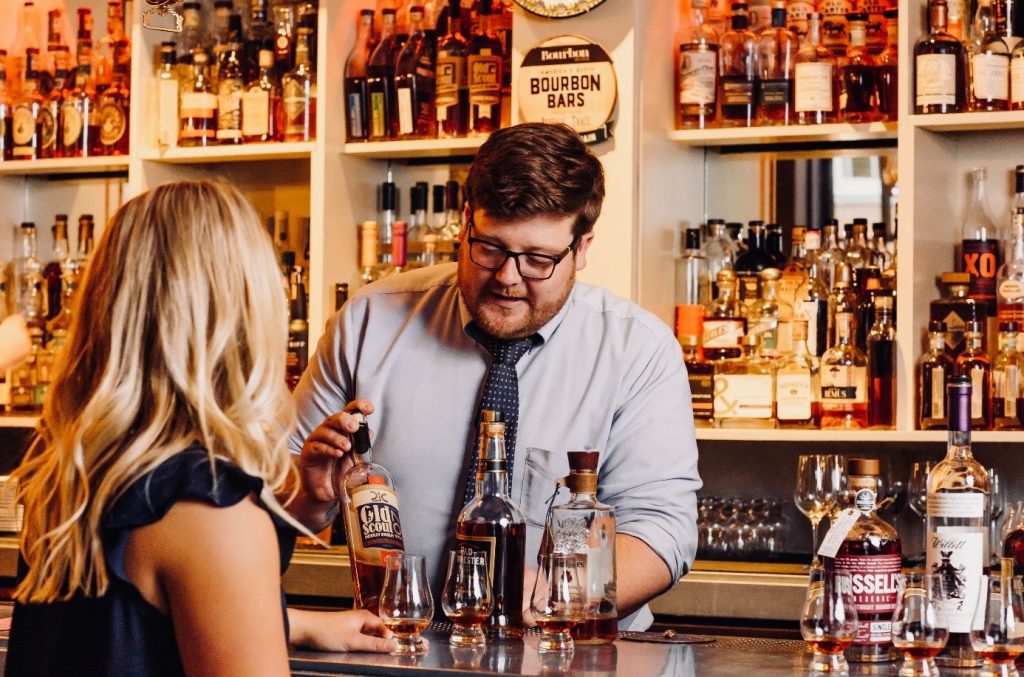 Bourbon Country
While many of the distilleries in Kentucky have shut their doors to tourists, Bourbon Country's bars are powering through the pandemic as safely as they can, determined to show out-of-town guests a good time. This list is home to some of the country's oldest bourbon bars, like the Tousey House Tavern in Bardstown (it's said to be haunted – make a special trip for spooky season). Newcomers to the list include Repeal Oak-Fired Steakhouse, inside the new Hotel Distil in Louisville. With a vintage whiskey menu, private dining in The Barrel Room, and even rooftop bar Bitter's End, its a one stop shop for a bourbon adventure night. In Bourbon Country, there's a special spot for everyone – come find yours this year!
The Amdsen Bourbon Bar, Versailles, KY
Belle's Cocktail House, Lexington, KY
Bluegrass Tavern, Lexington, KY
Bourbon on Rye, Lexington, KY
Goodfellas Distillery, Lexington, KY
OBC Kitchen, Lexington, KY
Merrick Inn, Lexington, KY
Justins' House of Bourbon, Lexington, KY
Whiskey Bear, Lexington, KY
Bourbon's Bistro, Louisville, KY
Doc Crows, Louisville, KY
Down One Bourbon Bar, Louisville, KY
Justins' House of Bourbon, Louisville, KY
Merle's Whiskey Kitchen, Louisville, KY
Proof on Main, Louisville, KY
Repeal Oak-Fired Steakhouse, Louisville, KY
The Silver Dollar, Louisville, KY
Butchertown Grocery, Louisville, KY
Bourbon Barrel Tavern, Elizabethtown, KY
The Miller House, Owensboro, KY
The Blind Pig Bourbon Speakeasy, Bardstown, KY
Bottle and Bond, Bardstown, KY
The Old Talbott Tavern, Bardstown, KY
The Rickhouse, Bardstown, KY
The Old Owl Tavern, Harrodsburg, KY
Jane Barleycorn's Market & Bar, Danville, KY
Prohibition Bourbon Bar, Newport, KY
Tousey House Tavern, Burlington, KY
Bourbon Haus 1841 , Covington, KY
Old Kentucky Bourbon Bar, Covington, KY
Goodfellas Mainstrasse, Covington, KY
Libby's Southern Comfort, Covington, KY
Rich's Proper Food & Drink, Covington, KY
The Globe Covington, Covington, KY
Barrel & Bond, Paducah, KY
Freight House, Paducah, KY
Click through the links below to see the next four regions on our list!