Check on your friends in Kentucky – this weekend would have been the running of the 146th Kentucky Derby, and we are not okay without it. The race Hunter S. Thompson called "Decadent and Depraved" is our state's favorite excuse to let our hair down, but with COVID-19 still keeping us inside, our favorite week of the year has been pushed to September.
The distilleries in Kentucky haven't let us down, though. Dozens like Castle & Key, Jeptha Creed, and Wilderness Trail have sprung into action to shift their production from bourbon to hand sanitizer, while others like Uncle Nearest and Buffalo Trace are focusing their efforts on procuring medical masks for healthcare professionals. Best of all, even with everything our favorite bourbon brands are doing to help in the current crisis, they're still putting out top shelf bottles and exciting new blends to help keep us happy – and give us a great excuse to shop local.
These pours might be on the pricy side, but we think they're worth every penny. And hey – they're still cheaper than a pair of trackside tickets and a seersucker suit. Read on for five fancy new bottles to drink at home during this year's Derby weekend.
16 Years Aged Old Fitzgerald Bottled-in-Bond
Call this Kentucky's consolation prize – the oldest bottle in the wheated Heaven Hill line snuck onto shelves in its home state earlier this month. If you haven't spotted it at your local Kentucky store, don't fret yet – a spokesperson from the distillery confirms that they will be on shelves at the Bourbon Heritage Center in Bardstown as soon as they're able to reopen. Hunt down a 16 Years Aged Old Fitzgerald for around $200.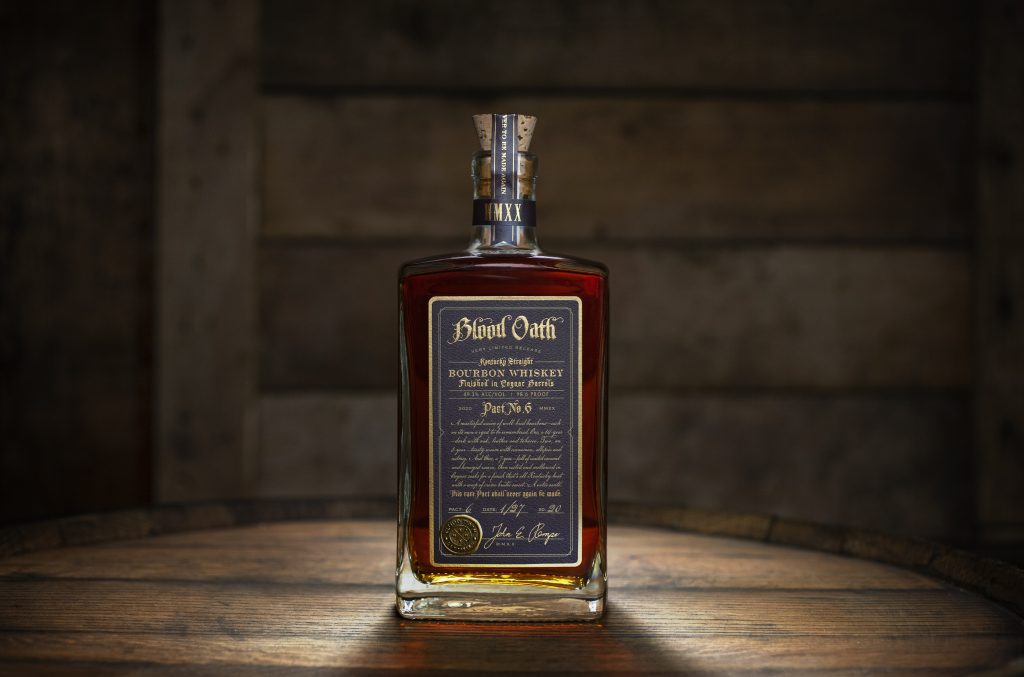 Blood Oath Pact 6
The Blood Oath line from Lux Row Distillers is always something especially unique, and this years blend is no exception. Just as the first weekend in May is (usually) no ordinary weekend, the new Blood Oath is an unusual but delicious blend of three Kentucky Straight Bourbons all made with traditional rye mash bills – a 14-year, an 8-year, and a 7-year – finished in cognac casks for an extra layer of rich, fruity flavor and bottled at 98.6 proof. If you can't make it to grab yours curbside this Friday, May 1st at the distillery, bottles are trucking out across the country as we speak. Score yours for around $125.
Old Carter American Whiskey Batch 3
The third batch of 12-Year American Whiskey from the Old Carter brand brings the heat at 139.2 proof – exactly what you need to make you forget you're not at Churchill Downs. Even the horse on the label talks Derby to us, but with less than 2,500 bottles in existence, this honey-and-clover-heavy high proof whiskey will move fast. Find it now in Kentucky, California, and states near D.C. for around $200.
(Bonus bottles – Batch 4 and 5 of Old Carter Bourbon were released late last month! Find yours for around $200.)
Four Gate Kelvin Collaboration
Four Gate has become a local favorite for lovers of finished whiskey, and with the anniversary of their first ever release this month, there's never been a better time to find out what they're all about. Their latest batch has just hit shelves in collaboration with Kelvin Cooperage, and this blend of 12-year bourbons finished in rum and cognac casks is as decadent as anything you'll drink on Millionaire's Row. Find it now on shelves in Kentucky and Tennessee for around $200.
(Bonus bottles – a few bottles of Four Gate Batch 4 Split Stave, and Batch 5 Foundation might still be around on shelves! As with the Kelvin Collaboration, they're worth the splurge.)
Woodford Reserve Batch Proof
Drinking Woodford Reserve on Derby Day is only fitting, as the brand is the presenting sponsor for the Run for the Roses. The third ever release of Batch Proof has just started arriving on shelves, and at 123.6 its our favorite yet in the high proof line. The fall Master's Collection releases are generally experimental mash bills, but the new spring addition of Batch Proof is simply the Woodford recipe you know and love – with no water added. Get yours for around $150.
(Bonus bottle – The annual Woodford Derby Edition is a full liter of bourbon whiskey with a gorgeous custom label featuring artwork from a former Atlanta Brave.)