While wine may not be the first thing you think of when it comes to pairing with bourbon, we're here to tell you to give it a try. Finished bourbons are becoming more and more popular as distilleries both big and small play with blending and barrel finishing, and we've found cabernet, port, and red blend finishes are some of our favorites. Bourbon's traditional caramel and vanilla flavors are intensified with another layer of oak, and the deep fruit flavors imbued by the barrel makes these spirits all the more special. Try these three below to find your favorite!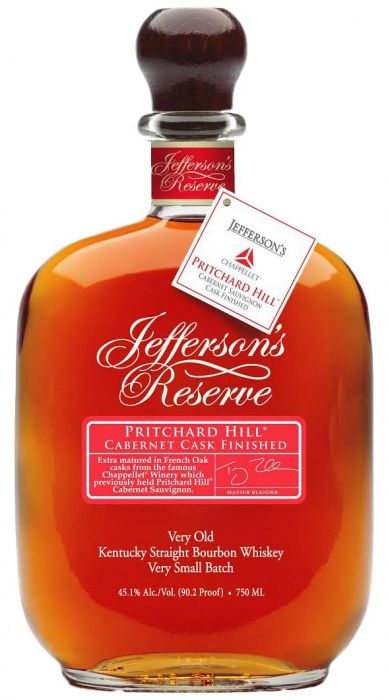 1. Jefferson's Reserve Pritchard Hill Cabernet Cask Finish
If you love a glass of red wine with dessert, this is the bottle for you. The expression begins with Jefferson's Reserve Bourbon, which is then finished for a full year in French oak casks that were first used to age a Napa Valley Cabernet from Chappellet Winery. The distillery reports that the wine barrels add "dark berry, espresso and chocolate" to the whiskey, making this 90.2 proofer the perfect pour to sip with something sweet. Find it here at caskers.com for around $75.
2. Angel's Envy Kentucky Straight Bourbon Finished in Port Wine Barrels
Angel's Envy finishes every whiskey they make, and their standard 4-6 year bourbon finished for 6 months in port wine barrels is a crowd-pleasing classic. At just 86.6 proof it's approachable enough for a beginner to drink neat, while still having plenty of complexities for more experienced drinkers. This should be the most readily available bourbon on our list, but if you don't see it on shelves near you, you can find it here at reservebar.com for around $50. If you are feeling up for some hunting, a 10-year limited edition Cellar Collection expression finished in tawny port wine barrels is on shelves now as well.
3. Bardstown Bourbon Company "The Prisoner"
The latest collaboration from Bardstown Bourbon Company features a 9-year bourbon finished for 18 months in French oak barrels that first held popular red blend "The Prisoner."
"The luxury wine blend's red fruit flavors take the lead on the palate," explained Master Distiller Steve Nally. Bardstown blends their bourbons with a team of bartenders, chefs, and distillers, making this the perfect bourbon to pair with your food. Find this 100 proof whiskey on shelves now for around $125. This isn't BBCo's first wine-adjacent release – last year's Phifer Pavitt Reserve is another red wine barrel finished favorite.
Bonus: Try red wine and bourbon together in this spin on a New York Sour from BBCo!