Angel's Envy has announced the second release in the Cellar Collection, a Kentucky Straight Bourbon Whiskey finished in Tawny Port Wine Barrels.
The Cellar Collection launched last year as a home for the brand's experimental, limited edition finished bourbons. Their first, an Oloroso Sherry finished bourbon, arrived last January.
Next month, the distillery is releasing their Tawny Port Wine finished bourbon. The whiskey began with a 10-year-old Kentucky Straight Bourbon, that was then finished for 10 months in tawny port wine barrels. Just a bit of water was added before it was bottled at 111.6 proof.
"My dad always used to say 'taste is never an accident,' and when we first started dreaming up what Angel's Envy could be, we knew we wanted to explore and push the boundaries of bourbon. Our tawny port finish embodies exactly that," said Wes Henderson, Angel's Envy Chief Innovation Officer and Co-founder.
"When you combine the mellow finish from the tawny port barrels with the profile of our 10-year-old bourbon, you get a richness and complexity that I think our fans will really enjoy."
On the nose, the distillery offers tasting notes of dry fruit and oak. On the palate, we're told to expect black pepper, toasted nuts, clove and delicate cinnamon spice are present, along with a hint of dried apricot. The finish is said to be light and lingering, reminiscent of dried fruit dipped in dark chocolate.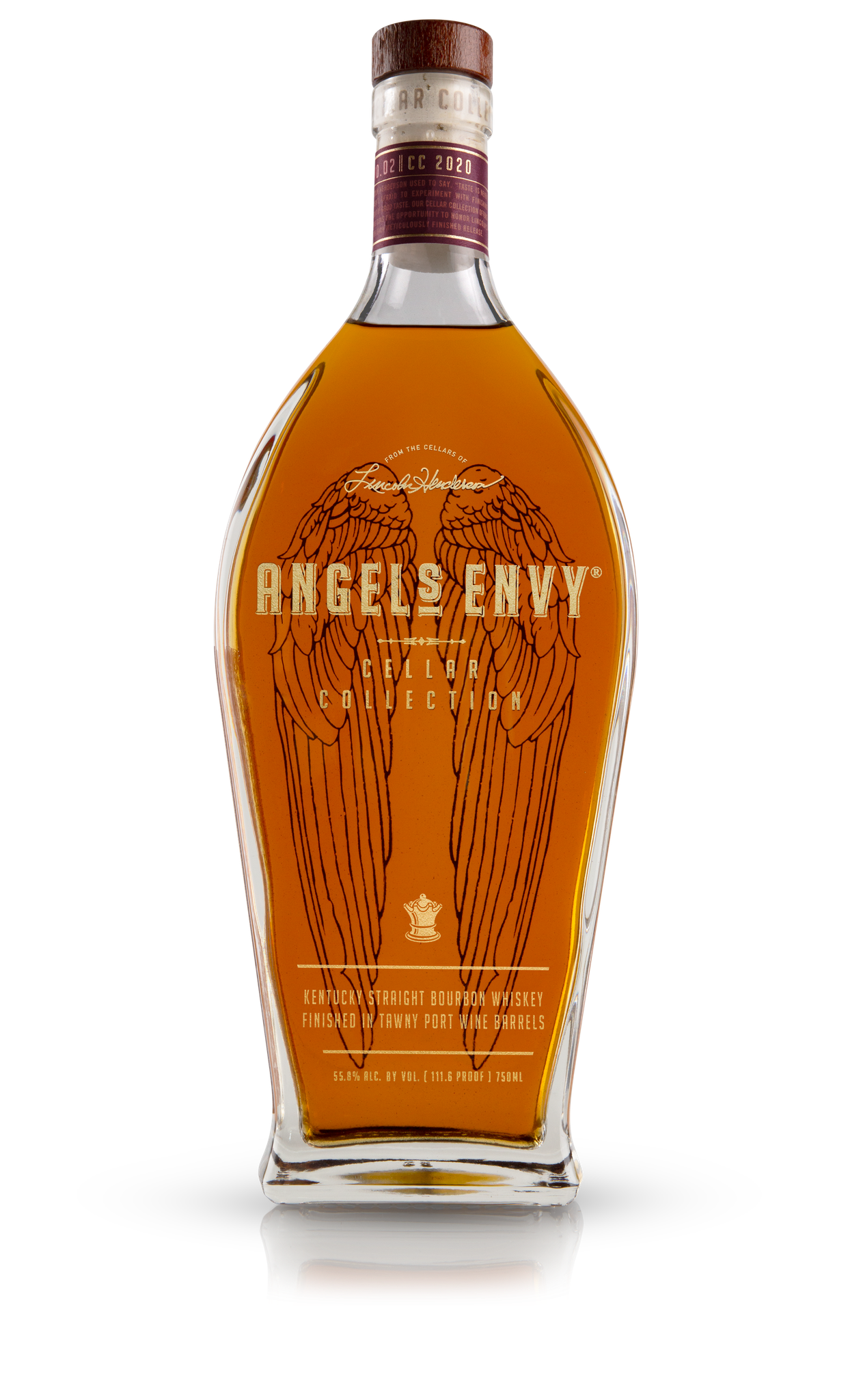 "It's very different from anything we've released so far but I like that. I don't want to be predictable," says Henderson.
Fans of Angel's Envy know that their flagship bourbon is finished in port wine barrels as well, but those barrels once held ruby port. Ruby port, the Hendersons tell us, will be just a couple years old. With less time in those barrels, the port retains its deep "ruby" color. Tawny port, on the other hand, is aged about 5 years, and as the color begins to fade over time, it turns from red to amber.
While the first Cellar Collection expression came out almost exactly a year ago, don't get comfortable with the idea of an annual release. Henderson cautions that while they have plenty of projects in the pipeline, they don't actually have another new release on the calendar.
"We have 17 different things in the works," says Henderson.  
"Not including the ideas we haven't figured out how to execute" adds his son Kyle, Production Manager at the distillery.
"[But] I never wanna be on the innovation trail just to innovate – just when we think we have things that are expressive to say. We want to be a meaningful part of the conversation," expresses Henderson.
This will be the first cellar collection release that will see shelves outside the distillery. Just 5,400 bottles of Angel's Envy Bourbon finished in Tawny Port Wine Barrels will be available for purchase beginning on February 8 at select retailers in KY, CA, FL, IL, NY and TN, as well as at the Angel's Envy distillery in downtown Louisville for a suggested retail price of around $250.
Members of Angel's Envy 500 Main were given first option to purchase bottles – link here to sign up to be in the know for future releases and order your bottle now.