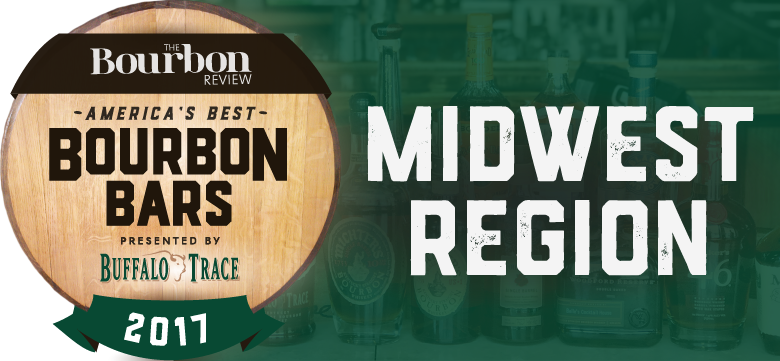 Big Star, Chicago, Ill:  Big Star uses a unique combination of tacos, $3 Bourbon shots and classic country music to drawl in its standing room only crowds at night.  It also only carries whiskies that are American made.
Delilah's, Chicago, Ill: Chicago has many options to find great Bourbon, but none is more iconic than Delilah's.  Since 1993, owner Mike Miller has offered a wide variety of Bourbon and music to patrons of this Bourbon Mecca.
Longman & Eagle, Chicago, Ill
Milk Room, Chicago, Ill: 150 Bourbons with some vintage choices to select from as. There's also pool, shuffle board and bocce ball around the almost right outside their door inside the Chicago Athletic Association Hotel they are housed in.
Sable, Chicago, Ill 
The Barrelhouse Flat, Chicago, Ill
The Office, Chicago, Ill:  Nestled in the downstairs of the popular and James Beard Award winning The Aviary, the office is a quaint speakeasy that carries an impressive variety of new and vintage Bourbons.
Twisted Spoke, Chicago, Ill
Untitled Supper Club, Chicago, Ill
Distil, Milwaukee, WI
Cask & Ale, Madison, WI
Sanctuaria, St. Louis, MO
BBQ Saloon, St. Louis, MO
J.O.B. Public House, Springfield, MO
The Monarch, Wichita, KS
Century Bar, Dayton, OH: No TV's.  No jukebox.  Just 115 Bourbons and over 300 whiskies total to choose from while you listen to music from the 1930's.  The home of the former Kette & Sons Rye Whiskey Distillery, Century Bar also regularly holds blind tastings.
Oak and Embers Tavern, Chesterland, OH
Butter Run Saloon, St. Clair Shores, MI
Butcher And The Boar, Minneapolis, MN
Single Barrel, Lincoln, NE
Bourbon Country  |  Northeast Region  |  South Region  |  Midwest Region  |  West Region