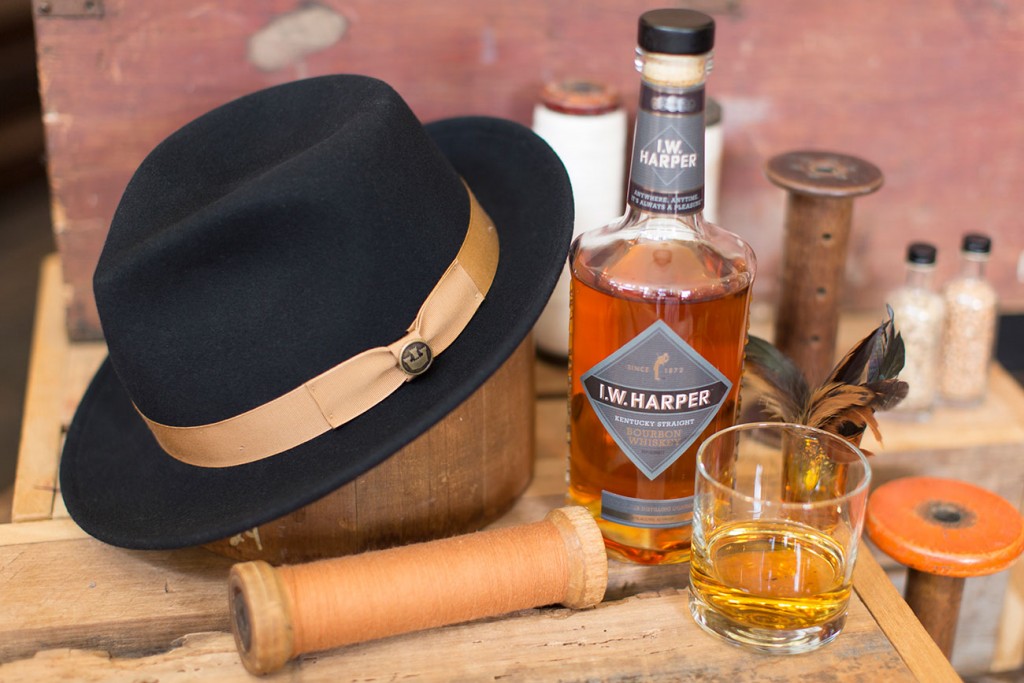 With the holiday season upon us we know how difficult it can be to buy for those special people in our lives, we want to help out! Below is a list of gift ideas for any "Bourbon Loving Gentleman!"
Exclusive Bourbon Review Shave Gift Set at The Dapper Fox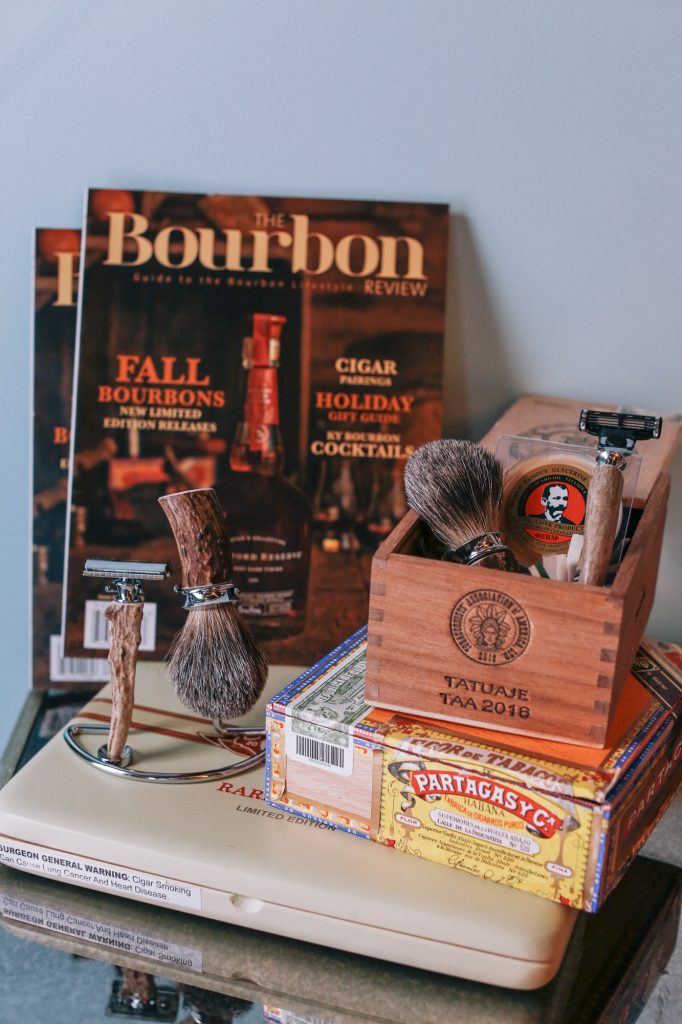 Shaving is an art much like making good bourbon. We have teamed up with the guys at TBR to include a current issue of "The Bourbon Review" magazine our holiday gift set. It's sure to be a great read for any artful shaver! Keep up on the newest bourbon releases, cigar pairings and lifestyle.
This authentic antler shave set makes a great gift for any guy! The shaving razor comes in three styles; safety razor, Gillette Mach III or Fusion. The brush is made from high quality badger hair, great for soap lather.  (Price:$99) 
Bourbon Review Coffee and Bourbon Package
What is better than Bourbon paired with Gourmet Bourbon Flavored Coffee! Included in this package is the following:
1 Package of TBR Bourbon Flavored Coffee
1 I Drink and I Know Things Mug
1 There is a chance this is Blanton's Mug
1 Bourbon Chocolate Covered Coffee Bean
 (Price:49.00)
Click Here to Shop
The Harper Felt Fedora Hat by Gorrin Bros.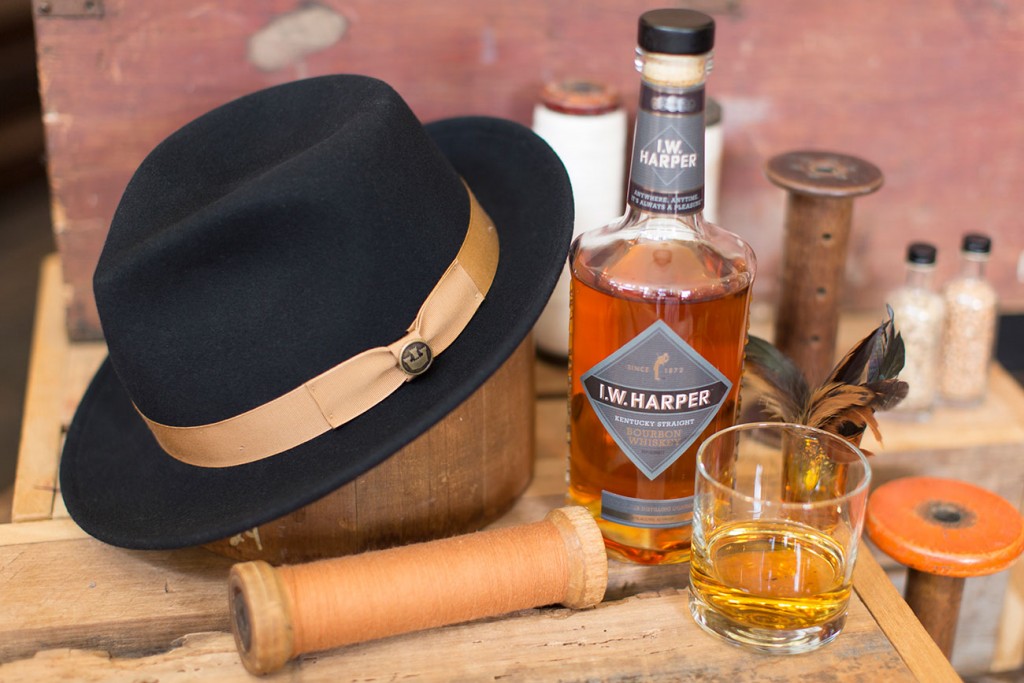 If you really want to class up your gift giving you could spring for a IW Harper custom Gorrin Bros. hat. From the classic Esquire ads in the 1940s to the launch of their very own fashion brand in the mod era, I.W. Harper's iconic bowing man has long been a symbol of hospitality and epitomized a sophisticated way of life. The hat is available at Goorin Bros. shops, on Goorin.com and in at Stitzel-Weller Distillery for a limited time. (Price $160)
Blade and Bow 24yr Entire Barrel from Stitzel-Weller
For the ultimate Bourbon Gentleman's gift, you could get in on the bidding for the Blade and Bow 24yr barrel auction going on at Christie's New York Auction House on Dec. 9th. Details about the barrel can be found here but expect this barrel to go for $24,000 to $35,000. However 100% of the proceeds from this lot will go to Robin Hood Foundation, a nonprofit based in New York whose mission is to fight poverty. (Price Estimated: 24k-35k)
Click Here to View Auction
Blanton's Humidor and Flask Gift Set
Blanton's Humidor/Flask Gift Set featured on The Bourbon Review's Shop makes for a great combo for the Cigar and Bourbon Lover. Set includes a Blanton's finely crafted cedar humidor included with an in box Humidifier and Hygrometer and an engraved exterior gold plate. And a 6 oz stainless steel flask engraved with the Blanton's logo and topped with the Blanton's signature horse. Flask comes in a black, engraved gift box and a stainless steel funnel. (Price: $99)

Kentucky Mule Cocktail Kit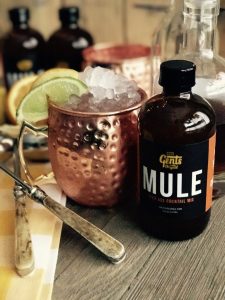 Contrary to some people's belief bourbon is a great base for many cocktails! Check out this Bourbon inspired cocktail kit, including everything you will need to create your own Perfect Kentucky Mule at home.  Kit includes one Gents Mule Syrup and a Kentucky Copper Mule Mug! Mule cocktail syrup is crafted with organic ginger root, fresh-squeezed limes, cane sugar and sea salt. Handmade by our local artisan friends at GENTS, based here in Lexington, Kentucky, the heart of Bourbon Country. (Price: 23.00)
Click Here to Shop
Shop Spree at the new Four Rose's Online Gift Shop
For the Four Roses Lover, their newly launched Four Roses Gift Shop is packed full of great Four Roses Swag! Items like Hats/Glassware/Apparel and even Golf Balls!
Coopers' Craft Bourbon Pie Filling
Coopers' Craft Kentucky Straight Bourbon Whiskey has teamed up with Louisville Stoneware to release Coopers' Craft Kentucky Bourbon Pie Filling. Available beginning in late November, this sweet treat brings together a classic pecan pie and the Coopers' Craft, one of the newest bourbons on the market. (Price: $15.99)
Click Here to Shop