Northern Kentucky located Wenzel Whiskey needs to be on your Bourbon Country destination list. We've been there. Done that. It was awesome. Want to do it again. Soon.
It was recently announced the Covington, KY (Northern Kentucky) blending business is now a member of the Kentucky Distillers Association (KDA) at the Craft Level meaning they age at or less than 10,000 barrels.
Wenzel offers the opportunity to blend your own whiskey from their carefully curated whiskey stock. For a more thorough rundown on our first hand experience at WW, CLICK HERE. Their Manager and Brand Ambassador, Bill Whitlow, has an incredible feel for the brown water. He is a spirits guru and owns nearby restaurant/bar Rich's Proper, an excellent spot to imbibe and eat well, #thatbuffalochickensandwich.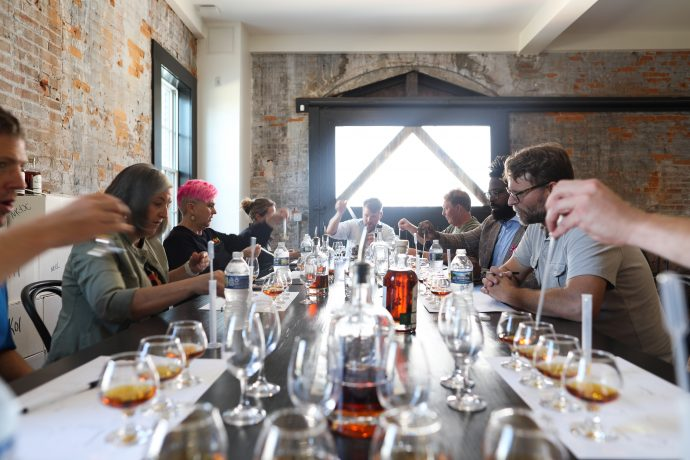 Located at 15 Tobacco Alley in Covington, Northern Kentucky natives Austin Dunbar, Tony Milburn, Todd McMurty and Nic Manning opened Wenzel Whiskey in 2022 and resurrected the historic company. Before Prohibition, the Wenzel Building was a rectifier for whiskey.
Wenzel Whiskey currently produces Wenzel's Proprietors' Blend, the first whiskey to be produced in Covington since Prohibition. Wenzel also has a Barrel Proof Rye, a blend of six and seven-year barrels of Indiana rye, and a Wheated #1 six-year-old barrel-proof expression.
WW also has acquired $3 million worth of distilling equipment and barrels of Bourbon from Savannah's Ghost Coast Distillery, allowing them to accelerate and expand its production facilities sooner than expected. 
"We are thrilled to begin producing our very own Kentucky Bourbons and to share them with the world," Dunbar said. 
Most of their blended offerings are made by the consumer themselves. "Wenzel guests can blend their own bottle just for the house or create a 100-bottle blend for their family or firm," Dunbar said. "We offer an experience that is as unique as you want it to be."
Learn more at https://www.wenzelwhiskey.com.
For the latest in Bourbon, visit www.thebourbonreview.com