Who's ready to blend their own Bourbon?! A new experience called Wenzel Whiskey in Covington, KY (perched on the Ohio River right across from Cincinnati) allows you to do just that.
We've tried it. It's a cool setup. For a number of reasons. Here we go….
The 'Wenzel Building' – Circa 1873
How can you not love a 149 year old building which dawns outer and inner rustic brick façade. Casts an immediate impression of "if these walls could talk". It has served a number of industrial functions over the years, including a pickle and soda pop factory. We like pickles. And soda. Off to a good start!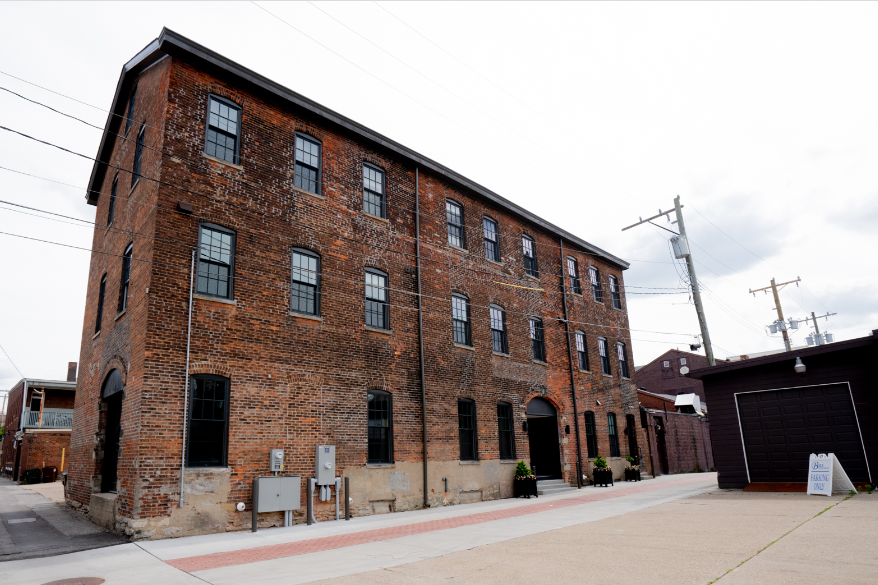 Whiskey Blending – The Experience
Great concept. An immersive experience. You get to play with whiskey! The owners have a stock of single barrel bourbons, which you get to see and choose. The inventory on hand currently is a mixed bag of barrels from KY, IN, and LA (Cajun State).
Per our experience, we selected juice from four different barrels. Then its to the benchtop for the best part – creation. From here, you analyze your samples and "get to know them". What's the proof? Age? Tasting the samples is really the best way to get familiar with each barrel's nuisances – we didn't complain.
Then comes the tough but fun part – making the plunge and building your Bourbon. This sounds easy enough. Just slosh some samples together, right? Not so fast. Here is where the game of chess comes into play. It's not just the what, it's how much. Do you add just a tinge of Sample X to your blend, or do you go heavier with it? How will that effect the end product?
It's your approach and tactic of balance and where you hope the final cut will land, taste profile wise. It really allows you to experience what goes on in blending a whiskey, making your own small batch, how the sensory elements all play and mingle together.
Competition brings out the best in all of us, right? We had a group of nine competing for world title bragging rights. It got vicious. Kidding. But it was a ton of fun and excitement, wanting to create the winner. Each person had their own favorite blend entered in the blind tasting "taste off". Getting to try other people's creations. The anticipation was a rush as you didn't know which one was your own, and thinking how yours holds up. Was it the lemon? Or the crowd favorite? Such a thrill!
In short, we had an absolute blast!
Pricing Options – Great Versatility
Pricing is extremely reasonable. Per person, you can have the entire blending experience for $30. You're NOT required to buy even one bottle. If you choose to buy a bottle for a keeps sake, costs will vary dependent on the barrels you choose, but it will likely be in the $80 – $100 range (750ml).
Capacity
You can roll solo. Be a party of 2. For groups larger than 6, calling ahead to book your reservation is highly recommended. Can accommodate up to 20, possibly more but would require checking in with Wenzel Whiskey.
BOTTLING RANGE: Can buy 1 or up to 100 bottles of the desired blend.
This concept was created by four founders: Bill Whitlow , Tony Milburn, Todd McMurtry, Austin Dunbar,  Nic Manning .
They all live in Covington and they take a lot of pride in their neighborhood. We know Bill Whitlow, he's top notch all the way. Has a great restaurant in Covington called Rich's Proper, which is consistently on our "America's Best Bourbon Bars" list. Put it this way – Bill. Knows. Whiskey. Is an expert mixologist. He knows flavors, how they work together. Having him heavily involved in their selection of whiskey barrels is a sign of the ultimate approval in our eyes.
How To Book It
Visit: www.wenzelwhiskey.com
Beginning Oct 19th, Wenzel Whiskey will have the blending experience open on Wednesday (5 – 9pm) and Saturday (12 – 4pm).
Bonus: Boutique Hotel Above 1st Floor
Of course, this sensory exercise does likely involve the consumption of alcohol, just a tragedy. Extremely convenient, sitting atop the 1st floor, there is a boutique hotel appropriately named The Pickle Factory Boutique Hotel with eight of the cutest themed rooms you ever did see.