In forty-nine states a major distillery produces the #1 best-selling bourbon in the state. In many cases this is Jim Beam or Maker's Mark or Evan Williams or often Jack Daniel's if you count that as a bourbon (I do). But that is not the case in Iowa where a craft bourbon first released in 2010 dominates the Hawkeye state, outselling its nearest major distillery competitor by some 35%.
How did Cedar Ridge Iowa Bourbon manage to do something none of the other thousands of craft bourbons in America have been able to accomplish?
"Iowans are some of the proudest people on the planet," claims Murphy Quint, Cedar Ridge's head distiller and director of operations. "If there's an Iowa product, Iowans are gonna want to support it,"
But it's never as simple as that.
It does make sense that Iowa should have a great bourbon—it's America's top corn producing state, the key ingredient in bourbon (neither Kentucky nor Tennessee even make the top ten). But Cedar Ridge actually began with the intention of being a vineyard and winery. Nearing retirement as a CFO and school teacher, respectively, Jeff and Laurie Quint—Murphy's parents—purchased some land in Swisher, Iowa in 2002 and began planting vineyards.
By 2005, they had rented out some garage space in downtown Cedar Rapids to set up a tasting room. Wanting to differentiate themselves from other wineries in the state, they decided to add a still as well, which they could use to make brandy, vodka, rum, and, of course, bourbon.
"What we had on our side was something distilleries opening now don't have—timing," says Murphy Quint, of Cedar Ridge becoming Iowa's first distillery since Prohibition. "There weren't many competitors and because of that, there was a sense of consumer patience."
Today, of course, if you open a distillery you have to be good from day one. Release anything young, or mediocre, and people will never buy your product again. But, back then, Iowans were willing to grade Cedar Ridge on a bit of a curve. Even if it was a bit young, and perhaps a bit mediocre, locals were willing to stick with it.
"The local people, they really rallied with us," says Quint. "'Give them time.' They cheered us on. 'Let's support this local thing. 'Let's see if this seed can turn into a flower.'"
Quint would see firsthand how a sense of local pride could drive a craft whiskey to great success. From 2012 to 2013 he had escaped his family's clutches to work at Stranahan's Colorado Whiskey in Denver. Even though they had just been founded in 2004, by the 2010s they had already become a massive homegrown sensation. Quint was particularly blown away by how fans would wait in line to purchase their once-a-year limited releases like Snowflake, an intriguing blend of finished whiskeys.
"What I saw there was incredible—Coloradans camping out in alleyways for three nights in advance for $60 bottles of Colorado whiskey," he recalls. "I saw the pride that they took in the whiskey. I thought, one thing we can do is go all in on Iowa whiskey.
The friendly price point didn't hurt. "It's not as cheap as Jim or Jack but it's under thirty bucks and the major local retailers here all get floor stacks of it," says Gene Nassif, ​​co-owner of Cat's Eye, another local distillery known for their Obtainium line. The fact Iowa is a control state also meant Cedar Ridge could offer attractive wholesale case deals to the Iowa Alcoholic Beverages Division, who would always rather support a local product than a national one. Most importantly, perhaps, Cedar Ridge Iowa Bourbon had a friendly and approachable flavor profile, able to be served at college taverns or hotel bars, in boilermakers at dives or in the Old Fashioneds at high-end steakhouses.
"While building their brand, they focused on the palates in Iowa," believes Adam Polonski, co-founder of independent bottler Lost Lantern with his wife Nora Ganley-Roper. He has been a fan of Cedar Ridge since first trying it in 2015, back when he was still a whiskey journalist. Despite the low-proof (initially 40% ABV, today 43%) and youth, he was intrigued by it due to its lack of "jagged edges" so common in craft whiskeys.
"They leaned into the fantastic creamy mouthfeel they get from their climate and built out a lighter style of bourbon than what you see in Kentucky," says Polonski.
They also leaned into the community of this mostly-rural state, sponsoring local events, holding music festivals, hosting weddings at their distillery.They have even partnered with Iowa's most famous heavy metal band, Slipknot, to release a "celebrity" whiskey that sells briskly.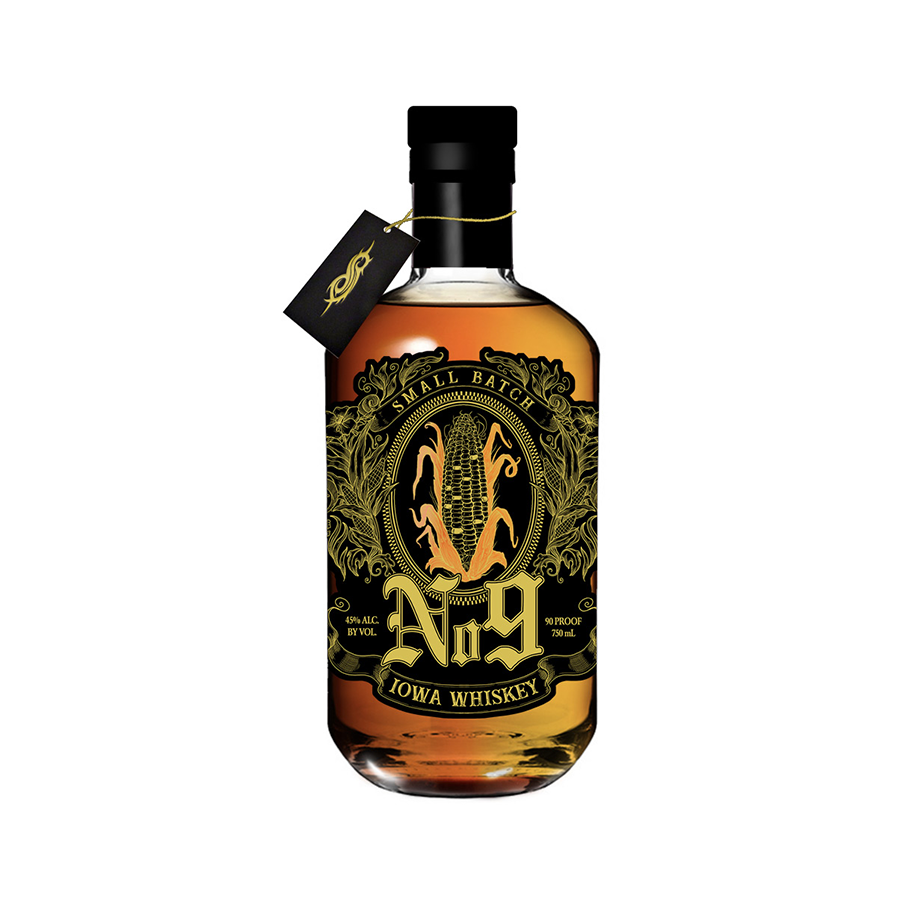 "Many distilleries take an approach that could be described as 'If you build it, they will come.' This usually isn't enough," says Polonski. "Cedar Ridge makes great spirits, and they've also made sure that Iowans know about them. And taking a targeted approach, and focusing on their home market, has paid off."
That's one reason why, when starting Lost Lantern, Cedar Ridge was on Polonski's short list of distilleries they wanted to work with. No stranger to distillery tours, on his first visit, he was surprised how cold and windy the barrel rackhouses were—something he believes is what creates that creamy, velvety mouthfeel in their whiskey.
Polonski has also noticed how quickly the distillery had scaled up; they're now laying down a few thousand barrels per year. He and Ganley-Roper would acquire a 3-year-old bourbon single cask, then later a single malt single cask produced through solera-style, spending 2 years in a new oak cask and then 2 years in a sherry cask. Both were released at cask-strength, something the distillery rarely does.
"So, it was something new for their existing fans and also provided a great introduction to whiskey fans who seek out cask strength or higher-proof whiskey but weren't familiar with Cedar Ridge already," says Polonski. Today, the state of Iowa has become one of Lost Lantern's top five markets, and the locals have moved onto trying some of the other independent bottler's releases from craft distilleries like West Virginia's Smooth Amblerand Oregon's Clear Creek Distillery.
But these Iowans still love Cedar Ridge most of all.
Four years ago, Cedar Ridge got really serious about their tracking systems. Around that time, Jim Beam and Maker's Mark had been flip-flopping back and forth as the state's top selling bourbon. But Cedar Ridge now found themselves a mere two percentage points behind them.
"We launched a full-on assault," says Quint. "We had to figure out how to come up with that two percent more. We built lists. Metric dashboards. 'In order to do this, we need X more accounts, X more placements, X sale-through.'"
Ironically, their fortunes were helped even further by the pandemic. With most bars and restaurants shut down, Cedar Ridge was able to focus 100% of their attention on retail.
"The grocery business was booming," says Jamie Siefken, Cedar Ridge's general manager and executive vice president. "We saw that and our team pivoted quickly—we put up large, one-hundred case displays with really cool marketing and campaign messaging."
By November of 2020, they had finally locked it up—the #1 best-selling bourbon in all Iowa. They are still #1 in Iowa today. But were they really the only craft bourbon that was #1 in their own state in the entire U.S.? This odd fact had gotten them a ton of press over the last two years, but it was hard to research the validity of the claim, as I learned in doing this story.
"We were very careful about making that claim," says Quint. "We asked around. We reached out to all the associations—ACSA, ADI, DISCUS—and said, 'Hey, we want to make this claim, and we want to be accurate.' None of them could dispute it. And, two years later, no other craft distillery has come forward to dispute it either, so it must be true."
Today, there are fifteen craft distilleries in Iowa—over 100 bourbon brands available in Iowa—and over 1,800 distilleries in the country, with more coming every day. So why is Cedar Ridge the only one to top their state? What's stopping a Juneau bourbon from becoming #1 in Alaska? A Boise bourbon from taking over Idaho?
"'How did you guys do that?' people always ask. And I don't know that there is an exact equation," says Quint.
"All I will say is we had a very defined strategy going back to 2010: we're going to take Cedar Rapids, then we'll take Iowa City, then Des Moines, then the entire state of Iowa. It was a spillover effect. And now that we've got Iowa, we're moving onto surrounding states, and, soon, maybe the entire midwest."
Aaron Goldfarb lives in Brooklyn and is a novelist and the author of Hacking Whiskey. His writing has appeared in the New York Times, Esquire, PUNCH, VinePair, and more.