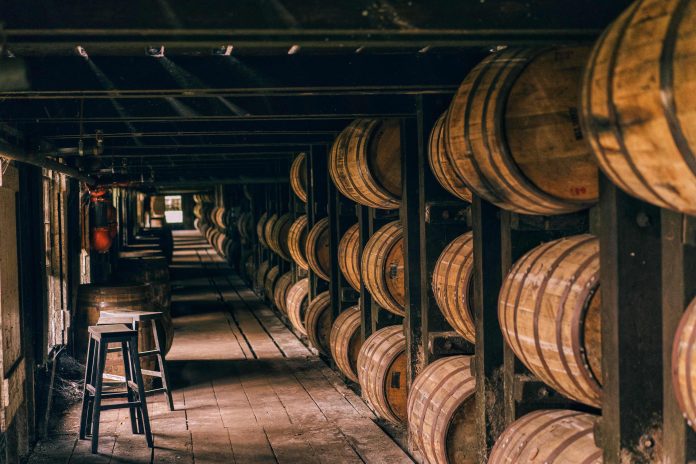 NOTE: The following data was provided by the Kentucky Distillers' Association.
First, The Good News…
The number of Bourbon barrels in Kentucky reached a record 11.4 million in January, as the state's signature industry marked its fourth consecutive year filling more than 2 million barrels. The standard Bourbon barrel holding 53 gallons, that's over 600,000,000 gallons aging for future greatness.
When you include other aging spirits, the state's total inventory is almost 12 million barrels – a monumental milestone in the storied 200-year history of Kentucky's iconic Bourbon industry. The tax-assessed value of all barrels also hit an all-time high this year of $5.2 billion.
The new production numbers are based on inventories reported as of Jan. 1, 2022, submitted to the Kentucky Department of Revenue for tax purposes and includes all distilling companies in Kentucky. 
Here are the specifics:
Total barrels of Bourbon: 11,406,135
Number of Bourbon barrels filled in 2021: 2,619,633
Total inventory including Bourbon and other spirits: 11,982,965
Assessed value on all barrels for tax purposes: $5,207,221,744
Kentucky Bourbon has seen tremendous growth since the turn of the century. Production skyrocketed 475% since 1999. The state's aging Bourbon inventory has more than tripled during that time, while the tax-assessed value of all barrels is now $5.2 billion, a staggering $780 million increase over 2021.
The Bluegrass State continues to benefit from this amber wave, which now pours $9 billion each year into the Kentucky economy, sustains more than 22,500 jobs with an annual payroll topping $1.2 billion a year, and draws millions of affluent tourists from around the world to Bourbon Country.
A key export, distilling has the state's highest job spin-off factor among top manufacturers; buys at least 17 million bushels of corn and other grains every year, mostly from Kentucky farm families; and is currently investing more than $5.2 billion in new stills, warehouses, bottling lines, tourism experiences and more.
The Not So Good News…Barrel Taxes. Are They Unjust?
While barrel records are typically cause for celebration, the skyrocketing and punitive impact of aging barrel taxes is more a cause for concern, warned Eric Gregory, president of the non-profit Kentucky Distillers' Association (trade organization lobbying on behalf of its distilling members).
"We're thrilled that our homegrown and historic industry continues to flourish, but these numbers could have been much higher if Kentucky didn't have a major barrier to entry for new distilleries in the form of this barrel tax," Gregory said.
Kentucky remains the only place in the world that taxes aging barrels of spirits. In the last five years alone, barrel taxes have more than doubled, soaring 102%. Kentucky distillers are paying nearly $40 million in barrel taxes this year – $7 million more than the prior.
Since the beginning of the year, Kentucky has fallen to 12th in the country in the number of distilling operations, according to federal Tax & Trade Bureau (TTB) statistics. Of the 11 states ahead of Kentucky in the number of distilleries, all but one license state (Washington) has a significantly lower spirits tax rate than Kentucky. Kentucky's tax rate is $8.41 per bottle; California, which leads the nation in the number of distilleries, is $3.30. 
There are now more than 2,300 distilleries in all 50 states. Kentucky has fewer than 100. 
In the last year, Kentucky ranked 29th in the country in the rate of adding new distilleries.
Kentucky's share of distilleries nationwide has plummeted from a high of 24% to now just 6%, and Kentucky's percentage of distilling jobs has dropped from 43% down to only 30%, even though the state crafts 95% of the world's Bourbon (per the KDA).
"At the height of our signature spirit's popularity, the proliferation of Bourbon distilleries outside of Kentucky should ring alarm bells for anyone who cares about this industry, its employees and its economic and tourism impact on the Commonwealth," Gregory said.
"We are only asking to be treated like every other manufacturer in Kentucky – and possibly the world – whose goods are not taxed during the production process," Gregory said. "Barrel taxes hamper growth, punish success and jeopardize the state's ability to attract new distillers in the birthplace of Bourbon."
"It's critical that distillers, community partners and elected officials work together to attract more distillers and investment to the Commonwealth, because there will come a day – hopefully not in our lifetimes – when Bourbon is not as popular as it is right now." noted Gregory.
RELATED ARTICLE: "Nearly 10 Million Barrels Resting in Kentucky – Is that Good?"