Darrell Corti remembers his trip to Kentucky very clearly. In 1975, the Californian arrived in Bourbon Country looking to source barrels for special Bicentennial bottlings. As America's only native spirit, he thought, bourbon should have a special place on his shelves for the country's 200th birthday.
So he tramped through rick houses at Willett, Maker's Mark, and Old Crow, ducking beneath cobwebbed beams and tasting through barrels laid down decades before his arrival.
He'd been talked into the trip by Gordon Hue, from Covington, Kentucky, whom he'd met in California earlier that year. To some whiskey historians, that name is famous in its own right – 14 years later in 1989, Hue would buy 400 barrels distilled in Schaefferstown, Pennsylvania, and have Julian Van Winkle bottle them under the name A.H. Hirsch Reserve.
For Corti, though, his foray into bourbon was never intended to have anywhere near the notoriety that the Hirsch name now carries (Read: The Best Bourbon You'll Never Taste, by Charles K. Cowdery).
He styles himself a simple grocer, somewhat bemused as to why in the world anyone would want to know about whiskey he sold 40 years ago. But the shelves at his stores are stocked with rarities, and the weight of his name in the food industry can't be overstated. He's traveled the globe for decades, bringing his customers the latest and best in cuisine from Greece, Hong Kong, and more.
His family has been in the grocery business since 1947, when his father and uncle, returning from the war, purchased the Italian delicatessen then known as Meda Brothers in downtown Sacramento. Corti Brothers stayed in the small shop for just a few years, before moving to a full-sized grocery store in 1952. They expanded their offerings, selling meat, produce, fish, and more, and in 1970 moved to their current location, where Corti, now 77, is celebrating 50 years in 2020.
"We do everything – we do traditional aceto balsamic, we do fresh white truffles, and we do toilet paper," Corti tells us.
What they may have done best, though, is bourbon.
"Why would you want to buy bourbon?"
Corti was never a stranger to top shelf spirits. He's stocked cognacs, single malt Scotches, and wines from around the world since he took over the family business. So many, in fact, that he was given a knighthood (or cavaliere) by the Italian government for his work in introducing the country's wines and grapes to his customers in the US.
The Corti Brothers clientele were spread across the country, ranging down the coast to L.A. and beyond, but Corti's newsletters kept them in the know for new product on his shelves. In 1976, for the Bicentennial, Corti sent out his first mailing to mention bourbon.
"Two Uniquely American Products—Kentucky Hams and Whiskey," the title read. "In the Bicentennial spirit, Corti Brothers is pleased to offer our clients two rather American products which have gone out from rather humble beginnings to find a [niche] in world gastronomy. These are Country hams and whiskey," he wrote.
Hue had helped him connect with sources for both the hams and the bourbon, but Corti arrived in Kentucky to find an industry in decline.
"Bourbon was not popular at all when I bottled these," remembers Corti. "In fact when I came out in 1975 to go through Kentucky to buy the Bicentennial Whiskey, the thing that was really interesting, I went to Maker's Mark, to Old Crow, and to a person, the sales directors of the distilleries said, 'I don't know why you want to buy bourbon. Brown goods are going out of the market.' That was the time when everyone wanted to buy vodka."
"I remember doing a tasting at Old Crow and they pulled out some very old whiskeys, 25-year-old whiskeys. They weren't particularly good, mind you, but they were old, and I asked what they were planning to do with these whiskeys. [They had] no idea what they were going to do with them, and they said they would probably redistill them. I asked why they wouldn't use them in one of their blends? They said 'A – we don't have enough whiskey to put it in a blend, and B – it would change the blend too much.' So a lot of these old whiskeys probably just got redistilled."
But Corti found four he loved – a 12-year Rare Olde Corn Whiskey from J.T.S. Brown, 16-year Masterson Station Straight Rye from the old Seagrams Distillery in Indiana, a similar 16-year Collector's Item Straight Rye, and a 16-year Bicentennial Commemoration Bourbon from Willett. Those bottles sat on his shelves for years.
"It was a real shame – even the Masterson Station and the Collector's Rye, all of those whiskeys, we just had a terrible time selling them, cause you could buy Old Forester for five dollars a bottle. Old Forester had a very good reach in California, it was a very prestigious bourbon, and it was less expensive than some of these things, so no one wanted to buy them."
"Pretty Near Perfect Bourbon"
With a taste for bourbon acquired, Corti brought a high-end American Whiskey to his customers again a decade later. In November of 1986, he mailed out another newsletter, heralding the arrival of Van Winkle Special Reserve.
"Some of you doubtless remember the wonderful Bi-Centennial Bourbon we offered in 1975, the old Rye and Corn Whiskies after that and just recently the Van Winkle Family Reserves of 1968 and 1970 production," he wrote.
"We now can offer under our label, the last of the Van Winkle Reserve, a blend of the remaining barrels of 1968 and 1970 distillations. The blend is made of eight barrels – Fall 1968 and six barrels – Spring 1970. This blend is called Van Winkle Special Reserve. It is truly splendid product, perhaps slightly better than either of the single years alone. As far as I'm concerned it is pretty near perfect Bourbon. Again, once gone, it is gone forever," the newsletter read. 
Corti had heard of Julian Van Winkle through his old friend Hue. Today, the Van Winkle name is synonymous with high-end bourbon, with fans waiting in line overnight for just a chance to buy a bottle at retail prices, while bottles of 23-Year Pappy Van Winkle top $3,000 in secondary markets. If you asked a distributor today to do a private selection of Van Winkle, as Corti did, you'd be laughed out of the room.
In the 1980s, though, Van Winkle felt the pinch of the American Whiskey slump as much as anyone in the industry. He was working from the old Hoffman Distillery in Lawrenceburg, Kentucky, bottling wheated bourbons made at the famed (and now defunct) Stitzel-Weller. These special spirits swapped wheat for rye in their recipes, making Van Winkle softer and sweeter than their traditional counterparts. Still, the bourbon sales were slow. Van Winkle, from his renamed Old Rip Van Winkle Distillery, countered with decorative decanters, exports to more demanding Asian markets, and more, pushing through hard years when many distilleries shuttered their doors.
The plaque, seen above, that Julian's father Julian Sr. hung at Stitzel-Weller said it all, and his son never forgot those words, in good times or bad. Even during bourbon's darkest days, the Van Winkle name meant quality.
"What we selected for the Van Winkle Special Reserve came from Stitzel-Weller," he tells us. "Julian sent me samples, and I bought them from those… I haven't spoken to him probably in ten years, but as far as I know we were the first to privately select a Van Winkle," Corti said. He knew he had found fine bourbon, and he wanted the packaging to reflect that.
"I didn't like any of the bottles that they were using in Kentucky for bottling whiskey," he remembers. "The taste in bottles was terrible. Absolutely dreadful. People had these sort of square bottles, and bottles that were ribbed, and all this sort of stuff."
"The Van Winkle Special Reserve bottles were unique, because that bottling was actually done with cognac bottles. That shape is called cognaçaise, and it wasn't available in the United States then. But I wanted to do something special, so I used the cognac bottle. Julian has used the cognac bottle ever since."
Corti sourced bottles from a winery he knew and sent them to Julian, who filled them with well-aged, wheated recipe bourbon and topped them with wax to seal.
"The first bottling that we did, the 1968 and 1970 bottlings, they had red wax. And Maker's Mark got on his case for the red wax, so he said we can't use red wax anymore. So I said, 'well use any color wax you like, it doesn't make any difference to me.'"
The crown jewels of the Corti Brothers Van Winkle Special Reserve line were bottled in 1994, and true to form, Darrell Corti sent a newsletter to announce their arrival.
"Corti Brothers has offered several bottlings of selected Bourbon whiskeys from the stocks of one of the most famous names in Kentucky distilling, Van Winkle," Corti wrote. "Julian Van Winkle, the family head, has small stocks of wonderful old whiskies that show what this most American of distillates is like at its highest quality level. We are pleased to again offer the bottling of two different distillations for the delight of lovers of exceptional spirits….
"Corti Brothers Van Winkle Special Reserve Bourbons show the quality that time alone can produce. Of course, this distillate must be of high quality to begin with, but time in wood changes and enhances it. Time in bottle, bottle age, will further enhance this bottling. Cellar some! 
"Our two Bourbons are from the traditional distilling periods, Spring and Fall… A season and a half apart, the 19 year old whiskey is from the Fall distillation of 1975, the 20 year old, from Spring 1974. (N.B. The label of the 19 year old was inadvertently printed stating "Spring" rather than "Fall" 1975. The year is correct, the season is "Fall.")
"They have been bottled at 45.7% alcohol, a high degree, but not an excessive one. This allows the character of the Bourbon to come through when cut with a small amount of spring water. Of course, they would be wonderful neat, in a snifter, after dinner. Adding ice may turn these Bourbons slightly hazy which does not affect their taste.
"The 19 year old Fall (Spring) distillation has a splendid fruity tone with an almost peach skin-like character. The 20 year old Spring distillation has the more forceful "rancio" character of age and extraction with a full bodied, very long, sweet finished flavor that is enhanced by the addition of some spring water – either still or lightly sparkling."
'I'm convinced that all alcohol improves in bottle. I just can't prove it.'
Corti states that he had no idea when he bought the bourbon that it would someday become some of the most sought-after bottles in the business. He admits the newsletters were mainly to light a fire under the bourbon's lagging bottom lines.
"The only reason I said look, buy some of this and keep it, was because that's how you get people to buy things. Bourbon isn't going to spoil," he explained.
Corti advised his customers to keep the bourbon for a later date. While bourbon doesn't mature as much as wine does in the bottle, he's adamant that the bottle will change it gently over the years.
"A very good friend of mine, James Guymon, used to be a professor of distilling at U. C. Davis. He used to say, 'I'm convinced that all alcohol improves in bottle. I just can't prove it,'" remembers Corti.
And although he hasn't sipped any lately, Corti states that he's sure the Van Winkle has only gotten better with time.
"It was very good whiskey when it was bottled, and that's one of the things that's very interesting. Bottle age isn't going to improve a poor whiskey, it'll just be a poor whiskey that's old in bottle. But a really good distillate, bottle aged, it's a better distillate than it was when it went into the bottle. Time in bottle for spirits just rounds them out, but the quality has to be there."
Do Not Be Caught Short
And for these bottles, the quality was certainly there. Today, the Corti Brothers Van Winkle Special Reserve bottlings command some of the highest price tags in the vintage whiskey market.
"These limited bottling whiskeys are very worthy successors to the other exceptional Bourbons we have had under our label from Julian Van Winkle. Like the others, they will also become collector's items. Do not be caught short," read Corti's newsletter in 1994.
In the 1980s and 90s, the bottles sold for between $20 and $40 each. While that's bottom shelf in today's terms, back then it was a pricy ask for American whiskey.
"It took us 18-24 months to sell through the Van Winkle," Corti says. "We bought whatever was available, cases of each, but people didn't buy whiskey like that, when it was expensive.
"When we sold single malt whiskies, the same thing happened. And now – 27 bottles of our [single malt] whisky, of our label, were sold at auction last year in Edinburgh for [almost 100,000 USD]."
Just three of the Corti Brothers Van Winkle Special Reserve bottles are headed to auction next week at Hart Davis Hart Wine Co., where they're expected to fetch up to $8,500 a bottle.
The first is the 19-year-old red wax bottle mentioned briefly in a newsletter as an offering prior to the blend Corti sold in 1986, meaning its distillation took place prior to 1967. The bottle is topped with the famous red wax that once got the Van Winkles in trouble with Maker's Mark. The second is a black wax-dipped 19-year-old bourbon distilled in 1975 that Corti described as having a "fruity, peach skin-like character." From Corti's notes, this bottle is incorrectly labeled as "Spring" when it should be "Fall." The third and oldest, a gorgeous gold wax-dipped 20-year-old bourbon distilled in the spring of 1974, was noted by Corti as "full bodied [with] a very long, sweet finished flavor."
They're in good company – other lots heading to the auction block include medicinal whiskey pints of Belle of Marion distilled in 1914 and Old Oscar Pepper distilled in 1916, and other Stitzel-Wellers like Old Fitzgerald bottles from 1936 and 1956.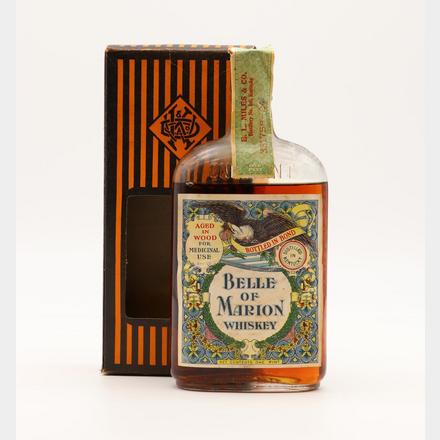 Corti, now 77, goes to work every day as the president of his company. He still travels the world looking for the best in food and beverage, but can more often than not be found in a blue grocer's smock walking the aisles at his family's store. While he has his share of rare wines and whiskeys, he admits the Van Winkle Family Reserve are not among the bottles he's held on to.
"We should have kept some of these things. No, unfortunately we didn't. Otherwise I'd sell them to you for a thousand dollars a bottle," he laughs.
Link here to register as an online bidder for the Finest & Rarest Spirits Auction. Bidding is open now. Live auction begins March 19th at 8:30 a.m. CDT.