Seven years ago this summer, Andrea Wilson made the decision to join the team of the up-and-coming Michter's Distillery after 10+ years working for spirits giant Diageo. Michter's was just getting ready to open its first Kentucky-based facility in Shively, and Wilson saw this as a great opportunity to further expand her distilling experience and join a crew who shared her passion and dedication to the craft.
Wilson left her job with Diageo on June 30 and started with Michter's the very next day, on July 1 of 2014. Now, as executive vice president and master of maturation, she works endless hours in all facets of production and has helped shaped Michter's into the premium brand it is today.
As a child, Wilson had a knack for taking things apart just to see if she could put them back together. And when her grandfather shared stories of his moonshining days, she recalls being absolutely riveted. So it's no wonder she found her way to chemical engineering in college. It's been quite a journey to the bourbon industry, but looking back, she wouldn't change a thing.
We recently talked with Wilson about her grandfather's stories, her roundabout path to bourbon and working hard at Michter's to elevate the whiskey portfolio and ensure it's in good hands for future generations.
The Bourbon Review: What does making bourbon during a pandemic look like?
Andrea Wilson: We work more now more than we ever have just trying to keep it all going. We work in different zones now, and when we can't get it done during the week, we go in on the weekends. Everybody's been doing really good. The brand is continuing to grow. Everybody's working hard. Morale seems to be good.
All in all, it's been a really challenging last year, but we're all doing OK, and that's the most important thing. We're just trying to make it through. We haven't had to furlough anybody. The team at Fort Nelson (Distillery) had to come out to Shively and work in production. Everybody's just trying to figure out how to get on with it.
TBR: What's the biggest challenge of your job?
AW: I think probably the biggest challenge is growing a brand at the same time you're growing a team. We have a lot of new talent coming into the organization, which is amazing. They are incredibly smart young people, but they require a lot of growth and development in how to really create amazing whiskeys.
It takes all of us as a team working together to make sure we're attending to all of the details and the discipline of quality at Michter's. There are the nuts and bolts of the day job that have to get done, but then growing people in positions to grow with the company — it takes a lot of energy and time, and it's something I'm particularly passionate about.
I want people to know everything I know so they can use it to their advantage and ultimately realize their full potential. I want them to take what I know and go far beyond that to continue to grow the organization in the future.
TBR: What's your favorite and least favorite part of your job?
AW: Favorite part of my job is quality inspection of new barrels. You know, smelling the barrels when they come in … there's a certain … it's sort of a humbling experience to see a barrel when it comes in, and you know new spirit is going to go in there, and recognizing the power that barrel is going to have to transform that whiskey into something special.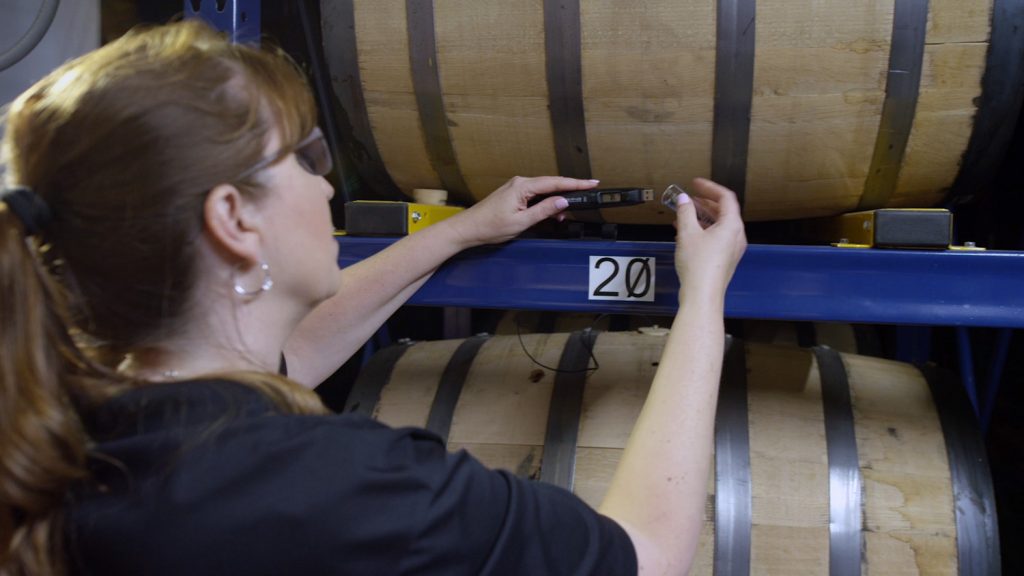 Least favorite part is, um, this is going to sound dumb, but technology not working when I need it to work. (Laughs) You know, it takes time to run a report. It takes time to analyze data. And sometimes I get a little impatient. And it's not impatient in a bad way. It's the enthusiasm, the excitement around seeing information and it not coming quickly enough, or when you're trying to get on a Zoom and the microphone isn't working.
I know those are goofy examples, but sometimes the struggle is real for me when it comes to technology. And I'm very dependent on it. I'm dependent on my phone. I'm dependent on my computer. I'm dependent on all these things that keep everything moving now more than ever, under COVID protocol, so when they're not working, it's very challenging.
TBR: What brought you to bourbon?
AW: My inspiration to be in this industry really came from my grandfather. He was a moonshiner before he acquired a good, upstanding job with the American Standard Co. He worked for American Standard for 36.5 years. But before that and before he married my grandmother, he was a moonshiner. Actually, in order to marry my grandmother, he had to give up moonshining — that was one of the requirements.
My grandfather used to tell us stories of his moonshining days. It was like listening to a movie — it was very exciting and very interesting. While it was completely illegal, it was still an enchanting story about his challenges, the obstacles he overcame and this thing that he made.
I have this desire within me to figure out how things are made. As I grew up, my family made beer and wine — nothing commercially. I just enjoyed learning all of those things and learning about how they were made.
As I got older, I thought I'd really like to be in the spirits industry but didn't know how. Someone suggested I go to school for chemical engineering, because it included the process of distillation and heat transfer. So I became a Master of Chemical Engineering, graduating from the University of Louisville.
I thought I was going to join the bourbon industry and was met with dismay because, at that time, it was the '90s and bourbon wasn't booming like it is today. There just weren't a lot of jobs available. It's a career industry. People get into their jobs and stay forever.
TBR: But nevertheless, you persisted, so to speak?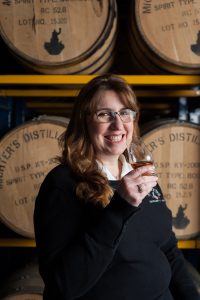 AW: I couldn't get a job, but that was OK, because I became a consultant as a young engineer. That gave me a lot of wonderful opportunities to work in a lot of different manufacturing sectors.
I learned about people. I learned about teams. I learned about mechanical equipment. I learned how to build things, how to work on projects and, more importantly, my career was being shaped by so many interesting people with different perspectives on manufacturing.
So then one day, about 2003, Diageo called me and said we would like you to do some projects for us. I worked on contract with Diageo for about two years and then became full time in 2005.
Ultimately I worked my way up at Diageo — I did everything from revitalization work at the Stitzel-Weller facility; whiskey planning; I oversaw distillation and maturation for Diageo North America; and before I left, I was overseeing strategic projects for them and was part of the team that took the Bulleit Distillery in Shelbyville to the board of Diageo.
I had a great career with them. I learned from a lot of wonderful people across all different segments of that organization, and it was an amazing time in my life. When my position was dissolved, I took on the opportunity with Michter's.
It's a family-owned business, as you know, and it's just been an exciting time in my life because there's so much freedom to be able to really invest in the techniques and the tools we know really influence the final outcome of the spirit, and that's really exciting to me.
TBR: Do you remember the first bourbon you ever tasted?
AW: The first bourbon I ever tasted I believe was Old Forester, because that's what my grandpa had on his bar most of the time. And the highball was the favorite drink of my family. My grandparents on both sides, they both loved to host and entertain people. Everybody always drank highballs.
And just as a side note, I'm totally excited now that the highball has had a resurgence. I kept thinking, "I can't wait till the day I can drink a highball!" And by the time I was finally old enough to drink one, nobody knew what it was.

TBR: Which product are you currently working on at Michter's?
AW: We just pushed out the barrel-strength rye, so that's very exciting. Dan (McKee, master distiller) and I completed the finalization of the product, we completed bottling the product. It's beautiful, and I'm really excited for consumers to experience this year's release. Very much looking forward to a barrel-strength manhattan! 
TBR: What's the most prized bottle in your collection?
AW: When we first distilled on our new stills in Shively, I have a little bottle of the white spirit, and that is probably the most prized bottle for me. That was really special.
There's not many times in your career that you get to be a part of building something from the ground up, and it was really special to be a part of that with Willie (Pratt, master distiller emeritus) and Pam (Heilmann, master distiller emerita) and Dan (McKee) and Joe (Magliocco, president) and his family. We took several samples, so we each have a little part of that liquid.
TBR: As a woman in the whiskey business, do you think you're treated any differently?
AW: I think that's one of the things I really value about our company — I feel like I work for a family that values the contributions of all its team members, and I think that's incredibly important. We have senior leaders who are women. I have colleagues at the production facility that are women. I was able to work with Pam Heilmann as master distiller.
I feel very much that I've been able to work in an environment where I'm respected for the contributions I make, not just because I'm a woman.
TBR: What's your advice for other women who might be interested in distilling?
AW: The one thing I always tell people is pursue your passion. Sometimes people get excited about this industry because it's the bourbon industry. Just because you love bourbon doesn't mean you're going to have the passion to be in this industry. It's something you really have to want to do.
There's a lot of work and attention to detail. There are a million things that could go wrong on any given day, so you've got to want to be in this industry because you have passion for it.
And if you want to get into this industry, there are also many opportunities that are not on the technical side. There's bottles, there's labels, there's graphics, there's innovation, there's laboratory … there are all these different segments of the organization, so I would suggest to people don't dial yourself into, "Oh well, I don't have the skills to be a distiller." If you have the passion for it, then I'm sure there's a place for you, because there's always an opportunity in this industry for great talent.