Okay, so your bar cart has the basics. You have a peeler, some nice glassware, and you've taken your time picking your favorite bitters. You're ready for anything a party guest could throw at you. But what if just a few specialty cocktail tools could take your cocktail game to the next level?
Culinary torches, atomizers, and more might sound scary. But this season, make it your mission to keep from being spooked away from making your home cocktail game legendary. Two of our favorite tools? The atomizer (for adding just a touch of flavor) and a culinary torch (for turning up the heat).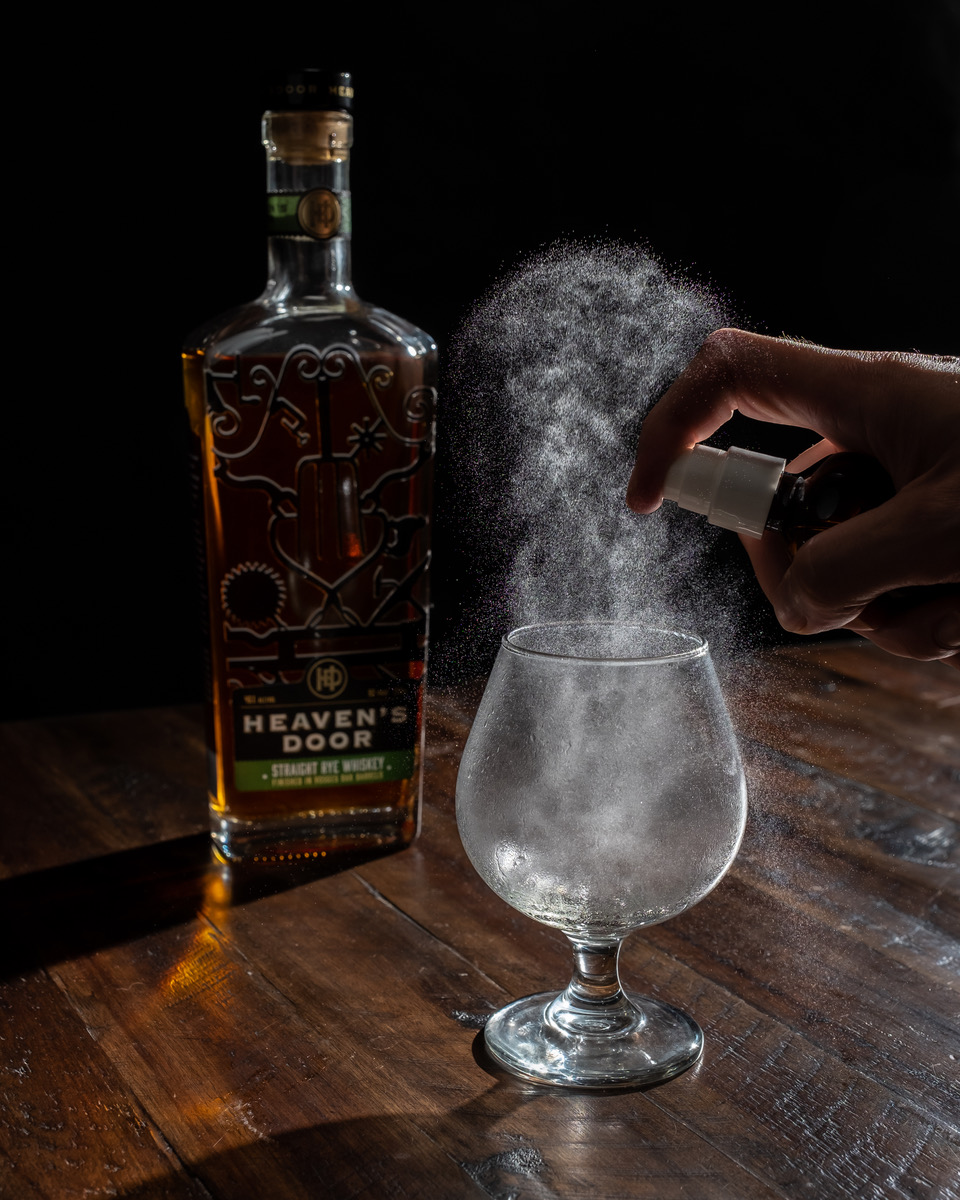 An atomizer is really just a tiny spray bottle – you can even buy them in the travel aisle if you don't want to head to a specialty store. They're perfect for adding a rinse to a glass without waste. Where a traditional rinse involves pouring in a spirit or liqueur, swirling, and dumping the remainder, an atomizer can add that same flavor with just a simple spritz. Filled with bitters, it can also add a pop of color or aroma on top of a cocktail.
And a culinary torch can add a whole new layer of smoky goodness to just about any cocktail. Playing with fire can be as simple as caramelizing a rich Luxardo cherry for your Old Fashioned, or, in this case, adding a touch of sugar to your sliced fruit and brûlée-ing the top.
Jordan Hughes, known on Instagram as @highproofpreacher, combines the use of both of these specialty cocktail tools in one delicious drink. "After experimenting with Heaven's Door Straight Rye Whiskey, I decided to use it in a fun spin on a Sazerac," he says.
"There was something about the spice notes in this rye that really made me want to pair it with banana."
"This is a bit different from your usual Sazerac but hey, who wouldn't want a little brûléed banana snack with their night cap?" Read on for the recipe!
The Banana Sazerac from High-Proof Preacher
2 parts Heaven's Door Straight Rye Whiskey

1 tsp banana simple syrup

2 dashes Blackstrap bitters

2 dashes Peychaud's bitters

Absinthe rinse
"Using an atomizer, coat the inside of a rocks glass with absinthe & set aside," explains Hughes. "Combine whiskey, syrup & bitters in a mixing vessel & stir with ice until chilled. Strain into absinthe rinsed glass. Take a small slice of banana & skewer on a cocktail pick. Cover with raw sugar & brûlée with a culinary torch until caramelized, then serve on the rim of the finished cocktail." Visit his website here for more tips!