A bar cart is a statement piece that has stood the test of time and is a practical tool for entertaining. We'll show you how to mix style and function while curating your bourbon bar cart.
Keep Your Cart Simple
A cluttered bar cart is uninviting. It won't urge your guests to go up and pour themselves a finger or two of whiskey or mix a cocktail. Make sure there is enough room on the cart to make a drink.
You don't need to put your entire bourbon collection on the cart. Your bourbon bar cart should be reserved for whiskeys or bourbons you don't mind people drinking. If you have a bottle that you're saving back for a special occasion or don't want to be opened you should store it elsewhere.
Use this as an opportunity to showcase local bottles, exclusive bourbon barrel picks, bottles you currently have open or pick a couple bottles you think would pair nicely with a meal or snack you might be serving.
Keep Your Cart Functional
Nearly every article I've seen on bar cart styling demands there be something "living" on the cart. If you're going to put a plant on your cart, then make sure it is something that can actually go in a drink or cocktail—like a small mint or thyme plant. While a small vase of flowers or a succulent may look really pretty or be trendy—it's taking up valuable space.
If you aren't making cocktails that call for herbs, cut up some limes or orange wedges and put them in a small bowl instead. You'll still get the desired look of something bright, fresh, and living.
Make sure your glassware is functional. Just because you have gorgeous wine glasses don't mean they need a place on your bar cart if you're going to be serving bourbon. You can't go wrong with rocks glasses and Glencairns.
Pick a bar cart that fits your needs. If you need space to store extra glassware or cocktail recipe books, then get a larger bar cart or one with more shelves.
Ice Bucket—I always have an ice bucket on hand. Bourbon on the rocks is a staple.
Mixers and garnishes – Some may choose to drink their bourbon neat, but it's nice to have options. Personally, I keep it simple with sparkling water and ginger beer or Ale-8-One. For garnishes, I keep bitters, Luxardo cherries and either a fresh herb or fresh limes and oranges.
Make Your Cart Stylish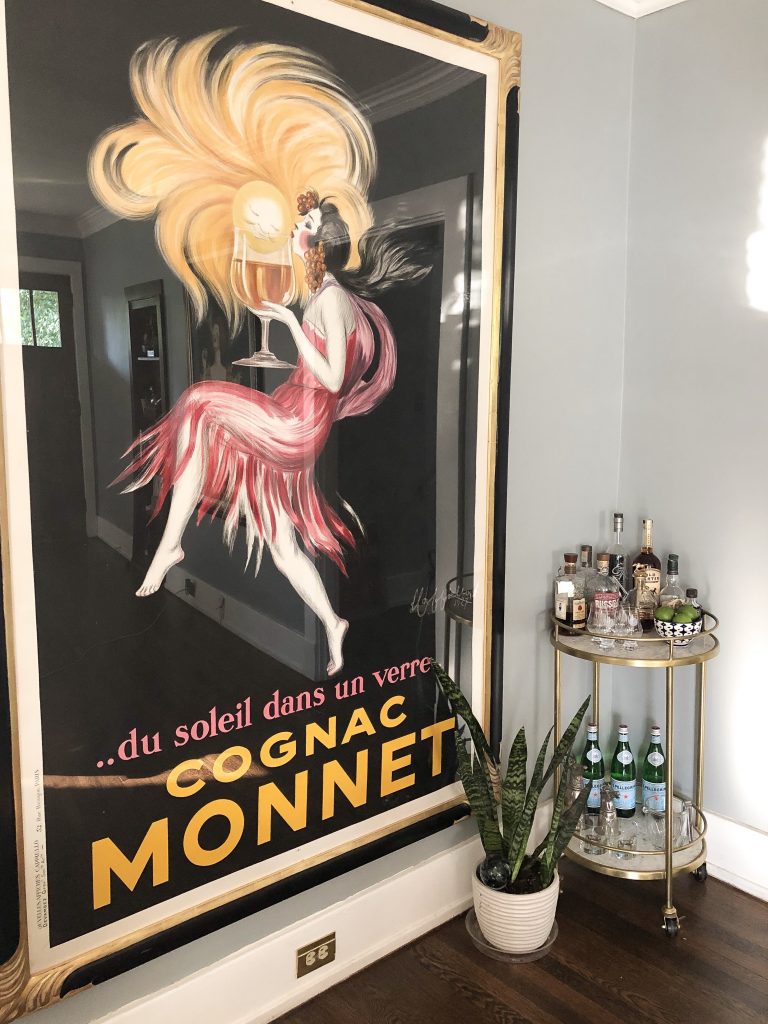 First, decide what room or rooms your bar cart will live in and choose a style that fits with those rooms. Bar carts can be placed in any room that you'll be entertaining in. So don't be scared to move it around—that's the point of the wheels. Think about multiple rooms it might be living in and choose a style that will complement either room. Whether it's a rich wood for a rustic look, a chrome finish for a modern vibe or even teak for outside. Usually, my bar cart lives between my open dining room and kitchen; however, when guests are gathered in my living room, I wheel it into the corner next to a large print. (Not having your cart loaded down with clutter will make it easier to move from room to room).
Accessorize by hanging art. By hanging art above or around your bourbon bar cart, it creates a more significant statement and draws the eyes vertically. It saves space, helps define the area, and can enhance the theme you are going for.
Choose something personal—I have the Bourbon Review Shindig 2016 poster hanging over my cart because it's an event I attended. If you're on the bourbon trail, see what kind of prints distilleries have in their gift shops and pick one up as a souvenir.
To change it up, sometimes I hang this vintage Four Roses advertisement when I am going for a more glamorous look. Vintage bourbon advertisements and signs can be found on eBay or Etsy.
You can pay homage to your favorite bourbon brand or drink with your art—like this clever Call Me Old Fashioned print, which is clean and simplistic.
Put something unique on the cart. I have two stirrup cups on mine that give off major Game of Thrones vibes. While it is unique, it is also functional since they are cups.
If you have room, use cocktail recipe books for added height and color. It also gives you a place to store them when you're not using them.
Bourbon Bar Cart Extras
Stirrer – If you're encouraging cocktail making, a fancy stirrer is a nice touch!
Coasters – Coasters on the cart will encourage your guests to use them. Cocktail napkins also work.
Simple Syrup – you can also make your own simple syrup at home and store it in an old bourbon bottle. Click here for other ways to use empty bourbon bottles.
Paper Straws – They add a pop of color and height.
Click here for other bartender approved bar cart extras.