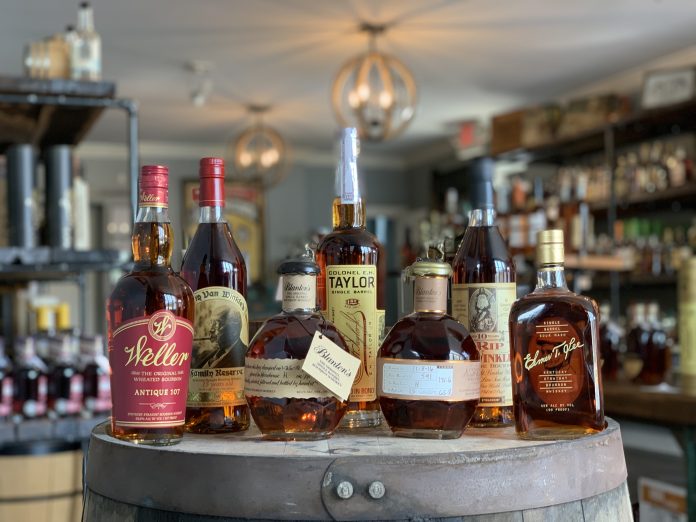 Buffalo Trace Distillery is three years into a $1.2 billion expansion, all with the end goal of putting more of their bourbon into the hands of their fans.
The distillery makes many of the most popular brands on the market today, including Pappy Van Winkle, Blanton's, Weller, Elmer T. Lee, and E.H. Taylor. In the midst of the bourbon boom, these in-demand brands have all but disappeared from liquor store shelves as they're snapped up fast by bourbon lovers and collectors. Buffalo Trace is making moves to meet this demand with an ambitious expansion project – the largest the distillery has seen since the end of Prohibition in 1933.
The expansion, which was announced 2016, will completely overhaul the infrastructure at the distillery. Four new barrel warehouses have already been completed and filled with bourbon barrels, and three more will be completed this year. Buffalo Trace plans to build a new warehouse every few months for the next several years, each of which costs $7 million to build and $21 million to fill with barrels.
The distillery is filling these new warehouses as fast as they can, and expanding cooking, cooling, and fermenting capacity to put more distillate into barrels. This summer, they're completing a new cooling tower to chill water added to grain after it is cooked into mash, as well as four new cookers (each twice the size of the existing cookers). Four new 92,000 gallon fermentation tanks, the largest in the industry, will also be added.
As more of the barrels in these warehouses come of age, the distillery is building a $50 million bottling facility to keep up with the increase. The new bottling hall will be complete in just a few months, and is located near the new distribution facility. Watch the video below to see how the construction at Buffalo Trace is taking shape.
Like anything in the bourbon industry, it will take time before this bourbon reaches consumers. The distillery estimates that it will still be a few years before the supply made possible by the expansion completely meets demand, and in the mean time their popular bottles will remain on allocation to ensure that every state receives some.
"We've been increasing production for many years now. We'll fill more barrels this year than ever before in our 246 year history," said Senior Marketing Director Kris Comstock in a press release last week. "Many of our bourbons are aged for eight years or more, so although we have far more than a decade ago, demand continues to outpace our supply of mature bourbon. There will be more available every year, but it will be awhile before bottles are readily available on liquor store shelves. While we're flattered these brands have become so popular, we do understand the frustration our fans are experiencing when they see empty store shelves. We promise we are doing everything we can, but we can't speed up the aging process, so we just ask for continued patience."
Last year, the distillery released a statement on their bourbon shortage, reassuring consumers that they were making steps to produce more of their popular bottles without compromising their quality. The distillery stressed again in this year's update that it will not raise prices or lower proof in order to simply fill more bottles.
"You can't cheat Mother Nature and you can't hurry Father Time," stated Master Distiller Harlen Wheatley in a press release.
Future guests at Buffalo Trace will see an expanded visitor's center, following a record year in 2018 with 231,523 guests. Click here to read the latest full statement from Buffalo Trace on the progress at the distillery.