Amazon's annual Prime Day has arrived – and no matter what you may be on the hunt for, there's always room in your cart for something that helps indulge your bourbon habit. Calling it Prime Day is a bit misleading – the day is actually two days, with huge deals running June 15th AND 16th.
While these special prices are only good for Amazon Prime Members, you can try a week of the service for just $1.99 – and cancel any time for no fee. From glassware to accessories and more (but sadly no actual bourbon), we've got five of the best deals for bourbon lovers to snag on Prime Day.
1. KANARS Emperor Whiskey Decanter And Glasses Set
Planning to host a bourbon pairing dinner, or try a flight of your home bar favorites? Meet the KANARS Emperor Whiskey Decanter Set, featuring a stunning, spiraling decanter and four glasses. These hefty glasses aren't for the faint of heart – they're purposely oversized to hold a large ice ball, or a bit extra of your favorite pour. Grab the set now for just $49.60.
2. 18.21 Man Made 3-in-1 Shampoo, Conditioner, and Body Wash
This 3-in-1 Shampoo, Conditioner, and Body Wash from 18.21 Man Made is a must-have for  whiskey lovers with a vintage style. Both the bottle and the sweet tobacco scent were inspired by speakeasy vibes from the 1920's, meant to give a Prohibition feel to your morning routine. Score an 18 oz. "bourbon" bottle during Prime Day for just $16.80.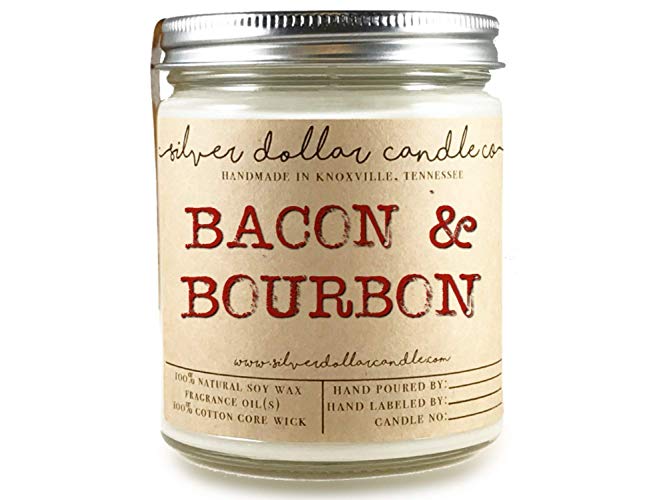 3. Bacon & Bourbon Candle from Silver Dollar Candle Co.
If there's a better combination in the world than bacon and bourbon, someone needs to tell us about it. Get the best of both worlds in 100% natural soy wax form, handmade in Tennessee by Silver Dollar Candle Co. Try this scent, or other masculine ones like Cedar and Tobacco, for just $14.36 during Prime Day.
4. Briar and Oak Whiskey Aging Infusing Sticks
Give your cocktails, bourbon blends, and more a barrel-finished feel with these whiskey aging infusion sticks! Mix up a bottle of Manhattans and throw in a charred white oak stick for a week for a whole new layer of oaky, smoky goodness. Grab a pack of 8 now for just $19.99.
5. Stainless Steel Whiskey Barrel Cufflinks
The perfect gift for groomsmen (or the groom himself), these stainless steel and wooden cufflinks are made from an old whiskey barrel. What's even better, they can be laser engraved to personalize. Grab a pair for your favorite bourbon lover during Prime Day for just $11.99.