Recipe and Photos by Pate Giltner found here at www.thegandmkitchen.com
"This bourbon chocolate chip banana bread contains all my favorite things, bourbon, chocolate, bananas, and cardamom. It's as satisfying as they come, plus its made with half almond flour and half all-purpose flour, so it's also pretty healthy as far as desserts and breads go.
The best part of this banana bread is how easy it is to make. This recipe came to be because I had three bananas that had just gotten too ripe to eat, and the rest of the ingredients I had in my pantry. I added cardamom, bourbon, and chocoalte, because why not. They are delicious, and all make almost any dish better.
Since we are all practicing social distancing for the foreseeable future, I've found it to be a fun challenge to bake with just what I have on hand instead of shopping for a specific recipe. This recipe came from just looking at what I had. I'm excited to see what else I can make from just what I have on hand."
Editor's Note: We love this bourbon chocolate chip banana bread with this Basil Hayden's Bourbon Iced Coffee as a special bourbon breakfast treat or afternoon pick-me-up!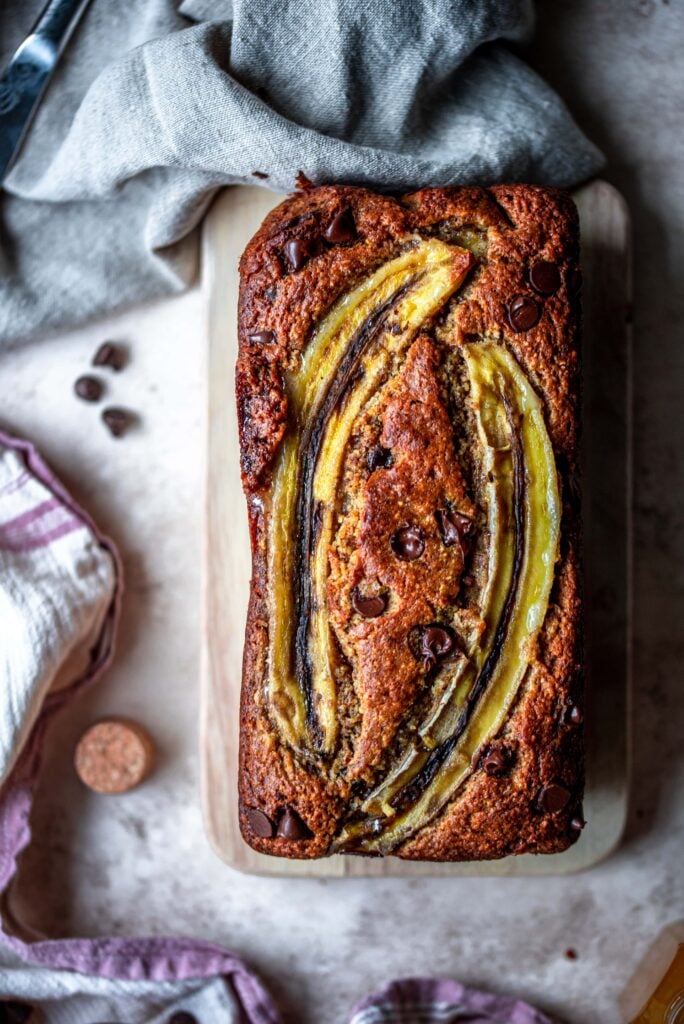 INGREDIENTS
2-3 ripe bananas + 1 banana to put on top of the batter
7 tbsp butter
1/3 cup granulated sugar
1/3 light brown sugar
2 eggs
1 cup almond flour
1 cup all-purpose flour
1 tsp baking powder
1/2 tsp salt
1/2 tsp baking soda
1 tsp cinnamon
1 tsp cardamom
1/3 cup milk
1/4 cup bourbon
1 tsp vanilla
1/2 cup chocolate chips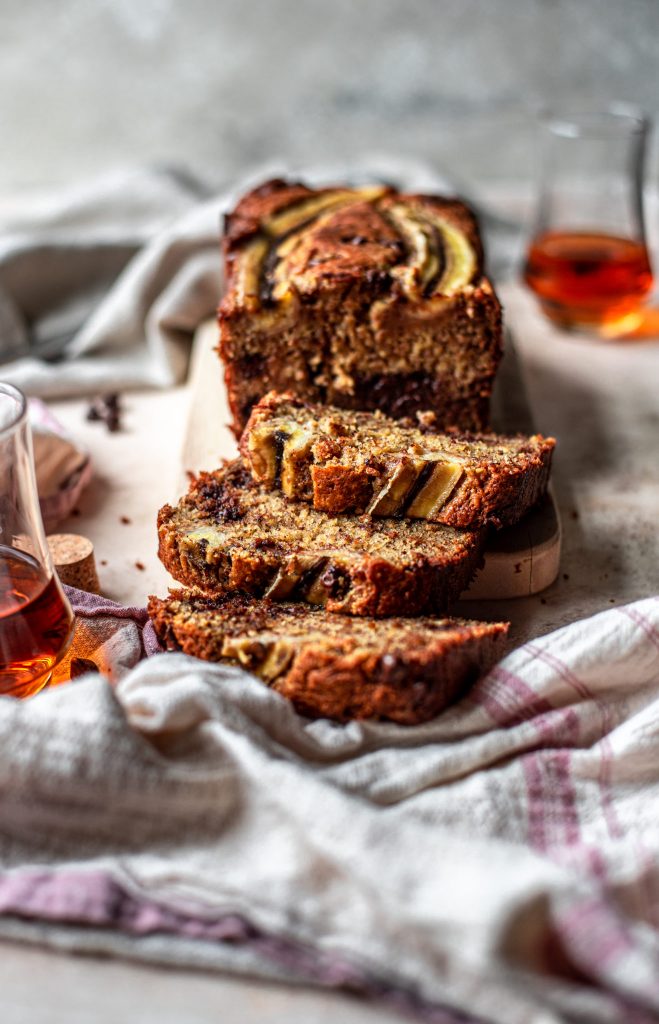 INSTRUCTIONS
Preheat the oven to 350 degrees. Grease and line a loaf tin with parchment paper.
Mash the ripe bananas with a fork in a medium bowl. Leave one banana to the side for the topping.
Beat the butter and sugars in the bowl of a stand mixer until light and fluffy. Add the eggs one at a time, mixing well after each addition.
In a medium bowl, whisk the flours, baking powder, soda, salt, cinnamon, and cardamom together.
Add the milk, bourbon, and vanilla to the mashed bananas.
Add both the banana and the flour mixtures to the butter and sugar, 1/3 at a time and rotate between the wet and dry ingredients. Beat well after each addition.
Add the chocolate chips and mix to combine.
Pour the mixture into the prepared loaf tin. Cut the remaining banana in half lengthwise and place both halves into the batter.
Bake for 50-60 minutes, until the top is nice and brown and a knife comes out clean.