Yay! The 2022 export data for American Spirits has just been revealed from DISCUS (Distilled Spirits Council of The United States), as it comes with good news.
2022 marked an all time high for American Spirit exports…here here! The 2022 figure being $2.06B as reported by DISCUS, a 30% increase vs 2021. American Whiskey accounted for 62% of all spirit exports in terms of value at $1.28B. However, only 23% in terms of volume which suggests one thing – PREMIUM IS KING.
OVERCOMING TARIFF WARS + PANDEMIC: The ending of tariff wars in the EU/UK no doubt played a substantial part in the significant export rebound, as did the ending of pandemic related shutdowns. For perspective, the UK boasted $149M PER YEAR figures for American Whiskey exports in 2017 and 2018. In 2019, the UK figure plunged to $101M. For 2021, the UK total fell to $82M.
Global Growth of U.S. Spirits: 20 Year Upsurge, Near 4x
Global U.S. spirits exports, driven by American Whiskeys, have nearly quadrupled, from $551 million to $2.06 billion (2002-2022) in the past two decades.
Distilleries in the United States have multiplied like rabbits, going from fewer than 100 in 2005 to more than 2,600 today.
TOP 5 U.S. Spirits Export Markets
European Union: $703M
Canada: $268M
United Kingdom: $159M
Australia: $141M
Japan $113
American Whiskey Leads Global Charge of U.S. Spirits Growth
As stated above, American Whiskey accounted for 62% of the total 2022 U.S. Spirits exports for a value of $1.28B.
TOP 10 COUNTRIES: AMERICAN WHISKEY EXPORTS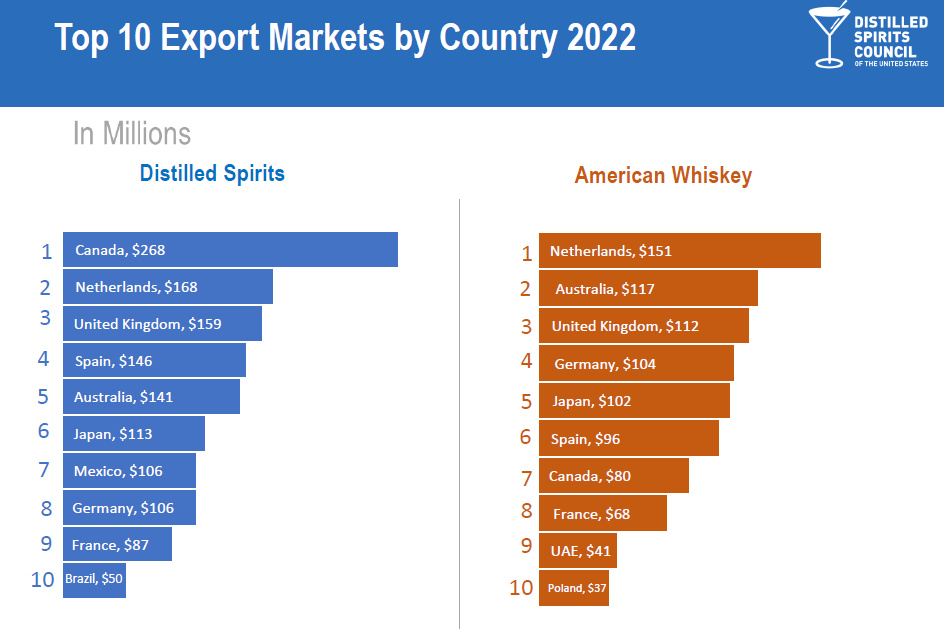 Netherlands is the #1 Country for AW Export in 2022 at $151M…Huh? We are curious to learn more about what is behind the windmill land's explosion for American Whiskey. In 2019, Netherlands sat at $28M for context. Also interesting, seeing UAE at #9 in 2022, $41M. In general, the Middle East isn't renown for its thirst for alcohol.
For perspective, below are the top AW export totals by country for 2019. Interesting to see the Netherlands land the #1 spot in 2022, by a dominant margin.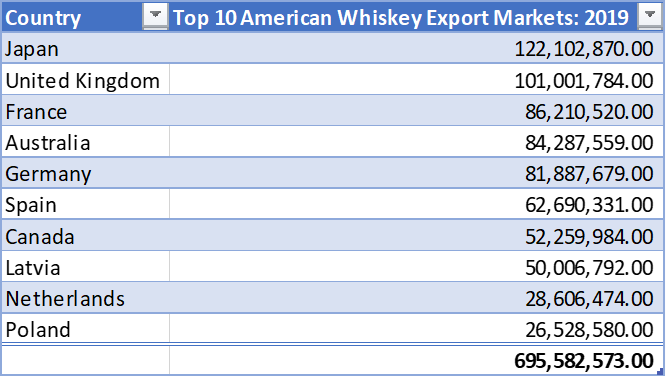 Other U.S. Spirits Have Export Uptick
Compared to 2021, U.S. exports of rum increased by 16% to $109 million; vodka increased by 57% to $123 million; brandy increased by 22% to $18 million; gin increased by 26% to $51 million; and liqueurs and cordials increased by 44% reaching $149 million in 2022.
TOP 10 States for U.S. Spirits Exporting in 2022
TN: $818M
KY: $507M
FL: $345M
TX: $249M
IL: $114M
IN: $89M
AR: $67M
NY: $65M
CA: $53M
NJ: $28M
Tariff Threat on The Horizon
Per DISCUS,"If an agreement on steel and aluminum is not reached with the EU before the end of 2023, the EU will reimpose its retaliatory tariff at 50% on American Whiskeys. That will bring this renewed interest in American Whiskey among EU consumers to a screeching halt."
Let's hope differences can be settled as it would be a shame to see the American Whiskey dominant global growth hit another substantial road block.
RELATED ARTICLE: "2021 American Whiskey Export Data"