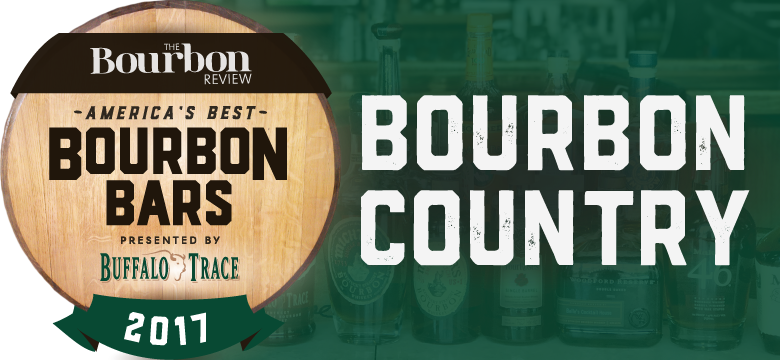 There are several really good Bourbon bars out there these days. But we feel there are 99 bars in America who take their Bourbon obsession to another level.  They are easy to spot because they usually have to expand their shelf space to accommodate 100's of bottles of Bourbon, feature multiple cocktails that show off Bourbon's wide range of flavors and take pride in educating their patrons about the basics of brown water.
We hope you have one of these type of bars in your area. If not, here is a list of 99 places so you can track down the nearest one in your region.
Bluegrass Tavern, Lexington, KY: While their old-fashioned cocktail is very popular, you'd be doing yourself a disservice not to try one of the 750-plus Bourbons unadulterated they currently house.
Belle's Cocktail House, Lexington, KY
The Paddock Bar and Patio, Lexington, KY:  Hovering around 100 Bourbons, the Paddock's prices are hard to beat.  $7 Basil Hayden, $7 Willett Pot Still, $10 Jefferson's Ocean .  Even the $20 for 10-Year Old Rip Van Winkle is a good deal these days.
Parlay Social, Lexington, KY
Old Bourbon County Kitchen, Lexington, KY:  260 of their total 475 whiskies are Bourbon.  They also have an astounding 70 private barrel selections to choose from.
Enoteca, Lexington, KY
Derby Café, Louisville, KY:  Housed inside the Kentucky Derby Museum at the historic Churchill Downs, the Derby Café often has events that feature some of the most well-known Bourbon personalities hosted by its Bourbon Authority, author Fred Minnick.
Silver Dollar, Louisville, KY
Char'd Bourbon Kitchen and Lounge, Louisville, KY
Down One Bourbon Bar, Louisville, KY
Proof on Main, Louisville, KY
Merle's Whiskey Kitchen, Louisville, KY
Bourbons Bistro, Louisville, KY: Louisville's original Bourbon bar. You have to wonder if the city would have put together the Urban Bourbon Trail without this spot's vision.
Doc Crows, Louisville, KY
Haymarket Whiskey Bar, Louisville, KY: This dive bar is the perfect venue if you want over 300 Bourbons to choose from.  You can also wondering into their music venue in the back that plays hosts to genres from punk rock to bluegrass.
Bourbon Barrel Tavern, Elizabethtown, KY
The Rick House, Bardstown, KY
The Old Talbot Tavern, Bardstown, KY:  This place has poured a lot of Bourbon in Bardstown AKA the "Bourbon Capital of the World" since 1779.
Kentucky Bourbon Market Place, Bardstown, KY
Moses Black Bourbon Tavern, Bardstown, KY
The Miller House, Owensboro, KY:  Who doesn't love old mansions that are converted into restaurants that house 400 Bourbons?
Old Kentucky Bourbon Bar, Covington, KY
Bourbon Haus 1841, Covington, KY
Wiseguy Lounge, Covington, KY:  Great pizza, over 100 Bourbons and award-winning cocktails.
Tousey House Tavern, Burlington, KY
The Prohibition Bourbon Bar at Newberry Bros Coffee, Newport, KY:  Over 300 Bourbons.  Enough said.
Jane Barleycorn's Market and Bar, Danville, KY
Old Owl Tavern, Harrodsburg, KY: Located in the historic Beaumont Inn, this quaint inn now boasts a prestigious James Beard Award, to complement their great Bourbon selection.
Click For Next Region: Northeast >>>
 Bourbon Country  |  Northeast Region  |  South Region  |  Midwest Region  |  West Region