The demand for whiskey is at at all-time high, and some people will do just about anything to get their hands on a hard-to-find bottle – including resorting to theft. True crime series might have us mesmerized on Netflix, but in these stories, our favorite spirit takes center stage. Here are seven of the wildest disappearances of rare whiskies.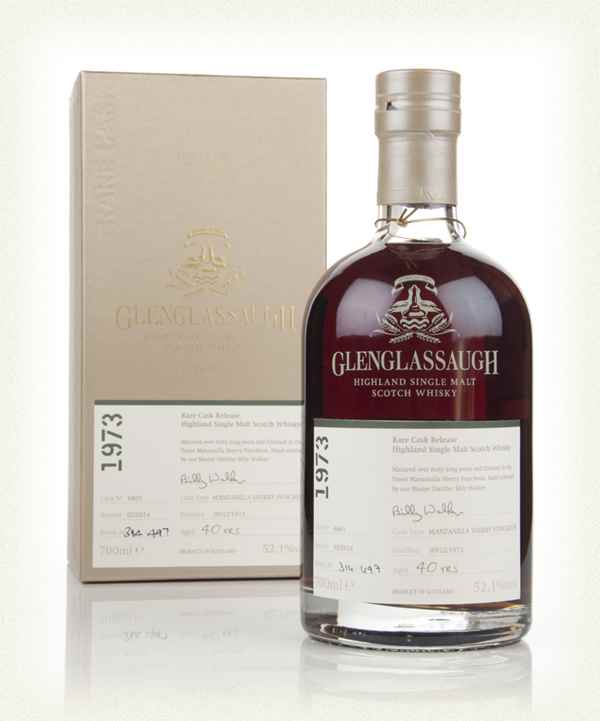 Glenglassaugh 40-year-old Batch 1.
The $13,000 Glenglassaugh Gift Shop Heist
If you want to steal a bottle of Scotch, we guess it makes sense to go straight to the source. The gift shop at the Glenglassaugh Distillery in Aberdeenshire, Scotland, opened one morning in 2014 to realize they were missing dozens of expensive bottles. Among the items taken were of 37- and 40-year-old whiskies made there at the distillery – and a few branded sweaters. To date, no arrests have been made in the case.
The $26,000 Pappy Van Winkle Heist
Back in 2013, the news of the theft of 195 bottles of 20-year-old Pappy Van Winkle and 27 bottles of Van Winkle Family Reserve Rye from Buffalo Trace Distillery swept the internet. "Pappygate," as it was known, took the most sought-after bourbon in the world to even higher levels of desirability. An incredibly limited number of the Van Winkle bottles are released each year – and an even smaller number ever see shelves.
While the retail value of these bottles was named at $26,000 at the time, on today's secondary market we could expect those bottles to fetch over $400,000. For a few years, the trail on these unicorn bottles seemingly went cold. That is, until the police were called to investigate…
Wild Turkey Barrels.
The $30,000 Wild Turkey Barrel Heist
In the aftermath of bourbon being spirited away at Buffalo Trace, five barrels disappeared in 2015 from the Wild Turkey distillery just up the road in Lawrenceburg. An anonymous tipster let the police know they may have spotted those missing barrels in a friend's backyard. And with that, a surprising source for a bourbon black market was uncovered.
Gilbert Thomas Curtsinger, the Buffalo Trace employee named as the ringleader of the operation, was charged with theft of the Wild Turkey barrels, but also with possessing anabolic steroids. As the story unfolded, we learned that Curtsinger and his softball league buddies (several of whom were also employed at area distilleries) were running a full-on booze and drug syndicate. Curtsinger is currently serving 15 years in prison for his role in the crime ring. Interestingly enough, while he's admitted to theft in his time at Buffalo Trace, he was never officially found guilty of the Pappy Van Winkle theft.
The $800,000 La Maison du Whisky Heist
When famous Parisian package store La Maison du Whisky was robbed in 2017, thieves made off with 69 bottles of rare whiskey worth an estimated $800,000. The bandits must have scoped out their score ahead of time – they targeted not bourbon or scotch, but pricy bottles of Japanese whisky.
Included in their haul was of Karuizawa 1960, a whisky so rare only 41 bottles were ever made. Known to fans simply as "The Squirrel," this bottle alone was worth an estimated $230,000. The little gold box that hangs around the neck of the bottle contains its individual ID code – so if found for sale, the bottle will be easy to trace back to La Maison du Whisky. No arrests have been made yet, but being our most recent theft on the list, we can still hope for a safe recovery for these bottles.
The $40,000,000 Kentucky Owl Heist
A century before the Kentucky Owl brand planned a bourbon theme park in Bardstown, Kentucky, Charles Dedman, their first distiller, had a warehouse of his stock seized by the federal government. Prohibition was coming, agents warned the Dedmans, so their barrels were taken into federal custody and shipped to the capitol for safekeeping.
Shortly thereafter, the government claimed the warehouse that held the barrels had caught fire, and not a drop of that whiskey was ever seen again. The brand was revived in 2014 by the great-great grandson Dixon, and Confiscated, their latest release, commemorates the loss of these stolen barrels.
The Millions of Dollars of George Remus Heists
Okay, so this one isn't a huge mystery – George Remus knew exactly who was stealing his bourbon. Remus, a pharmacist and lawyer from Chicago, moved to the Cincinnati area during Prohibition and began buying up pharmacies in the area. As shipments of legal medicinal whiskey would arrive at his shops, he'd have his own hired hands waiting to abscond with them.
The whiskey sold on the black market for many times its value – and there's really no way of estimating what they may all be worth in today's currency. With these ill-gotten gains, Remus threw extravagant parties with $100 bills under place settings at dinner, where women left driving Rolls Royces and men left with Rolex watches. At these parties, his stolen bourbon made it directly into the hands of the Prohibition glitterati. Even American author F. Scott Fitzgerald was a guest – and he based title his character Jay Gatsby off the generous George Remus.
The $100,000 Old Farm Pure Rye Heist
Model and innkeeper Patricia Hill was thrilled to discover nine cases of Pre-Prohibition Old Farm Pure Rye under the stairs in her newly purchased Pennsylvania mansion. She hired John Saunders, a long time family friend, as a live-in caretaker to help convert the house to a bed and breakfast.
When Hill went back years later to check her whiskey stash in 2013, she realized that almost half the bottles had been emptied – and knew that only one other person knew where to find them. Although Saunders denied his involvement in the crime, his DNA was found on the lip of several bottles. Sadly, he passed away before his trial began, but over $100,000 of century-old rye went with him.