The 150 million dollar project will be the first of its kind on the Bourbon Trail
Yesterday, Kentucky Governor Matt Bevin and Stoli Group embarked on the construction of "Kentucky Owl Park," a state-of-the-art distillery and visitor center experience at Cedar Creek Quarry in Bardstown. The 420-acre site will house operations for the newly created American Whiskey Division of Stoli Group, including rickhouses for aging product, a bottling center, and more.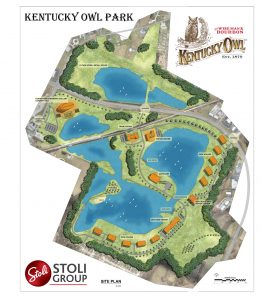 Kentucky Owl Park takes its name from the Bourbon that joined Stoli Group's portfolio earlier this year and served as the inspiration for this groundbreaking. In the long term, the park will feature a freshwater lake, a gourmet restaurant, a convention center, a vintage passenger train, and a refurbished train station. Currently, work is scheduled to start in early 2018 with a goal of completing the distillery phase and begin production of whiskies in 2020. The park will join Bardstown Bourbon Company and Lux Row as the latest distilleries in the Bourbon Capital of the world, and bring over 50 jobs to the area.
"Global demand for bourbon continues to bring significant economic impact to Kentucky through jobs, investment and tourism," said Gov. Bevin. "This new project by Stoli Group in the heart of bourbon country will serve to accelerate this trend. Stoli Group will offer numerous employment opportunities and support many families in and around Nelson County. I congratulate the company and look forward to seeing this concept come to life over the coming years."
"Stoli Group will put great resources into these endeavors – both the distillery experience and the growth of this very important category for our company. As master blender, Dixon Dedman will continue to manage the production of Kentucky Owl – the crown jewel of the new division, which will remain a small batch offering," said Dmitry Efimov, Head of Stoli Group's American Whiskey Division. "This site will be home to additional brands that we will create or acquire. With the continued strength and growth of American whiskies and bourbons, we are beginning to evaluate those opportunities."
Bardstown Mayor Dick Heaton said the company has found the perfect home in Nelson County.
"We are extremely happy to have Stoli Group's American Whiskey Distillery join our growing family of distilleries in Bardstown and Nelson County," Mayor Heaton said. "Bardstown is known as the Bourbon Capital of the World. This new investment is a testament that there is no better place to make bourbon, educate and entertain visitors than Bardstown, Kentucky. The announcement comes as a result of much hard work by many people in the public and private sector here. The City of Bardstown is proud to be a part of this exciting project."