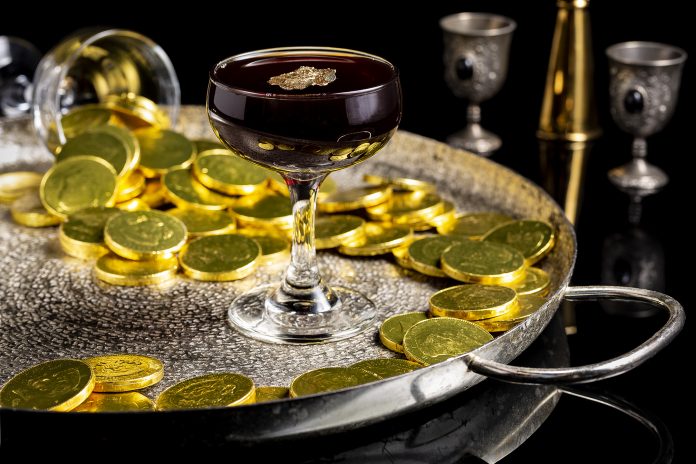 Want your whiskey swimming in decadence? Look no further than the Scrooge McDuck at Sparrow + Wolf in Las Vegas. This luxurious twist on fat washing uses the fat rendered from foie gras, or duck liver, and the spicy High West Double Rye to craft a luxurious cocktail that's perfect for Sin City.
"This cocktail is our take on a Manhattan," explains Sparrow + Wolf bartender Alyssa Ocampo. "The foie gives the rye a viscous texture, without being heavy, while the grape nectar and simple syrup act as the sweet vermouth. I'd been wanting to experiment with fat washing, but hadn't because I thought the process was too timely. Turns out it's extremely simple!"
Fat washing can be summed up in three easy steps. First, render (melt) your choice of fat, whether it's the classic bacon or the higher-end foie gras, and transfer to a glass container. Then pour in your choice of high proof whiskey and freeze the mixture overnight. Finally, filter out the solidified fat to leave behind a whiskey infused with the salty, smoky flavor of the meat.
Sparrow + Wolf utilizes what they call a "pull from the pantry" method for their seasonal cocktail recipes. For the Scrooge McDuck, they use the fat rendered from their foie gras du jour, neatly marrying their food and drink menus.
"We love when our cocktails pair with our food, and decided we have this lovely foie that we serve, so why not incorporate it into a drink?" said Ocampo. "The Scrooge McDuck is rich and viscous, yet boozy and bittersweet. Just as Scrooge McDuck swims in his gold, here we have gold swimming in duck."
Scrooge McDuck
2 oz foie washed High West Double Rye
.25 oz Domaine Santé grape nectar
.25 oz simple syrup
4 dashes lemon bitters
Add all ingredients to mixing glass with ice, stir, strain into coupe. Garnish with gold painted nasturtium leaf.