The Last Drop is releasing their first ever American Whiskey: a 1982 Bourbon from Buffalo Trace Distillery.
This 1982 whiskey is actually an 18-year single barrel bourbon. It was distilled in Frankfort, Kentucky at what was then known as the George T. Stagg Distillery (now Buffalo Trace). The "last drops" of this distillate were removed from the barrel for storage in 2000 and bottled just this year at 90 proof.
"We are tremendously excited to present the 1982 Bourbon, our second smallest release to date," says Rebecca Jago, Joint Managing Director of The Last Drop. "With only 44 bottles worldwide, this is sure to become a collector's item. The Bourbon is a wonderful spirit: deep and rounded, with delicious notes of dried fruit and honey. We only wish there was more to go around."
Of those 44 bottles in existence, only 25 of them will make it to the US market—and with a hefty price tag of $4,000. If you're one of the lucky few to capture your own bottle, you won't have to worry about cracking it open to get a taste. As with every Last Drop release, each 750 ml bottle is accompanied by a miniature 50ml replica perfect for a pour.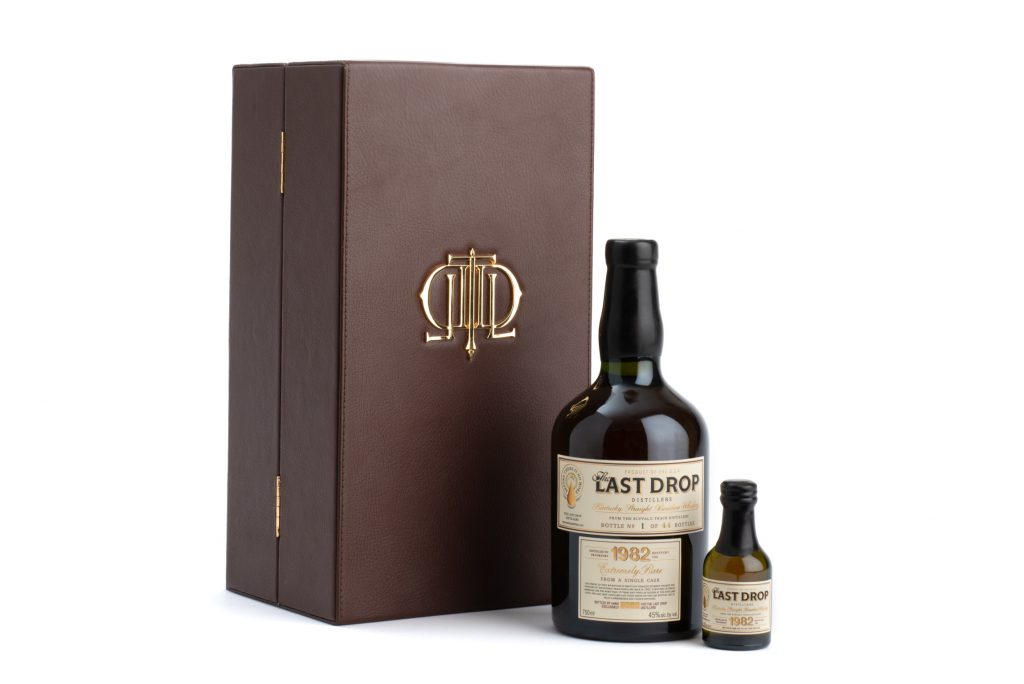 Buffalo Trace Master Blender Drew Mayville describes The Last Drop 1982 Bourbon tasting experience as an "exquisite, rich toffee-like, honeyed vanilla, and candied ripe fruits with undertones of oak." The taste is "sophisticated with an extraordinary richness and butteriness with layers of apple, pecans, ripened pear, dark Belgian chocolate, caramel and a kiss of black cherries," and the whiskey finishes with "dried dark fruit and delightful lingering oak."
This is the thirteenth offering from The Last Drop, who search rickhouses around Scotland and the world to find the rarest whiskies possible. It's the first of many future collaborations between Buffalo Trace and The Last Drop Distillers, which are both owned by Sazerac.
"We have always admired The Last Drop's dedication to sourcing the world's rarest spirits and this launch comes as no exception," says Mark Brown, President and CEO of Sazerac. "This Bourbon, distilled, aged and bottled at our very own Buffalo Trace Distillery, echoes the great relationship between Sazerac and The Last Drop and it is one we are looking forward to growing for many years to come."
Their next partnership comes not in the form of a whiskey, but in a warehouse. The Last Drop recently opened the experimental refrigerated Warehouse P at Buffalo Trace Distillery. The temperature inside stays a steady 45 degrees Fahrenheit year round, creating a consistent slow aging process that The Last Drop hopes to use to produce the oldest bourbons and ryes on the market.