Another day, another 9 figure brand acquisition in the booming Bourbon Industry…MGP Ingredients has announced plans to acquire Penelope Bourbon, a family and founder run NDP (Non Distilling Producer), for $105 million in cash to be paid at closing. The transaction is expected to carry through by June 2023.
The acquisition will be for 100% company equity, including ALL inventory (bottled and aging barrels) and intellectual rights. There is potential for additional payout of $110.8M, contingent on performance based metrics and brand growth through December 31, 2025. If all these performance metrics are met, that would create a grand total of $215.8M.
"Transaction Highlights" below courtesy of MGP Press Release.
Transaction Highlights
Enhances presence in growing American Whiskey category
Expands portfolio of premium-plus price point brands
Leverages Branded Spirits national distribution platform to extend Penelope's reach
Current MGP Distilling Solutions customer
Expected to be immediately accretive to Branded Spirits segment gross margin and consolidated adjusted basic earnings per share after close
Anticipated total cost synergies of approximately $5 million by December 31, 2025
Transaction is anticipated to close in June 2023
MGP and Penelope are already in an open partnership as they have provided the brand liquid since Penelope's 2018 launch.
"MGP has been an incredible partner of ours since we started our business in 2018. We are excited to take our partnership to the next level with the goal of accelerating Penelope's growth for years to come," said Michael Paladini, CEO & Founder of Penelope. "Since our initial product launch in 2019, it has been amazing to watch consumers embrace our brand. We look forward to expanding our partnership with MGP and building on our legacy," said Daniel Polise, COO & Founder of Penelope.
"We are excited to welcome Penelope as part of our expanding premium-plus brand portfolio," said David Colo, president and CEO of MGP Ingredients. "This acquisition aligns well with our premiumization strategy and our focus on growing high potential, high margin brands. Penelope is an excellent addition to our Branded Spirits portfolio as we look to expand its availability throughout our national distribution platform. We are enthusiastic about this acquisition and its ability to further our participation in the growing American Whiskey category while delivering meaningful long-term growth."
PENELOPE BOURBON'S WEBSITE: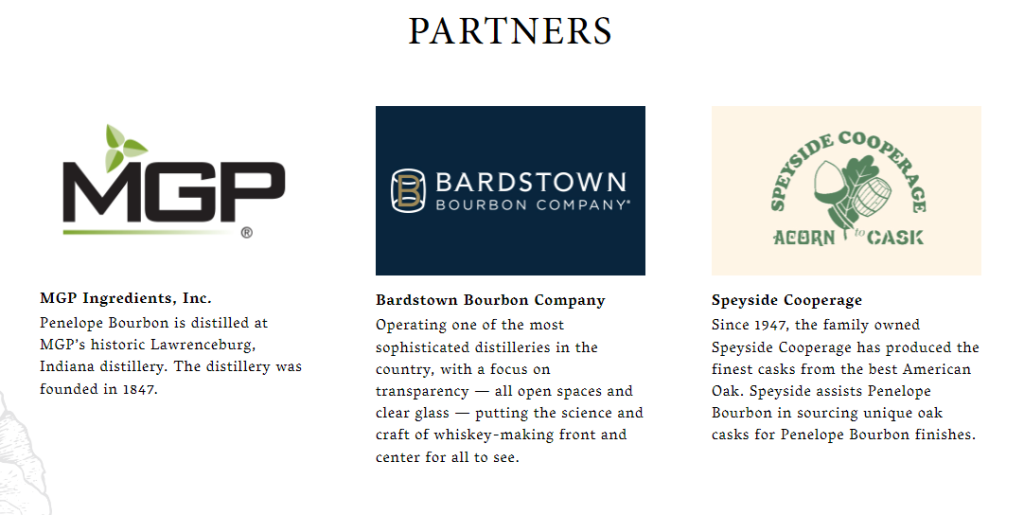 About Penelope Bourbon
Founded in 2018, Penelope Bourbon has been one of the country's fastest-growing whiskey brands. Named after co-founder Michael Paladini's daughter, Penelope boasts a series of straight bourbon whiskey expressions that are all uniquely blended from three different mash bills.
Today, Penelope Bourbon is sold in over 30 states and 4 countries, coming out the gates strongly since launching just five years prior.
About MGP Ingredients, Inc.
MGP Ingredients, Inc. (Nasdaq: MGPI) is a leading producer of premium distilled spirits, branded spirits, and food ingredient solutions. Since 1941, we have combined our expertise and energy aimed at formulating excellence, bringing product ideas to life collaboratively with our customers.
As one of the largest distillers in the U.S., MGP's offerings include bourbon and rye whiskeys, gins, and vodkas, which are created at the intersection of science and imagination, for customers of all sizes, from crafts to multinational brands. With distilleries in Kentucky, Indiana and Kansas, and bottling operations in Missouri, Ohio, and Northern Ireland, MGP has the infrastructure and expertise to create on any scale.
MGP's branded spirits portfolio covers a wide spectrum of brands in every segment, including iconic brands from Luxco, which was founded in 1958 by the Lux Family.
Luxco is a leading producer, supplier, importer and bottler of beverage alcohol products. Luxco's award-winning spirits portfolio includes well-known brands from four distilleries: Bardstown, Kentucky-based Lux Row Distillers, home of Ezra Brooks, Rebel, Blood Oath, David Nicholson and Daviess County; Lebanon, Kentucky-based Limestone Branch Distillery, maker of Yellowstone Kentucky Straight Bourbon Whiskey, Minor Case Straight Rye Whiskey and Bowling & Burch Gin; Jalisco, Mexico-based Destiladora González Lux, producer of 100% agave tequilas, El Mayor, Exotico and Dos Primos; and the historic Ross & Squibb Distillery in Lawrenceburg, Indiana, where the Remus Straight Bourbon Whiskey and Rossville Union Straight Rye Whiskey are produced.
For more Bourbon Industry News, please visit us at www.thebourbonreview.com