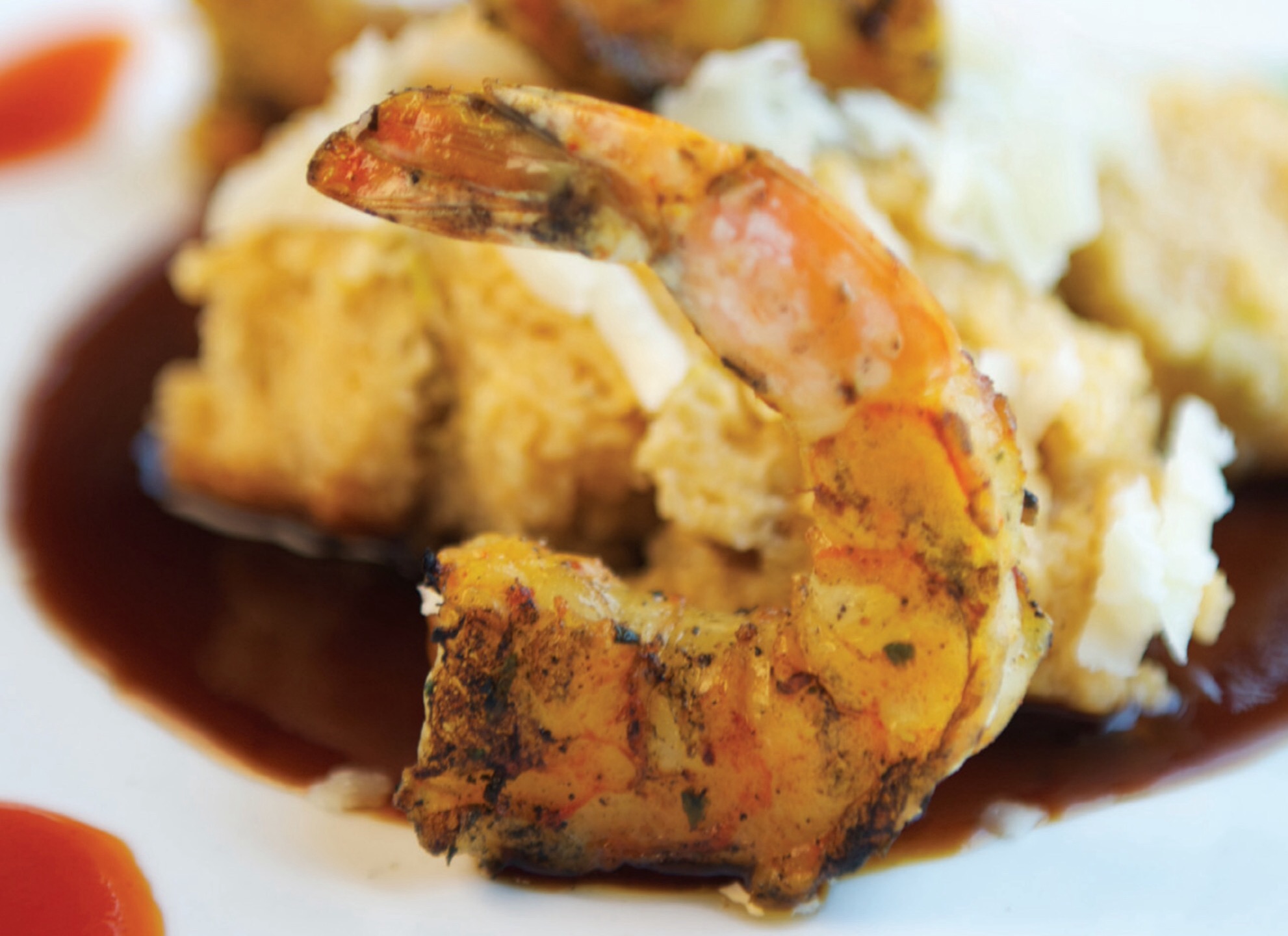 Photo and Story by Fred Minnick
Recipe by Anthony Lamas
Grilling for a group can get monotonous in the summer! Skip the boring burgers and hot dogs routine with enough marinated grilled prawns for the whole gang. This large scale recipe is heavy on flavor but light enough to eat on the hottest of days – and has the perfect amount of Woodford Reserve to start the party.
CHIPOTLE ORANGE DEMI SAUCE
• ¼ cup Woodford Reserve bourbon
• 1 onion, chopped
• 1 tablespoon chopped garlic
• 3 ounces chipotle in adobo
• 1 cup crushed tomatoes
• 1 cup ketchup
• ½ cup rice wine vinegar
• ¼ cup Worcestershire sauce
• 1 cup thawed frozen orange juice concentrate
• ¼ cup honey
• 1 tablespoon paprika
• 1 tablespoon chili powder
• 1 teaspoon salt
PRAWN MARINADE
• 1 lemon, squeezed
• 1 tablespoon fresh chopped garlic
• 1 teaspoon ground oregano
• 1 teaspoon ground white pepper
• 1 teaspoon crushed red pepper
• 1 tablespoon kosher salt
• ¼ cup olive oil
• 3 lbs Kentucky Fresh Water Prawns (U-10), peeled, washed and devein. (may substitute large USA Wild Caught shrimp)
Whisk ingredients together in bowl and add shrimp tossing with marinade to coat. Cover and refrigerate for 2-4 hours.
SMOKED CHEDDAR CHIPOTLE SWEET CORN GRIT CAKE
• 3 quarts of water
• ¼ cup olive oil
• 1 teaspoon kosher salt
• 3 quart container of Quaker Quick Grits
• 1 6-oz can of chipotle chiles in Adobo
• 2 pounds of smoked cheddar cut into 1-inch pieces
• 11/4 cup of fresh raw Silver Queen Corn cut off cobs (about 4 cobs)
• ½ pound unsalted butter
• ¼ cup flour
Bring water, olive oil, and salt to a boil in large pot. Add grits slowly, about ¼ cup at a time continually whisking. As grits begin to thicken add butter and chiles. Cook for about 2 minutes and lower heat. Slowly add cheese and stir. Stir in corn and remove from heat.
Using a paper towel, generously grease a 1-inch half sheet pan with olive oil. Pour the grit mixture into the sheet pan using a rubber spatula to get excess and spread evenly. Cover with plastic rap and refrigerate for 4-6 hours. (May refrigerate for 24 hours). Mixture will coagulate. Using a cookie cutter, cut desired shape to create your mini grit cake. Or cut small triangles using a butter knife. Dust cake with flour and pan fry in olive oil for about 2 minutes on each side, giving the cake a slightly golden look. Place cakes on sheet pan and finish in oven at 350 for 3-5 minutes.
PUTTING IT ALL TOGETHER:
Grill marinated prawns for 2 1/2 to 3 minutes on each side. Place grit cake in center of plate and spoon demi sauce around grit cake. Place 3 grilled prawns on plate surrounding the grit cake with decorative tails toward the center.