By Carla Carlton
Originally Published in the Bourbon Review Winter 2014 Issue
Collectors are on the hunt for limited-edition Bourbons. Annual releases of the Buffalo Trace Antique Collection, Parker's Heritage, the Old Forester Birthday Bourbon and the like disappear from most store shelves in days, if not hours, only to be seen in glamour shots on Facebook. The Pappy Van Winkle frenzy intensified with the theft of 65 cases in October; when the fall allocation was released in November, hundreds of people stood in lines hoping to buy a bottle.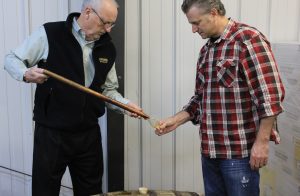 Against this backdrop of Bourbon delirium, a growing number of package stores, bars and, increasingly, groups of enthusiasts are seeking out the most limited edition of all: an entire barrel of Bourbon they've hand-selected at a distillery and had bottled with their name on it.
The popularity of these so-called barrel programs is "blowing up," says Dan Gardner, regional sales manager for Four Roses. The distillery sold 25 barrels when it began the program four years ago; sales have doubled every year since, he said. Other distilleries that offer Bourbon by the barrel, including Buffalo Trace, Heaven Hill, Brown-Forman and Jim Beam, have also seen increased demand. Willett was so overwhelmed by orders for private selections bottled under its Willett Family Estate label that it temporarily suspended the program as of June 1 to catch up.
"If you buy your own barrel, that gives you a brand cache that is recognized by customers as something unique," said H. Joseph Ehrmann, 2010 Nightclub & Bar Bartender of the Year and owner of Elixir in San Francisco, one of the top 100 bars in America. H., as he is known, has collected 12 to 15 barrels across several brands, including Four Roses, Eagle Rare and Elijah Craig 12-year-old. "It sets your bar apart."
Restaurants or store owners often select their own barrels of Bourbon because they're looking for particular notes within a brand's flavor profile. For Bourbon clubs and societies, a barrel selection is a cool way to demonstrate members' appreciation for the amber nectar – at a price, of course.
"It's expensive," says Kris Comstock, brand manager for Buffalo Trace, which started offering private barrel selections in 2002. "To drop $5,000, $8,000, $10,000, you have to be really into it – or have a lot of friends."
Or be a celebrity chef. Emeril "BAM!" Lagasse sent his beverage manager and the president of his restaurant group to Buffalo Trace in Frankfort, Ky., in June to select a Bourbon for cocktails at his three Las Vegas restaurants, Delmonico, Table 10 and Emeril's New Orleans Fish House. From a blind tasting of four brands, they agreed on Eagle Rare 10 Year. "Their restaurants are top class," Comstock said. "It was flattering that they chose one of our Bourbons to be their signature Bourbon."
No matter the client, the selection process is pretty much the same. At Buffalo Trace, barrels pre-selected by the distillery to match the customer's request are rolled into a tasting area in Warehouse H. Unlike Chef Emeril's representatives, most people don't want to taste blind, Comstock said; they're looking for a special barrel of a particular Bourbon (the featured brands at Buffalo Trace are Buffalo Trace, Eagle Rare and Blanton's). Customers knock out the bungs with a bung hammer and taste at barrel strength "for fun." Then the distillery adds water to bring each sample to bottling proof, which is the only way they will sell it.
"We want to maintain the integrity of the brands," Comstock said. Buffalo Trace, for example, "by definition is 90 proof. If it came to you at 130 proof, it's not Buffalo Trace anymore." Nevertheless, "every barrel is a little bit different," he said. "That is the beauty of single-barrel Bourbon: the nuances and subtle differences. And if there's one they really like, we'll bottle it up just for them."
The actual purchase must be made from a retailer, as distilleries can't sell direct to anyone. "It all goes through our distributor network," Comstock said. The cost is determined by the number of bottles that the barrel yields (in general, 150 to 250) multiplied by the retail price. If Eagle Rare retails for $30 and you get 200 bottles from your barrel, the cost would be $6,000.
"We give the customer every drop and put a special medallion on every bottle – your logo or store logo or 'Handpicked by.' We put the empty barrel on the top, shrink wrap the whole pallet and send it to the distributor," Comstock said.
It's much the same at Four Roses, which has two programs: the 100 Proof Program, in which customers choose from five barrels of the OBSV recipe, and the Barrel Proof Program, which lets customers select their favorite barrel from all 10 individual recipes, to be bottled at barrel strength.
In 2012, H. and his friend Jimmy Yeager, owner of Jimmy's in Aspen, Colo., came to Four Roses' warehouse to select four barrels with Master Distiller Jim Rutledge, three of which they split between their bars. More recently, H. partnered with Healthy Spirits, a San Francisco retail outlet, to purchase four additional barrels of Four Roses each. During WhiskyFest San Francisco in September, Rutledge conducted a tasting at Elixir of those eight, plus Four Roses Yellow Label, Small Batch and Single Barrel.
Each of Four Roses' recipes, which are created by marrying five different yeast strains to two mash bills, "has a different story," H. said. Being able to offer a flight of several recipes allows him to offer "a granularity of information" that many customers aren't aware of, he said. "This fits into my philosophy of providing education as part of the customer experience."
Customers have come to expect a rarified experience at Binny's Beverage Depot, a destination retailer in Chicago where private selections include Buffalo Trace, Eagle Rare, Ridgemont and Sazerac rye, Blanton's, Rock Hill Farms, Knob Creek, Angel's Envy, Evan Williams, and all 10 Four Roses recipes. "We have a pretty good reputation for product knowledge, as a good destination place for people who are really, really into Bourbon, wine, beer, whatever," said Brett Pontoni, specialty spirits buyer. "This feeds that. It's fun and it's interesting and it's unique and it's a level of care that I think just shows that you're paying attention."
Many people seek out Binny's hand-selected bottles, Pontoni said, including two European Bourbon collectors who travel extensively. "Whenever they are passing through we will pull every different new one we've had, and they will grab those bottles."
In Louisville, the Bourbon Society grabbed the first barrel of Old Forester after Brown-Forman started its barrel program in early 2013. "Old Forester was the first bottled Bourbon, and Brown-Forman has such heritage in this community. I felt very strongly we needed to get that first barrel," said Chris Zaborowski, a member of the Society and owner of Westport Whiskey & Wine. In a new tasting room in Brown-Forman's Warehouse L in Shively, Master Distiller Chris Morris led them in a tasting of samples from three barrels cut to 90 proof, he said.
"One was very fruit forward but lean in the mouth. Another didn't have as expressive a nose but had a fairly good vanilla profile in the mouth. The barrel we chose had that balance – a good nose, and a long, lingering finish in the mouth with no burn or astringency. That's the key thing I try to look for. Of the three, for us it was a no-brainer." Bourbon Society members bought some of the 180 bottles the barrel yielded and Zaborowski, who has also done a barrel selection of Brown-Forman's Woodford Reserve Double Oaked, kept some for his store.
Being part of a group like the Bourbon Society allows individual enthusiasts to get their hands on a few bottles of an exclusive selection for a fraction of the cost. Along those same lines, Jason Brauner, owner of Bourbons Bistro in Louisville, recently announced a new program in which customers can join him on a barrel-selection excursion and purchase some of the bottles – as few as 10 or 20 at around $50 each – with an additional per-person charge of around $150 per person for transportation to the distillery and accompanying meals.
With behind-the-scenes access to distilleries and master distillers and the opportunity to taste the nuances among different barrels of the same taste profile, barrel programs impress even the most experienced buyers.
Pontoni from Binny's puts it this way: "There is more to it than jumping up and down and saying, 'Woo hoo, we have our own barrel!' These distilleries have treated us well and given us a lot of leeway to do this. It's not the cheapest way for Four Roses to get barrel-strength on the shelf: pulling the samples, then pulling the barrel we choose – and we might pick the barrel that's all the way at the back. And then there's the hand-bottling at Buffalo Trace…. I know they understand the respect we have for them. They certainly go out of their way to work with us on these things. And so our job then becomes to go out of our way to blow the horn for all the different brands."
THIRSTY? If you'd like to participate in a barrel program, contact the distillery directly. They'll provide more details and help you find a retailer in your area to make the sale.