A father is on a mission to save his two-year-old son's life, with the help of his personal collection of Pappy Van
Winkle Bourbon and the Kentucky Derby Museum. Nathan Perdue is a bourbon collector
and connoisseur, who happens to have quite the Pappy Van Winkle lineup. He also happens to
be the father of a two-year-old boy, Wyatt Perdue, who is living with cystic fibrosis, a genetic
disease that causes persistent lung infections and limits the ability to breathe over time.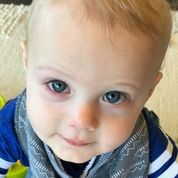 Nathan approached the Kentucky Derby Museum with the idea of raffling off his prized Pappy
collection, in hopes that teaming up would bring more awareness and funding to beating this
devastating disease. The Perdue family's ultimate hope is that funds raised for the CF
foundation will help find a cure for cystic fibrosis in Wyatt's lifetime so that he and so many
others can overcome CF.
Prize Package!…
Five bottle limited-edition collection of Pappy Van Winkle Bourbon, valued at $18,250 valued by Justin's House of Bourbon
VIP Kentucky Derby Museum experience for winner and up to three guests
One-night stay at Hotel Distil for winner
To Enter…
Tickets are on sale now, with full contest details at derbymuseum.org/raffle. Tickets are
$100 each, with only 4,000 tickets to be sold. There is no limit on the number of tickets
that may be purchased by an individual. Must be 21+ to purchase.
Raffle benefits will go to….
Raffle proceeds will benefit the CF Foundation and its mission to find a cure for cystic fibrosis.
A smaller portion of raffle proceeds will support the education department at the Kentucky
Derby Museum, which teaches over 30,000 students each year about the Kentucky Derby.
Ticket sales on sale NOW and end September 23 with a winner drawn via Facebook LIVE
on the Museum's Facebook page on September 24 at 10 A.M. EST.
Pappy Collection Includes…
2015 Pappy Van Winkle Family Reserve 23 year – M Bottling Line, 82nd Day of 2015 at 10:47
2011 Pappy Van Winkle Family Reserve 20 year – M Bottling Line, 278th Day of 2011 at 14:27
2017 Pappy Van Winkle Family Reserve 15 year – Year 2017, 256th day, Plant 01 at 07:46
2011 Van Winkle Special Reserve Lot B 12 year – M Bottling Line, 220th Day of 2011 at 10:31
2020 Old Rip Van Winkle 10 year – D Bottling line, 225th day of 2020, Plant 01 at 20:14