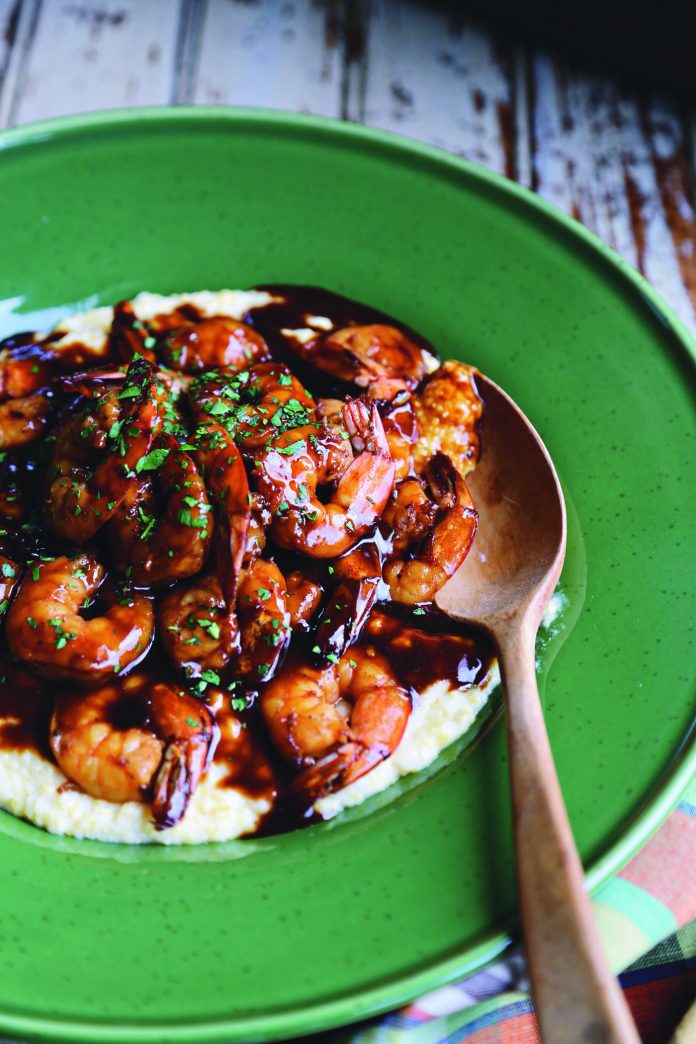 From Pickles, Pigs, & Whiskey: Recipes From My Three Favorite Food Groups (and Then Some) by John Currence/Andrews McMeel Publishing, LLC 2013.  BUY FROM AMAZON
There are two popular versions of barbecued shrimp in New Orleans and, oddly, neither is what most people might think. New Orleans barbecued shrimp never see open fire, charcoal, or smoke. The most common version you see today was pioneered by Gerard Maras at Mr. B's Bistro in the French Quarter and is a stovetop sauté heavy on Worcestershire and garlic and finished with a healthy dose of cold butter, which gives it a spicy and creamy texture. The other was born on Napoleon Avenue at Pascal's Manale and is a butter-baked version heavy on black pepper, rosemary, and garlic. Both versions are perfect for sopping up with cloud-light Leidenheimer's French bread, but the former lends itself to much greater interpretation when it comes to sides to serve it with.
I worked the station at Mr. B's that turned out this dish as well as an outstanding pasta jambalaya. It was insanely busy. Prep for my station on a regular weekend night included cubing up two cases (72 pounds) of butter to finish these two dishes. It was a monster, but if you could work that station, you could work just about any one, anywhere.
You will not need 72 pounds of butter for this, but trust me, use exactly what I tell you; though fatty, this is a perfectly acceptable occasional treat, especially if you get your hands on some good fresh shrimp. As much as I love a contrasting texture in my dishes, the creamy grits here are a great counterpunch to the boldness of the Worcestershire. The Creole Cream Cheese (a south Louisiana primitive farmer's cheese) paired with a hint of raw garlic stand up to the bold flavor of the shrimp.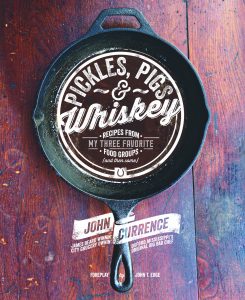 Ingredients
20 head-on, unpeeled shrimp (26 to 30 count)
1½ teaspoons salt
2 teaspoons freshly ground black pepper
2 tablespoons pure olive oil
1 tablespoon bacon fat
2 shallots, sliced
4 cloves garlic, thinly sliced
2 teaspoons black peppercorns
1 lemon, sliced (rind included, but stem and blossom ends discarded)
2 cups Worcestershire Sauce or store bought
1 tablespoon chopped fresh rosemary
2 teaspoons fresh thyme leaves
2 teaspoons red pepper flakes
2 dried bay leaves
½ cup dry white wine
¾ cup Veal Stock
3 tablespoons clarified unsalted butter
3 tablespoons heavy cream
½ cup cold unsalted butter, cubed
3 tablespoons chopped fresh flat-leaf parsley
½ cup thinly sliced green onions
To cook the shrimp: Remove the shrimp heads and peel the shrimp, leaving the tails attached. Reserve the shells. Cut a groove down the spine of each shrimp (this will cause them to "butterfly" when they cook and increase the delicious surface area). Sprinkle the shrimp with the salt and pepper and set aside.
Heat the olive oil and bacon fat in a medium saucepan over medium heat. Add the shrimp shells and heads and stir until they all have turned pink. Add the shallots and garlic and sauté until they turn transparent. Stir in the black peppercorns, lemon slices, Worcestershire, rosemary, thyme, red pepper flakes, bay leaves, wine, and stock. Bring to a boil, lower the heat, and reduce by half, 12 to 15 minutes. Strain the reduced shrimp stock and reserve.
In a large sauté pan over medium heat, heat the clarified butter until it begins to shimmer. Add the shrimp and cook, turning once as the shrimp begin to turn pink. Add the reserved shrimp stock to the pan. Bring to a simmer and reduce the sauce until it is thick and syrupy. Swirl in the cream and combine completely. Whisk in the cold butter until completely combined, and then blend in the parsley.
Serve the shrimp and accompanying sauce over the grits and scatter with the green onions.
Grits
2 cups Dark Chicken Stock
2 cups whole milk
1 cup stone-ground grits (not instant or quick)
4 tablespoons unsalted butter
2 teaspoons minced garlic
2 teaspoons salt
1 tablespoon freshly ground black pepper
¾ cup Creole cream cheese, substitute commercial cream cheese, if need be
In a medium saucepan, bring the stock and milk to a boil over medium heat. (Be careful as this approaches a boil, since it will foam up in a hurry and spill over.) Whisk in the grits and lower the heat slightly. Continue whisking for about 10 minutes. Taste to make sure the grits are cooked through and tender. Stir in the butter, garlic, salt, pepper, and cream cheese and set aside, keeping warm.