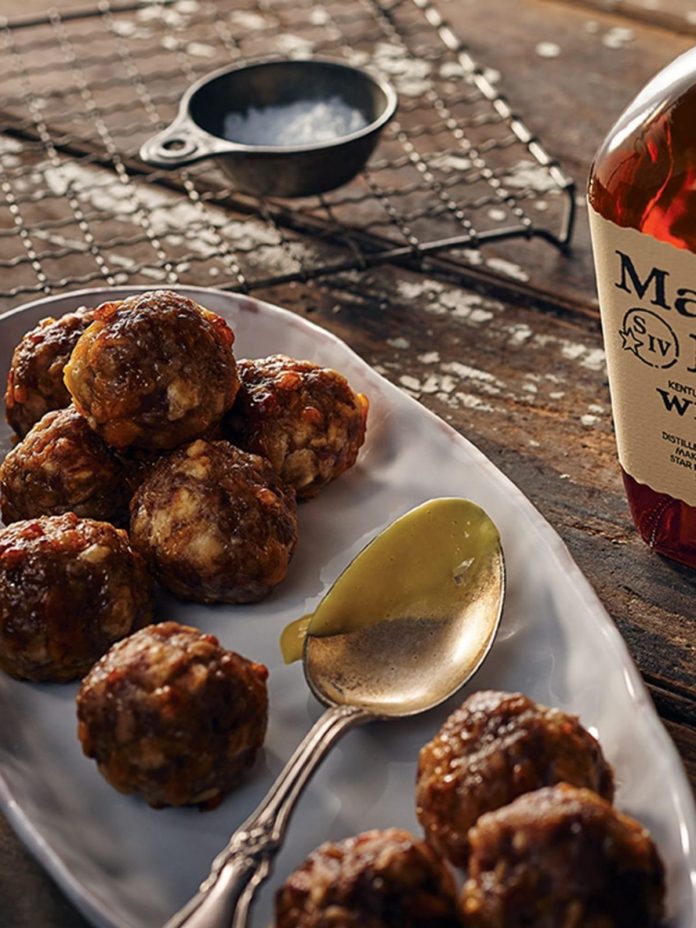 "This classic Southern appetizer works great when paired with a Maker's cocktail or taken along to a potluck party. These cheesy bite-sized beauties are served with a Bourbon Mustard Dipping Sauce that brings a nice blend of mustardy heat, sweet honey and caramel notes from the Maker's Mark. The recipe has a low degree of difficulty. Once your prep work is done, the sausage balls take just a few minutes to cook in the oven."

Recipe and Photos found here at www.makersmark.com.
Ingredients
SAUSAGE BALLS
2 lbs. good country sausage
2 sleeves saltine-style crackers, crushed
1-1/2 cup fresh shredded cheddar cheese
2 eggs
1/2 cup buttermilk
BOURBON MUSTARD
1 cup mayonnaise
3 oz. (2 shots) Maker's Mark Bourbon
1/3 cup yellow mustard
2 tbsp. honey
Instructions
SAUSAGE BALLS
1. Preheat oven to 450 degrees.
2. In a large bowl, combine crackers, egg and buttermilk and mix well.
3. Add sausage and cheese. Mix again, being careful not to overmix.
4. Cover and let sit in the refrigerator for 30 minutes to cool.
5. Form the mixture into balls and place on greased baking sheets.
6. Bake for 12 minutes and check progress. Bake for remaining 6 minutes or until cooked through. You want some browning and crunchy exterior.
BOURBON MUSTARD
1. Combine mayonnaise, mustard, honey and bourbon in a large bowl and mix well.

2. Refrigerate any leftovers and save for up to 1 week.
NOTES
HERE'S THE SCOOP
Use an ice cream scoop or melon baller – depending on desired size – to help form uniform sized sausage balls and keep your hands clean.

STICK FIX
You might find that lining your baking sheet with parchment paper or foil will make cleanup easier, as well as removing the sausage balls from the baking sheet.

ADULTS ONLY
The dipping sauce contains full-strength Maker's. For a family-friendly version, first simmer the bourbon until it's reduced to a syrupy texture and let cool. This will burn off the alcohol.

TIPS, TOOLS & TECHNIQUES
Sausage balls are a fairly simple concept, but there are still ways you can make the task of making them even simpler. If you own a stand-up mixer let the paddle attachment do some of the mixing work for you. Also, whisking your eggs before you add them to the crushed saltines will make mixing them easier and create a more uniform mixture. Also, consider shredding your own cheddar. Some pre-shredded brands use an additive that prevents clumping. This is good for some things, but not trying to form sausage balls that hold together. Finally, the mixture can be refrigerated overnight, which may help you with scheduling and – some would argue – flavor.