Playboy Spirits' Rare Hare has announced its latest release bearing the appropriately edgy name – Lucky Bastard. With only 2,500 bottles, the limited edition is an 89 proof 30-year-old Canadian whiskey finished for 120 days in Pineau Des Charentes barrels , a regional French aperitif which according to the brand is making waves in the high-end cocktail scene.
Pineau des Charentes, a fortified wine made by blending the region's grape juice with young eau-de-vie Cognac, provides strategic purpose in lending its inherent sweetness and flavors of vanilla-imbued fruits to the final expression. Per the brand on its artful engineering: Gradually revealing its intricate layers of flavor, akin to the enjoyment of a fine wine, this worldly expression imparts a symphony of taste rarely encountered in a pour of whiskey. The combination of young coconut, plantains, mellow Martinique rhum, serrano chili, anise, and mandarin orange create a harmonious blend that evolves in the glass, enticing you to discover more.
The name Lucky Bastard pays homage to Playboy's legacy in gaming, where the brand's captivating presence and influence have shaped unforgettable experiences. The limited-edition bottle is now available online for pre-sale for $599 at RareHareSpirits.com.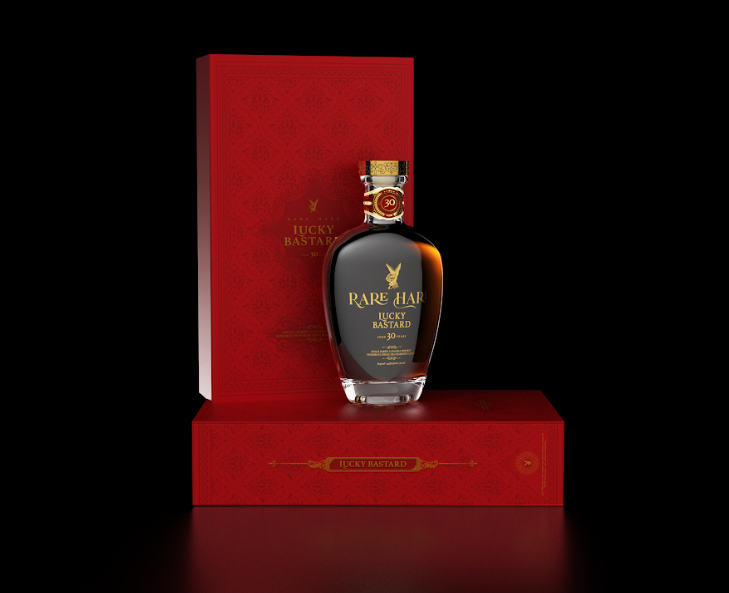 "This whiskey was made with the collaboration of expert blenders, cooperages, and wine makers. We tasted weekly and chased flavors using whatever methods regulations allowed. This required close attention to the weather and changing between sunny or shaded parts of our facilities," said Rare Hare Spirits' Chief Operations Officer, Alex Moore, who oversaw the finishing process. "Extensive aging requires particular care to prevent over-oaking of a product. As with cognac, aging something for so long takes special attention to design and intention. It's not a product you throw in a barrel and forget about."
About Rare Hare
A partnership between PLBY Company Inc. (Owner of Playboy) and SIP (Spirit Investment Partners), whose inaugural 2022 Bourbon "Rare Hare 1953" featured a 17 year Bourbon finished in XXO Cognac casks. 1,953 bottles were released, saluting the year Playboy debuted in 1953.
SIP is also behind Bob Dylan American Whiskey brand Heaven's Door.
For the latest on Bourbon, visit www.thebourbonreview.com.