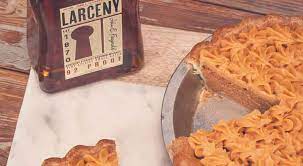 Story by Robbie Clark | Photos by Emily Moseley
Bourbon is a versatile ingredient no matter what you're preparing – and pies are no exception. As baked pastries rule the dessert tray through fall and the holiday season, we asked Executive Chef Brian Surbaugh and Pastry Chef Becca Schmutte of Table 310 and its sister restaurant National Provisions in Lexington, Kentucky, to whip up some pie recipes using a Bourbon that paired well with the fillings.
Larceny Bourbon Pumpkin Pie Recipe
Ingredients
3 eggs
16 oz. pumpkin puree
12 oz. sweetened condensed milk
2 tbsp. Bourbon (we used Larceny for its sweet cinnamon notes)
2 tsp. kosher salt
2 tsp. cinnamon
1 tbsp. freshly grated nutmeg
1 tsp. powdered ginger
Directions
Combine all ingredients in a medium bowl and whisk together.
Pour into a prepared pie shell and bake at 350°F for 50 minutes.
Pie Shell Dough (yields two 9-inch pie crusts)
Ingredients
3 cups all-purpose flour
2 tbsp. granulated sugar
1 tsp. kosher salt
½ cup shortening
1 cup buttermilk ( ½ cup whole milk, ½ cup heavy cream, 2 tbsp. lemon juice)
1 egg
Directions
Combine flour, sugar and salt in large bowl.
Mix in the shortening and egg by hand into flour mixture until it resembles pea sized crumbs.
Add the buttermilk and mix until the dough just comes together.
Wrap in plastic wrap. Cool for at least one hour before use.