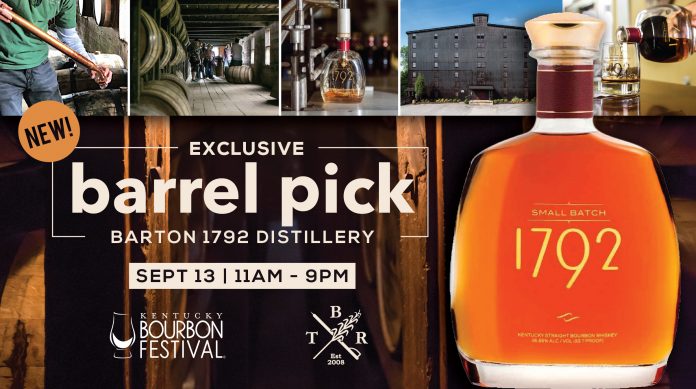 Story & Interview by Bob Eidson
It's that time of year when the mornings start out cool & refreshing, but by noon in the Bluegrass, you know you're still in the humid Ohio Valley. The kids are back in school and you've already binged 'Last Chance U – Season 3'; but, college football is still ramping up with pointless exhibition games. For Bourbon lovers, Bourbon Heritage Month is around the corner and so is the Kentucky Bourbon Festival. After judging the Mixed Drink Challenge earlier this month, I caught up with Jill Hawkins, the Executive Director of the festival, on what to expect for this year's lineup.
Bob: KBF feels a bit 'early' this year. Am I crazy? It's technically the 3rd
weekend in September, but this feels like the earliest that I can remember.
Jill: Bourbon Festival is always held the week preceding the third weekend – how is
that for some crazy detail?  But, I agree – it seemed to sneak up on us this
year!

Bob: If someone is just now starting to plan their trip to the 2018 KBF, what events should they try and secure tickets?
Jill: Oh my goodness, we really do have a great schedule of events for 2018 and are very excited to share a new, exclusive opportunity that has never been done within our organization. For the first time ever, we will be offering a private barrel selection experience in partnership with The Bourbon Review at Barton 1792 Distillery. Tickets will be very limited, so we encourage everyone to get on our website for full event details! We would also suggest that they get on the website to secure tickets to all of our great events now, because several events are already sold out!
[ CLICK HERE for tickets to the 2018 Kentucky Bourbon Festival ]
Bob: The KBF is turning 27 this year; in what ways have your audience
engagement evolved?
Jill: Oh my – the change has been massive! For that first year, I imagine audience engagement was limited to an invitation to the dinner. Now, we're very active in Social Media channels – did you see our Facebook Live Video in mid June?
Bob: I did see that! That was the unveiling of the official poster and theme
for this year… it was Scientific Proof, which I wanted to ask you about.
Jill: That's right! On June 14th, my team & I hosted a Facebook Live Video from our new event space which is located in the penthouse of Spalding Hall.  Our whole team was there to reveal our Scientific Proof, along with a few guests who came in to
celebrate the reveal.
Bob: June 14th, National Bourbon Day…
Jill: Yep! We had more than 2k views. And, as a nod to our history we asked people to guess the year of the first KBF.
Bob: Did you have many responses?
Jill: I don't remember the exact number but there were a lot, many of which were correct.  We had planned to send out some KBF swag to the first person with the correct answer, but I think we ended up sending it to several because so many chimed in at the same
time.
Bob: Wow… I bet a lot has changed since the 1991 KBF, right?
Jill: And that's why we're exploring different ways to engage & re-engage our audience. The Facebook Live Video was a way for us to not only introduce the new poster and this year's theme, it was also a chance for us to introduce the expanded team and unveil our
newly renovated home above the Oscar Getz Museum.
Bob: Which also saw a renovation, or some substantial upgrades, right?
Jill: Correct. Most people wouldn't recognize the museum, compared to what it was. The exhibits have been modernized, borrowing from the experience at the Frazier History Museum. Linda McCloskey has been very involved, and was key in the facility
renovations. I believe they're archiving the bottle collections with the intention of gaining official museum status!
Bob: Sounds like there is a lot going on in Spalding Hall!
Jill: Indeed! As you know, we just held the 2018 Bourbon Capital Mixed-Drink Challenge in our new space. Since you were a judge, what was your impression of this year's Mixed-Drink Challenge?
Bob: Well, I REALLY liked the new format.
Jill: Because you didn't have to walk to each station this year?
Bob: [ pause ] Um, yes, but… I think the bigger part was how the event revolved around each cocktail, and the team behind the recipe. Was it the Bardstown Bourbon Company with the choregraphed presentation?
Jill: We thought all of our contestants did a great job, but BBC kind of stole the show, with their well-organized delivery. Come on – They had a contestant with a green face! Their drink was called the 'Modern Prometheus,' and will be featured at this year's
KBF. What did YOU think of the drink?
Bob: Who's interviewing who here!? Just kidding. I liked the 'idea' of their cocktail, where it had the apple slice frozen in the cube. I've been saying that ice is the 'frontier' of cocktails, and we're starting to see some cool things being done with ice. Of course, Beth Burrows from Jim Beam American Stillhouse brought fire, or actually smoke, to her cocktail. That was delicious; she really knows her stuff. But also, I really liked the one
from Blanton's & BHG, the 'Time Machine.' It was a twist on a NY Sour, and it used an egg-white foam topped with dehydrated apple crisps. I believe I scored that one the highest, but the top-3 were all pretty close.
Jill: What did you think about the timing of the Mixed Drink Callenge?
Bob: I think it works! Holding it in August sort of helps to build the inertia going INTO Bourbon Festival. And now, people don't have to wait 6 months to try the winning cocktail.
Jill: Well they could try the cocktail anytime, because it's featured in the Bottle & Bond Kitchen and Bar, at the Bardstown Bourbon Company.
Bob: That place is super swank!
Jill: It is; I think they brought some of their swagger to the Mixed Drink Challenge, and clearly it paid off for them!