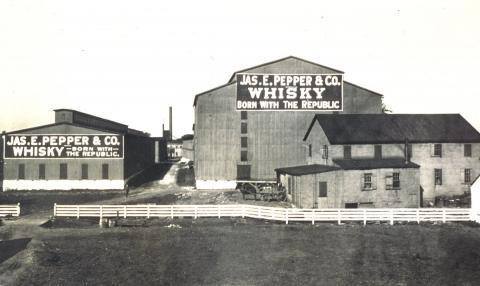 Story by Caroline Paulus
Photos Courtesy of James E. Pepper
The federal permits to distill have come through for the James Pepper Distilling Co. in Lexington, Kentucky to begin producing its own juice. Currently, James E. Pepper offerers sourced Bourbon under its 1776 label, but plans to start running stills come October for the first time in 59 years.
The distillery, which first opened in 1869, revived it's original permit number of DSP-KY-5, marking them the fifth distilled spirits plant in the state. Permits being released today number above 20,000. Initially, the distillery will produce 42,000 proof gallons, with the capacity for up to 260,000 in the future.
The historic limestone well and a custom copper column still from Lousiville's Venodome Copper will be used in the restored distillery operations. Venodome built the original still for the property in 1934, and will use the old mechanical drawings to design today's version.
The distillery sits near Downtown Lexington in the aptly named Pepper Distillery District, a recently revitalized area that includes restaurants, a craft brewery, homemade ice cream, and live music venues. James Pepper plans to open both the distillery and a small James Pepper history museum for tours this fall.