Historic site is distilling whisky again after a 50 year break
Story Justin Thompson
Photos Victor Sizemore
If you get the chance to spend some time with current James E. Pepper brand owner, Amir Peay, you'll find out he is almost more historian than he is distiller.  Peay's passion for the past led him to discover the James E. Pepper Bourbon brand which eventually brought him to his current full-time job and home in Lexington, Ky.  He recently christened a new distillery in Lexington, in hopes of growing his James E. Pepper brands during this historic boom for demand of American-made whiskies. While success seems eminent for Peay, his journey from free-lance writer to whiskey maker has not been without its challenges.
Fighting his way into the industry
Peay started paying attention to the alcohol industry when he was enrolled at the University of California Santa Barbara, where he embraced the local wine culture there.  Evidentially, he started free-lance writing about the food and dining scene in Southern California.  He also followed and wrote about boxing, which oddly enough got him into the whiskey category.
After college, Peay was able to put together enough money to start a small brand he called John L. Sullivan Irish Whiskey.  Sullivan was a famous bare-knuckle boxer during the late 1800's from Boston, who legend has would proudly announce that he could, "lick any man in the house."  He was the last known heavyweight bare-knuckle boxing world-champion and possibly the first heavyweight gloved boxing world-champion.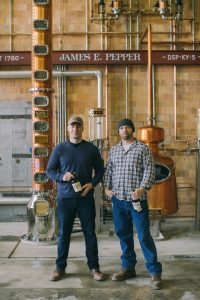 Even though Peay had no real connections in the liquor business, he contracted with a distillery in Ireland to produce 1,000 cases of Irish whiskey for him.  The brand was an instant success and soon gained multi-state distribution.  But the distillery Peay had been sourcing from, got bought out and chose not to supply him with any more whiskey.  Peay admits, "I learned a very valuable lesson, that you have to protect your source of supply."
Peay had to go back to the drawing board.  He once again found inspiration for his next project through his love of boxing history.  Peay remembers first coming across the James E. Pepper brand while combing through some old documents about a boxing match that took place on July 4th, 1910.  It was dubbed the "Fight of the Century" and featured Jack Johnson, the first African American heavyweight champion against former champion James Jefferies.
James E. Pepper
In one of the pictures taken at the fight, Peay noticed an advertisement banner that was prominently featured close to the boxing ring that read, "James E. Pepper Whiskey, Born with the Republic."  Peay quickly turned his attention to learning more about the James E. Pepper brand.
Peay's research lead him all the way back to 1812.  That's when Elijah Pepper built a distillery in what is today Woodford County, Ky.  Evidentially, his son Oscar inherited the property and built a larger facility that he called, Old Oscar Pepper Distillery.  He also hired Dr. James Crow as his distiller.  Oscar and Crow are credited with making industry-changing innovations with the manner in which they studied and perfected the sour mash process of distilling.
In 1967, Oscar passes away and his young son, James, inherits the distillery.  Peay says, that another famous distillery, Colonel E. H. Taylor, becomes his guardian.  Later on, James has to take a loan from Taylor and defaults on it, which allows Taylor to take ownership of the distillery.  Taylor quickly sells it to the Labrot and Graham company.
After a short stint in New York City, James comes back to Kentucky and builds what was then the largest distillery in America on the previous site of the Henry Clay Distillery in Lexington, Ky.  This was known as the James E. Pepper Distillery.
James would go on to have a successful career in distilling, with Old Pepper Whiskey becoming the most popular brand.  He would also become a famous horseman.  But in the late 1800's, Peay claims his research reveals that James went broke again.  But he was able to get his distillery back, only after his wife bought back a few of their horses and was able to resell them for a much higher price after having grand success racing them.
In 1906, James E. Pepper dies shortly after slipping and breaking his leg during a stay at the Waldorf-Astoria Hotel in Manhattan.  He has no children so his wife sells his stake in the distillery to its other investors.  The distillery continued to produce whiskey until Prohibition.  Shortly after the Repeal of Prohibition, a fire would gut the distillery.  According to Peay, the alcohol conglomerate Schenley bought and rebuilt the distillery and had operations going again in 1934.  But in 1958, a declining trend in consumer demand for brown liquor forces the James E. Pepper Distillery to close distilling operations.
50 years later
In 2008, Peay's fate brings his attention to the picture of Johnson vs Jefferies in the "Fight of the Century."  After researching the James E. Pepper brand history, he discovered the trademark has been abandoned and took possession of it.  Peay's research also lead him to some old whiskey recipes that were actually used for some of the brands at the James E Pepper Distillery.  He also began touring the abandoned campus of the defunct distillery.
Peay thought he could convince one of the large, well-known distilleries in Kentucky to partner with him to source whiskey.  Every large distillery he spoke with declined to produce whiskey for him.  He was evidentially able to convince Corsair Distillery, a small craft distiller, to start making some whiskey for him.  But Corsair's popularity started to rise, and Peay knew he needed to find a constant source of whiskey.
He turned to Lawrenceburg Distillers Indiana (LDI), which is now owned by and called Midwest Grain Products of Indiana (MGP).  In 2010, Peay was able to finally launch James E. Pepper 1776 Straight Rye Whiskey.  Peay worked with their Master Distiller Greg Metze to create what he calls, "A full flavored whiskey.  Was great in cocktails and a great value ($30 MSPR).
The whole time Peay was getting the Pepper brand off the ground, he had his eye set on the original distillery location.  In 2014 a group of investors purchased the old distillery and reached out to Peay about bringing his brand back to its original home.  But the over half-a-century lay off from distilling had left the building in shambles.  Peay shares, "Folks wonder why it takes so long to build a distillery.  Well, in our case, we were basically building an ethanol plant in an urban setting."
It took one and a half years to finish the plans and another two years to fit up and renovate the building for distilling to start again.  On December 21st, 2017 it was announced that the first barrel of whiskey was filled at the James E. Pepper Distillery since it was shut down in 1958.
While the operation is on a smaller scale then what the original distillery used to be, Peay is very pleased at where they are.  "We're a real working distillery, not just a dog and pony show.  We are starting out doing three barrels a day or around 700 a year.  We can very easily double or triple that.  So you could say we're a good sized craft distillery."
The space is highlighted by the 27-foot tall column still, that was built by Vendome out of Louisville, Ky, and its design was inspired by mechanical drawings from the original operation that Peay acquired.  There are also four 1,000 gallon fermenters at the moment.  Peay brought in Aaron Schorsch to be the Master Distiller, who had previous experience at Seagrams, Sam Adams, and Jim Beam.
Peay admits that what he is producing at the Pepper Distillery will not be able to absorb the sourcing needs for of all the 1776 whiskey products they have on the market now, which include the 100 Proof Rye, Barrel Proof Rye, 100 Proof Bourbon, Sherry Cask Finish Rye and the limited 15 Year Rye.
"We have always been honest and transparent on who makes our products.  We will continue to work with larger third-party distillery like MGP and Bardstown Distillers.  We will have some stand-alone whiskies in the future that will be made here (Pepper) that will have their own unique packaging."
They are planning to welcome the first visitors to the James E. Pepper Distillery next month.  Peay is hoping he can create a unique tasting product with the help of local farmers from the area that these visitors can one day enjoy.  "As much as we want to talk about James E. Pepper and the brand, we want to talk about Lexington and our whiskey making process and style.  And I think working with local farmers is an important part of our story and hopefully helps to create some unique flavors.  When people visit different regions, like Scotland or France, they expect different flavors unique to those regions.  We're hoping to do the same in Lexington."