If there's one way to make Pimento Cheese more awesome, we've discovered it – ADD BOURBON BABY!
Make no mistake, you can't just find any geek off the street to mess with this sacred southern delicacy. Finding the right flavor master is just an important as the master distiller behind your favorite Bourbon. That's why we were absolutely tickled to death to connect with culinary extraordinaire, Chef Justin Sutherland, in St. Paul, Minnesota to provide this bad ass flavor-packed Bourbon Pimento Cheese recipe of which is served at his restaurant Handsome Hog in St. Paul (inside Minneapolis).
Is he qualified? He won Iron Chef in 2018, made it deep into Top Chef Season 16 (filmed in Bourbon Country), owns 6 or 7 restaurants (maybe more, we lost count), was 2019's Eater – Twin Cities Chef of The Year, and is a graduate from Le Cordon Bleu College of Culinary Arts (sounds fancy to me). Oh, and he also has his own Signature Whiskey in partnership with Tattersal Distillery in Minneapolis. His spot, Handsome Hog, is no stranger to brown water with an impressive American Whiskey collection, signature Bourbon Cocktail menu, and private barrel selection.
And be sure to cheer on Chef as he's debuting on yet another big time high octane culinary show, Fast Foodies, beginning Feb 4th on TRU TV! This show sounds pretty cool. The premise – they take celebrities (Joel McHale below on Episode 1), get their favorite fast food cravings. Celebrity chefs are then placed in the culinary combat ring and challenged with the ask of recreating each dish with their own gourmet funky creative riffs! Think Taco Bell on acid and elegant steroids.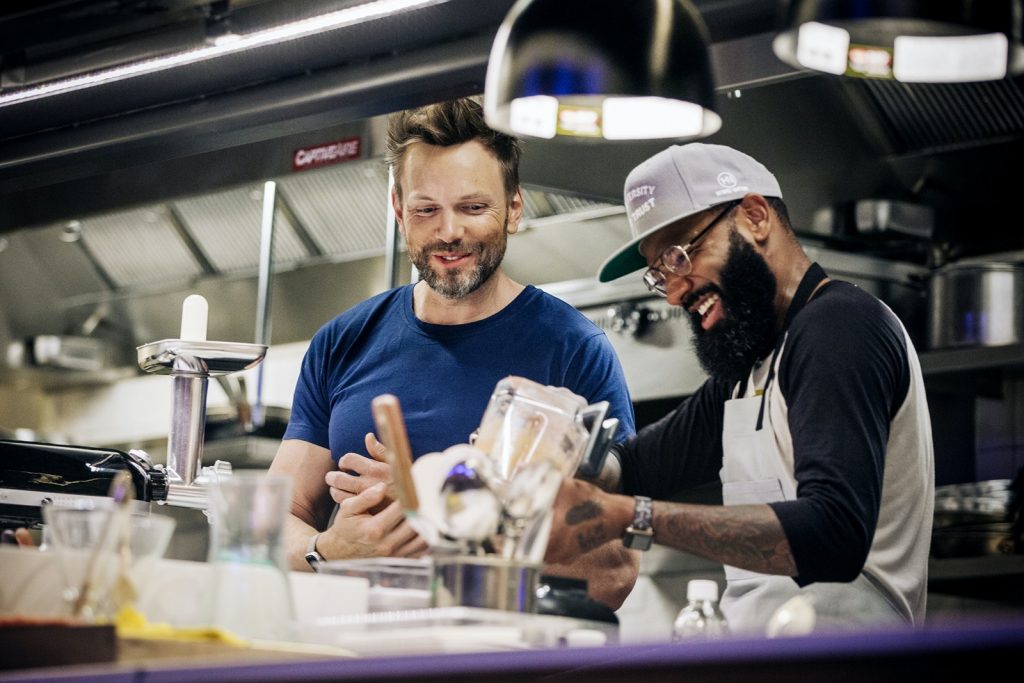 Now Ladies and Gentlemen, the moment you've been graciously waiting on….
BOURBON PIMENTO CHEESE DIP RECIPE!!!
Serving Size: Makes 4 cups
Ingredients:
1 1/4 c Pimento (pepper) finely diced
1 Cup Cream cheese
1 Cup Duke's Mayo (Chef's choice – it's southern thang y'all)
2 tsp Hot sauce
2 tsp Kosher salt
1/4 tsp Sugar
1/8th tsp Cayenne pepper
1/4 tsp White pepper (Easily Found)
2 1/2 tsp Bourbon smoked paprika (Smoked Paprika works too) – AMAZON PRIME
2 Cups Sharp cheddar finely grated
1/2 ounce bread and butter pickle juice
1/2 ounce Bourbon (Dealer's Choice, add to desired taste level)
Method:
Mix all ingredients together well and cool till needed.
Spread on Ritz Cracker, top with a piece of country ham, add pickled red onion for added flavor!