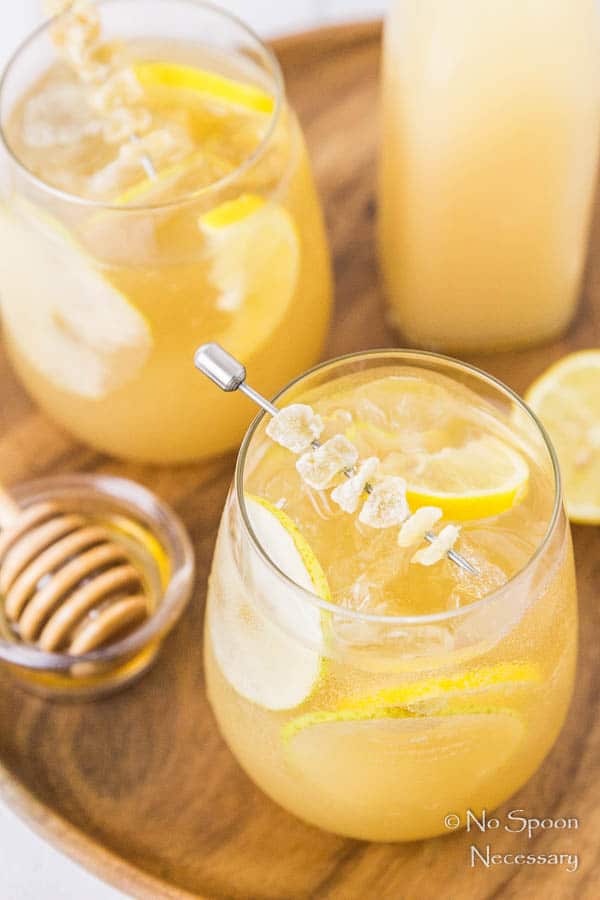 Recipe by Cheyanne Bany
Find more here on No Spoon Necessary
With fruity pear, warm ginger, a hint of honey sweetness and a generous splash of boozy bourbon, this Ginger & Pear Bourbon Cocktail is a perfect way to celebrate Spring!
Ingredients
2 ounces Bourbon
2 ounces Pear Nectar or Juice
½ Lemon – juice
1 ounce Ginger Honey Simple Syrup
Ginger Ale , to taste
Ginger Honey Simple Syrup: (enough for 2 cocktails)
¼ Cup Honey
¼ Cup Water
1 1'' piece of Ginger – peeled and thinly sliced
Optional Garnishes: Crystallized Ginger, thinly sliced Pear, Lemon Wedges
Instructions
Make the simple syrup: In a small saucepot combine honey, water and ginger. Bring to a gentle simmer over medium heat, stirring, until honey dissolves into water. Remove from heat and set aside to steep for 20 minutes. Strain into a container, discarding ginger, cover and refrigerate until ready to use.
For the cocktail: Combine bourbon, pear juice, lemon and simple syrup in a cocktail shaker with ice. Vigorously shake until chilled.
Pour over ice in glass and top with a bit of ginger ale. Garnish with pear slices, a lemon wedge and a few pieces of crystallized ginger on a skewer.
Enjoy!