Photos and Reicpes Jim Beam
St. Patrick may have preferred Irish Whiskey, but his descendants here in America drink Bourbon. Raise a glass to St. Paddy and Bourbon's Irish Heritage with these two St. Patrick's Day Cocktails! Featuring Basil Hayden's and Knob Creek, get your green on with these sippers.
Basil Hayden's Spiced Honey Ginger
Recipe by TJ Vong (Denver,CO)​
​Ingredients:​
1 ½ parts Basil Hayden's Bourbon
1/2 part ​ginger liqueur
3/4 part lemon juice
1/2 part honey simple syrup*
3-4 dashes Bittercube Jamaican #2 Bitters
1 lemon wheel (for garnish)
1 rosemary sprig (for garnish)
Method:​ Combine all ingredients in a cocktail shaker with ice. Shake and double strain into a coupe glass. Garnish with a lemon wheel and sprig of rosemary.
*To create Honey Simple Syrup, combine equal parts honey and equal parts water over heat until dissolved.
Knob Creek Lion's Tail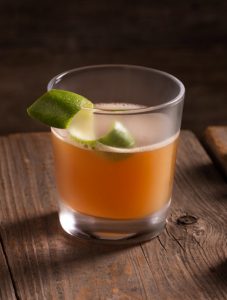 ​Ingredients:
2 ​parts Knob Creek Bourbon
1/2 ​part fresh lime juice
1/2 ​part allspice dram liqueur
1 ​part Angostura Bitters
1 ​part simple syrup
​Method: Combine all ingredients in a cocktail shaker and stir.​ ​Pour into a chilled glass. ​Garnish with a lime twist.