This Thanksgiving, millions of Americans will crisscross the country for the sake of family and food. Turkeys will cook in ovens en masse, children will whine over green bean casserole. For those hoping to embrace a boozier Thanksgiving Day, we spoke with bar experts about how to curate a whiskey-focused beverage lineup to pair with your holiday. Here's what to drink—both neat or in a cocktail—this Thanksgiving.
Appetizers
Before Thanksgiving dinner is served and guests are still arriving, you're probably hanging around the house snacking on appetizers. To compliment a cheese board, Sean Umstead, the owner and head bartender of Kingfisher in Durham, North Carolina, recommends shaking together a Paper Plane.
"It's a modern classic invented by Sam Ross of Attaboy and an easy recipe to remember," Umstead says. "It has wonderful acidity and a nice bitter backbone that perks up your senses and is great for a variety of bites."
For this bourbon cocktail, Umstead goes with Wild Turkey's flagship expression, Wild Turkey 101, an affordable blend of 6, 7, and 8-year-old bourbons with a mashbill of 75% Corn, 13% Rye, 12% Malted Barley.
Paper Plane
3/4 oz Wild Turkey 101
3/4oz Aperol
3/4oz Amaro Nonino
3/4oz Lemon Juice
Shake, strain into a coupe glass, and serve.
Main Course
Once the family has gathered and obliterated the cheese board, it's time to sit down for the big meal. You'll need a drink that won't drown it out.
"If you're eating turkey, you'll want to make sure you're tempering your bourbon with something to soften it," Umstead says. "Straight bourbon is going to overwhelm the delicate flavors of poultry."
Gaby Mlynarczyk, bartender and author of Clean and Dirty Drinking, recommends a bourbon highball for the occasion, using Four Roses Yellow Label.
"The ginger would make for a great tummy tamer and helps with digesting all that heavy food," Mlynarczyk says. "Bourbon-wise my choice would be Four Roses yellow label, it's inexpensive but has lots of complexity and is an excellent pairing with my favorite ginger beer from Fever-Tree."
It's a quick and easy cocktail to assemble while the rest of the family is scrambling over the meal's final touches.
Bourbon High Ball
2 oz four roses bourbon
4 oz fever tree ginger beer
Build in tall glass over ice. Garnish with a lemon twist.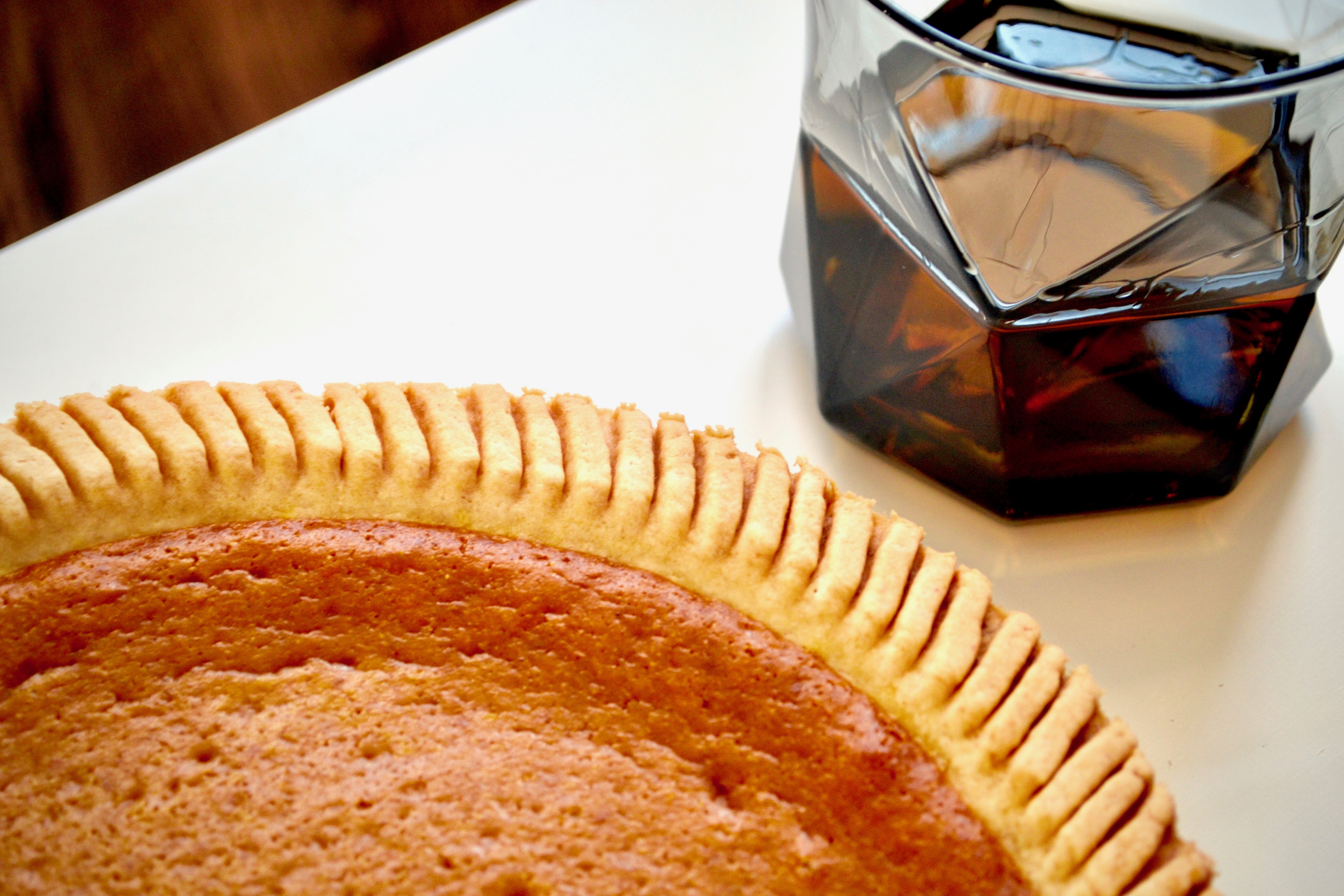 Dessert
You survived your family's heated dinner discussions, consumed your body weight in gravy, and now you're moving onto pie. Instead of a cocktail, Umstead suggests switching to straight pours. For the dessert course, he looks to Old Forester.
"Pie often has lovely baking spices and a lot of sugar, so I'd compliment and contrast that with a pour of Old Forester Signature," Umstead says. "It is 100 proof and has a higher rye content in the mash bill, allowing it to be a bit spicier and cut through the richness. The bourbon also has lots of creamy, brown sugar, toasty notes to compliment any pie."
And of course you can't go wrong with classic bourbon balls!
Cigar
Wrap up the holiday evening by unwinding with a cigar. You'll have the chance to relax, mull over all the reasons to be thankful, and yes, drink some more bourbon. Erin Laurie, bar manager of Love & Salt in Manhattan Beach, California, recommends a glass of Rowan's Creek bourbon from the Willett distillery.
"With cigars, it's good to have a nice prominent vanilla note to pair with," Laurie says. "Rowan's Creek also has some nice caramel notes but it higher alcohol- slightly over 50% so it would serve as a nice palate cleanser after the heavy smokiness of a cigar."
Umstead suggests a specialty finished bourbon for this round, like Angel's Envy Kentucky Straight Bourbon that's finished in 60-gallon French Oak ruby port barrels for three to six months.
"The sweeter the better with a cigar," Umstead says. "Angel's Envy is finished in port barrels which adds awesome fruitiness and softens the whiskey. It would sit nicely next to a big fire and a slowly burning cigar."
For those still feeling like a cocktail, Mlynarczyk has the perfect pick.
"A post prandial sipper for me would be a classic Old Fashioned, but with a higher heat overproof bourbon," ​Mlynarczyk says. "​I can't stand a wet Old Fashioned so the cocktail should be minimally stirred to give it chill but not so much that it murders the whiskey. If I could get my hands on it something like Henry McKenna 10-year or the more elusive E.H. Taylor Barrel Proof I'd be a happy Dame."
Old Fashioned
1/4 oz 1:1 simple syrup
3 dashes angostura bitters
2 dashes orange bitters
2 oz overproof bourbon
Build directly in glass. Add one large ice cube and stir 3-4 times only. Garnish with a flamed
orange peel.
Natalie Compton is a journalist based in Washington, DC. Follow her on Instagram at @natbco.