I know. It's corny. It's cliché. But…it's the holiday season! When you get a shot to incorporate Christmas Vacation, you kinda have to take it, right?
At this week's "rose cutting" ceremony for the brand new Visitor Center Experience at Four Roses Distillery (Lawrenceburg, KY), nothing could capture the profound joy, glory, and essence of the moment quite like…
The gorgeous 14,446 square ft. space is precisely that – A BEAUT. The outer architecture reflects the prominent trademark Spanish-Mission style design from the original distillery grounds of 1910. You know when you're at Four Roses – nothing else like it in all of Bourbon Country.
And get this – they used Joseph & Joseph Architects, the same Louisville based family run firm who designed the OG Four Roses Distillery over a century ago. Who better to incorporate authenticity and tradition?!
The ceremony included speakers Kentucky Governor Andy Beshear, Master Distiller Brent Elliott, COO Ryan Ashley, and President/CEO Mark Ashida.
It's not uncommon for a distillery to end an opening ceremony with a toast, however, much love to 4R as they really embraced the "mellow moment" with an obscenely tasty 20 Year Bourbon!
The Interior
Stepping inside, you're greeted with both white oak floors and ceiling accents, a hat tip to the barrels that age Bourbon. Beautiful wooden beams accent the ceiling throughout. In the back, adorned by endless bottles of Four Roses (for sale), is a stunning industrial section of an old 4R still.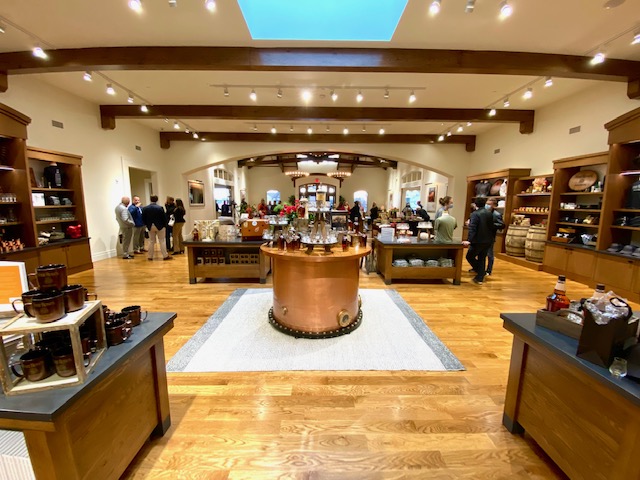 Here are some bullet points outlining the main attractions.
Bar 1888 – named for the year the Four Roses name was first trademarked, with offerings from Four Roses' current bourbon portfolio and specialty cocktails. In addition, Bar 1888 will offer selections from Four Roses' highly acclaimed annual releases from the Limited Edition Small Batch series
The Al Young Archive Collection – an interactive display showcasing the range of Four Roses bottlings from throughout its 133-year history. The display is named for the beloved Al Young, who spent more than five decades in various roles at the distillery, including recording and sharing the rich history of Four Roses through years of research into archives and artifacts.
Four seated tasting rooms offering a space for enhanced educational experiences.
Enhanced tasting experiences, including an exclusive opportunity to taste individual selections from Four Roses' ten bourbon recipes that are used to create its core product line
Expanded retail gift shop with Four Roses' Bourbon products and other branded merchandise for sale
3,850 square ft. covered patio space where visitors can enjoy the beautiful distillery grounds, and a cocktail.
On your next trip to Bourbon Country, mark this down on your Must See list.