In March of this year, Early Times Kentucky Whisky rescued an adorable little dog that they named Earl. Nine months later, this very good boy has officially graduated from his training in the K9s for Warriors program.
K9s For Warriors is the nation's largest provider of service dogs to military veterans suffering from Post-Traumatic Stress Disorder (PTSD) and more as a result of military service post-9/11. Pups like Earl that enter their nine-month training program in Ponte Vedra, Florida, are taught simple commands like "sit" and "stay" and socialized to become accustomed to crowds. They're also given the tools and rewards to learn to manage their energy as they begin their new roles as companions for veterans.
Earl's training and graduation are part of a four-year partnership over which Early Times has donated over $225,000 to K9s for Warriors. After a rough start to life, Earl, now a year old, ended up at the Kentucky Humane Society. When Early Times came to KHS in search of a candidate for the K9s for Warriors program, they knew right away that Earl was the good boy they were looking for.
"The minute our team met Earl, we knew he was special and we had high hopes he would graduate and be matched with a veteran," said Dallas Cheatham, Early Times senior brand manager. "50% of the dogs who begin training do not complete the program due to medical or behavioral incompatibilities. It takes a specific personality to become a service dog."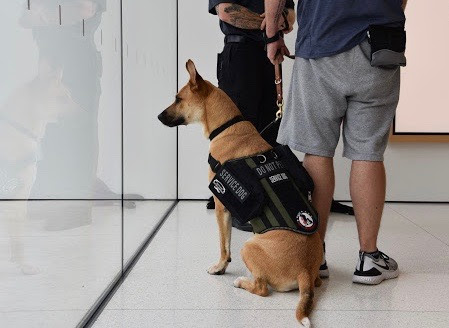 "Earl has made tremendous growth from the first time I walked into his kennel to the dog he is today," said K9s For Warriors K9 Trainer, Erik Kolbow. "He learned commands quickly and enjoyed his training sessions because his active brain got to work. He is a very smart dog with incredible affection and positive energy making him a great companion for a warrior."
After passing all his tests to become a certified service dog, Earl spent three weeks bonding with his new warrior. He's now off to a new life as the best friend and service dog to an American Hero – and we can all raise a glass to that. To donate to and learn more about the K9s for Warriors program, please click here.