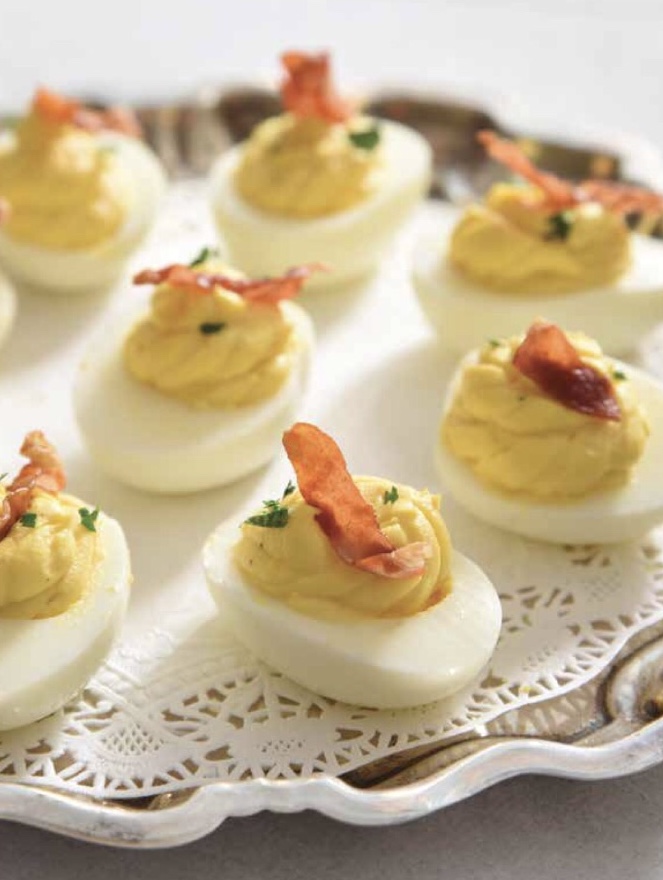 We love Bourbon and Country Ham, plain and simple. The first Kentuckians were thrifty, industrious, and adventurous. They tamed the frontier to plant grains, raise livestock, and build homes. With their leftover grain, they made whiskey, and with their leftover meat, they made country ham. We're taking the pairing one step further with classic deviled eggs – perfect for a Bourbon Brunch.
We found the recipe below in "The Bourbon Country Cookbook – New Southern Entertaining: 95 Recipes and More from a Modern Kentucky Kitchen," by David Danielson and Tim Laird. This book is touted as the ultimate guide to modern Southern entertaining, developed by the executive chef at Churchill Downs and the chief entertaining officer of Brown-Forman. Order your copy here! 
You'll find as many versions of deviled eggs in the region as there are home cooks, who tend to use their mothers' or grandmothers' or great-grandmothers' tried-and-true recipes. Some debate the allure of the savory and salty deviled egg, while others insist it's just not a decent deviled egg unless it's got sweet pickle relish. Part of what makes this version unique is we prefer to steam the eggs instead of boiling them. You can also create a deviled egg bar by topping the eggs with different ingredients. Try pimento cheese, smoked trout or salmon, cooked crab, bacon, pesto, or pickle relish.
12 large eggs
4 slices thinly sliced country ham (prosciutto style), cut into 2-inch-long strips
1/2 cup mayonnaise, such as Duke's (see Resources, page 203)
1 teaspoon Dijon mustard
1/2 teaspoon champagne vinegar
1/4 teaspoon hot sauce
Kosher salt and freshly ground black pepper, to taste
2 tablespoons finely chopped parsley, for garnish
In a large bowl, combine ice and water to make an ice bath. In a large steamer pot or pan with a steamer basket, add enough water so it just touches the bottom of the basket or sieved pan. Bring to a boil over high heat. Add the eggs in a single layer, cover the pot, and steam for 13 minutes. Drain the eggs and immediately transfer them to the ice bath to stop the cooking process. Allow the eggs to cool and then peel them.
In a small skillet over medium heat, fry the country ham, stirring constantly until crisp, about 2 minutes. Transfer the country ham to a paper towel to drain, and set it aside.
Halve the eggs lengthwise. Place the egg whites on a clean work surface. Remove the yolks and place them in a medium bowl. Add the mayonnaise, mustard, and vinegar. Stir to combine and add the hot sauce. Taste and add salt and pepper as needed.
Place the egg yolk mixture into a piping bag or into a zip-top plastic bag with a corner snipped off. Pipe the egg yolk mixture into the egg white halves. Top each egg with a piece of the country ham and garnish with parsley.