This post contains references to one or more of our advertisers. 
For the past two years, an intense family feud between a Bourbon Hall of Famer and his now-estranged daughter has been publicly unfolding on social media. If some of the more severe accusations prove to have merit, it could possibly rewrite the legacy for the founder of one of the largest brands in bourbon. The stakes are high, not only for the man who everyone has considered up until this point to be a tireless promoter and innovator, but the careers of thousands of other employees and partners submerged in the brand's ecosystem.
Hollis B. Worth's claims against her father, Tom Bulleit, the recognized founder of Bulleit Bourbon, were first published in 2017, when Worth began sharing a string of lengthy Facebook posts. She accused her father and his wife, Betsy Bulleit, first of homophobia and of ruining her career while withholding royalty payments she believes are owed to her. More recently, though, Worth's posts have included serious claims of emotional and sexual abuse.   
Worth has also attacked the company culture at Diageo, the parent company of Bulleit Bourbon and the world's largest spirits conglomeration, claiming she was let go due to homophobia and that she is owed financial compensation on multiple contributions she's made for the Bulleit brand, dating back to its founding in 1987. 
On her website, Worth further discusses her motivation for taking her allegations against her family and Diageo public. "My main goal in telling my story in full is to focus back to the abuse that I have survived," she writes. "This cycle of abuse must stop. Diageo needs to stop backing a criminal. Tom needs to stop stealing my life from me. It is time for the liquor industry to be under the microscope as part of the national #metoo and #timesup discussions."
Tom Bulleit's response to these allegations thus far has amounted to a brief but categorical denial. In their wake, Diageo began an internal investigation and requested that for the time being, Bulleit step back as the face of the brand. In an interview with The Bourbon Review, Bulleit spoke at length to the press for the first time, provided in-depth evidence that he hopes will help clear his name, and in a prepared statement, explained why he and his wife feel like it was finally time to speak up.  
"As a father I have not wanted to engage in a public dispute with our daughter Hollis, but her aberrant behavior, that the family and our partners have dealt with for years, has now affected thousands of people, who have worked so hard for so many years to create the Bulleit Brands," said Bulleit. "It is now time to set the record straight and address her false accusations and embellished biography with verifiable facts.  Hollis is a well-educated person, who is by any measure is independently wealthy. She has benefited by our family's tradition of feminism, Diageo's policy of equal financial compensation, and our family's hard work and good fortune throughout her life. Hollis and Cher have enjoyed our love and support and generous monetary gifts throughout their relationship." 
Over the course of several weeks, The Bourbon Review has interviewed numerous individuals closely related to Tom and Betsy Bulleit, Hollis B. Worth, and Diageo. We have visited the current Bulleit Distillery in Shelbyville and reviewed recorded phone calls, private emails, letters, sealed and public court documents, hundreds of financial records, legal documents, expense reports, personal websites, and dozens of social media posts to create a full picture of the familial and professional relationships involved in these allegations.
The Bourbon Review has also spoken to Hollis Worth, via email, who says that she stands by what she has written online. She has also provided us with additional statements regarding her alleged abuse that also confirm statements she has made on her Facebook page and website. Worth also revealed to us that she believes her family has "mental problems."
"It is my opinion that the Bulleit Family is unstable.  I have fully disclosed my C-PTSD diagnosis; which is in part because of the actions of Tom and Betsy Bulleit and Diageo. I am not a psychologist so I cannot speak to what diagnosis' the Bulleit family members have."
Who are Tom Bulleit and Hollis Worth? 
In 1987, Tom Bulleit founded the Bulleit Distilling Company. He brought his first brand to market, Thoroughbred, in 1989 and in 1992 he says he rebranded to Bulleit Bourbon.  In 1997, he sold Bulleit Distilling Company to Seagram's, which at the time was one of the largest spirits companies in the world. Bulleit claims Seagram's retained him as a consultant, and he received a royalty agreement for products sold. In 2001, Diageo acquired the Bulleit Bourbon brand and continued to renew Bulleit's consulting contract and royalty agreement from Seagram's. 
Bulleit has been married to his wife, Betsy, for 32 years. In 2005, Betsy completed the adult adoption process and legally adopted Bulleit's daughter from a previous marriage, Worth. Together, Bulleit and Betsy also also adopted a son named Tucker. Betsy boasts a 42-year career in finance with the Hillard-Lyons firm and currently serves as a Senior Vice President. The couple have lived in the same home in Lexington, Kentucky for 40 years. 
Bulleit's daughter, Hollis B. Worth, who legally changed her name from Anne Hollister Bulleit in 2018, grew up in Lexington and is the only child of Bulleit's first marriage. Worth has an extensive educational background and has obtained several degrees in art. After pursuing a career in art, Worth was brought on by Diageo to work as a brand ambassador for the Bulleit brand from 2006 to 2016. While the origin of her nickname is not known, she eventually adopted the title of "The First Lady of Bourbon." She had a reputation of having good relationships with bartenders and industry workers who were influential in trendsetting markets. Worth is an open member of the LGBTQ community and is married to Cher Worth, her partner of 12 years. According to a search online, the pair currently reside in Orlando, Florida.
Diageo is a Great Britain-based multinational alcoholic beverage company and is the world's largest producer of spirits and beers. According to their website, Diageo has a collection of over 200 brands enjoyed in more than 180 countries—including Smirnoff, Captain Morgan, Tanqueray, Johnnie Walker, and Guinness. In 2001, Diageo, along with Pernod-Ricard, acquired the bulk of Seagram's alcohol assets in an $8.15 billion dollar deal. The brands were divided between the companies, and it was Diageo that ended up with Bulleit Bourbon. 
Credit Where Credit is Due
Worth published her first allegations on Facebook in July 2017, stating she was told she no longer worked for Bulleit bourbon and was being "erased publicly" from the brand. This is also the first time she publicly mentions her lack of sharing in royalties, writing, "I do not benefit from the royalty sales that I help accrue."
Worth details in her post that she had been alienated by her father and the rest of her family at the previous Christmas, in 2016, and received an email from Diageo on December 23rd of that year explaining she would no longer be working for the brand. In that post, she wrote, "I could never have imagined that I would get an email telling me that I was no longer working for Bulleit or representing the brand. One would assume that after relocating across the country to be closer to both of our distilleries that my partnerships were in good standing and that my efforts would be acknowledged."
Worth recently wrote on Facebook on October 8, 2019, "I continued to advocate for myself when my former company and family erased me (a queer woman) from the history of the Bulleit brand."
On Worth's website HollisBOfficial.com it states, "I was a co-founder in the creation of one of the liquor industry's most successful brands in the 21st century.  The brand was built on my passion for innovation and raising bourbon to a higher art form and transforming its "good ol boy" culture to one that was all inclusive." 
She also wrote in an October 5, 2019, Facebook post that, "beginning in 2007, in house Diageo PR & Diageo's Bulleit Team tried to get Hollis to minimize her position as a co-founder." She also writes in the same post that her father, "acted as if she was merely a secretary and not a co-founder."
Bulleit is firm in his stance that Worth is not a co-founder of Bulleit Bourbon, noting that she was a teenager when he first created the brand. He states that after Worth completed her undergrad, she came back to Lexington and worked for him as a secretary in his offices at what is now Buffalo Trace Distillery. He adds that Worth didn't receive an actual salary, but that he compensated his daughter by paying her MasterCard bills and other living expenses.  
"She's saying she co-founded the brand—she was 13, she's saying she helped design the bottle—she doesn't even know who the designer is," said Bulleit. "She worked as a secretary for me for one year and then was not involved at all."
In addition to alleging that she co-founded Bulleit Bourbon, Worth went on the record in a recent podcast episode with Spirit of Rock Podcast Network to claim it was her who came up with the name Bulleit Bourbon. 
"In my teens, Tom had some ideas about bourbons and I had a lot of input and I helped create a brand," said Worth. "He had sourced some whiskey and he wanted to do some more marks and I said, I think we should name it Bulleit. Why are we not naming it after us? A lot of American whiskey is about families. I think this is a story that's personal. It was more personal than Thoroughbred whiskey, which was in my opinion was very generic."
Bulleit details a very different story as to how Bulleit Bourbon got its name—one that does not involve his daughter. 
Bulleit says he bottled his first label under the brand Thoroughbred in 1989.  On a trip to Japan in 1992 sponsored by The Japan External Trade Organization, Bulleit remembers he first started to rethink that brand name. 
"I got over there with my Thoroughbred, and all the advice that I got from them was that it was too plain, it's too generic, and it's not upscale enough," said Bulleit. "So, I came back, and I went to Meridian Communications and Fran Taylor—who was with Meridian Communications at the time."
Bulleit tasked Taylor and her designers to come up with better packaging and to design a label to fit the open mold bottle that he had already sourced. It was then that she suggested changing the bourbon's name from Thoroughbred—to Bulleit. 
"I was the first one to say it, and you cringe because you're afraid you're going to hurt their feelings, but Bulleit was a great name—why not go with Bulleit," said Taylor, former account executive at Meridian Communications. "And every time I see him, if he's with a bunch of people, he'll introduce me as the person who talked him into Bulleit bourbon—to changing the name."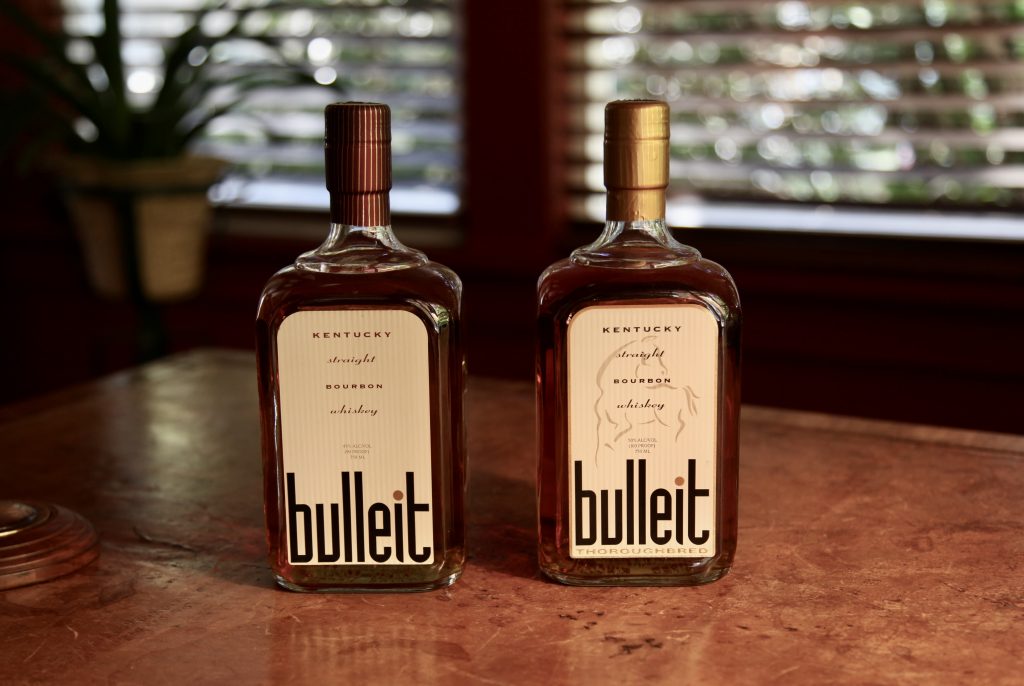 In addition to suggesting the name change, Taylor and her team created a new label and a box for the bottle in 1992. Bulleit claims that during this time Taylor and her team were working on Bulleit Bourbon, Worth was enrolled at Smith College, where she was busy majoring in fine arts, minoring in women's studies, and racing on the swim team. However, Worth says in a statement to The Bourbon Review, that she was an intern at Meridian Communications and that Fran Taylor was one of her supervisors. 
"I worked mailings," said Worth. "I hung out with the design department. I worked on some storyboards. I worked there the summer between Sophomore and Junior year in college around 1994."
When asked if Worth was an intern of hers at Meridian Communications, Taylor said she and a colleague of hers at the time could not recall Worth interning there. Taylor states it was years after the name change and label design that she would first meet Worth. Taylor had switched jobs and was working at Keeneland Race Course when she remembers Betsy asked if she would consider having Worth as an intern. 
"She was not involved in our creative brainstorming, any suggestions or anything we did," claims Taylor. "We're the ones when [Bulleit] presented us with a bottle of Thoroughbred said – that is not a good name, and why don't you name it Bulleit."  
New Owner. New Bottle. 
In a recent exclusive Worth did with online publication Neat Pour, she is described as "one of the creative forces behind the brand's unique packaging." On her website, Worth goes into detail describing what she claims were her contributions.  
"When my father began discussing selling a bourbon he began with a generic name (Thoroughbred) I urged him to use our last name instead," writes Worth. "I pitched the idea of a bourbon that was 'as cool and innovative as the Absolut™ vodka campaign.' I discussed with him at length what I felt that would entail: a modern label with a different color palette, an old made new easily held bottle, and a marketing campaign that went beyond typical Kentucky imagery. I was a sophomore in high school at the time."
According to Bulleit, after he sold the Bulleit Distilling Company to Seagram's in 1997, the new parent company decided to embark on a project the following year to make an all-new, custom bottle and develop a fresh concept for the brand. Bulleit states Worth had nothing to do with the project, recalling she was studying at the Institute for American Universities in Aix-en-Provence, France, at the time, where she received a post-baccalaureate certificate in painting. 
Bulleit states Seagram's hired Jack Mariucci and Bob Mackall, co-art directors of Doyle, Dane, and Bernbach, the firm that is widely considered to be the inspiration for the AMC show Mad Men, to oversee the job.
"Seagram's, being the largest beverage alcohol company, said we don't field product in open molds. We're going to have to redesign the glass and build the glass," says Bulleit. "They were the quintessential Madison Avenue advertising firm. They did the original Star Wars ads; they did the original Volkswagen ads, they represented Seagram's on all of their brands, and represented American Airlines—it was the advertising firm."
According to Bulleit, Seagram's cast a net all over the world looking for a primary designer for the bottle. "They looked in Germany, Brazil, they looked everywhere, and ultimately they selected Steve Sandstrom, of Sandstrom Designs out of Portland Oregon, whose picture is down at the distillery in one of the five featured pictures," he remembers. 
Sandstrom says he was contacted by Jack Mariucci and was told about the concept he and his partner Bob had come up with centering on frontier whiskey.  
"[Mackall and Mariucci] thought that Tom with his name, and his story, and his family's story, and all of that just fit so well into this notion of frontier whiskey," said Sandstrom. "My job if I was hired was to make that come to life.  Somehow this package has to reflect this story." 
From there, Sandstrom worked with the agency people, Bob and Jack, but also with Bulleit—who was involved in a consulting capacity. Sandstrom says he traveled to Kentucky, and Bulleit drove him around to the Whiskey Museum and several distilleries for inspiration and to teach him about bourbon. Ultimately, it was an old bottle Sandstrom found in Oregon that served as the primary inspiration for the Bulleit Bourbon bottle currently in production. 
"I found this crazy, weird, oblong-shaped thing," said Sandstrom. "Dusty on the floor in some antique store, and I thought this is an amazing shape, but it's not like any bourbon. It's not like any whiskey; certainly not any American whiskey and I'm pretty sure it was foreign.  But it was the most interesting thing and the most distinctive thing. I thought gosh we emboss this, and I'd put a label at the bottom. This could look really exceptional." 
Sandstrom originally envisioned the bottle being a dark olive green because the orange label was so unique, but it was Seagram's that made the decision to use clear glass so consumers could see the color of the whiskey.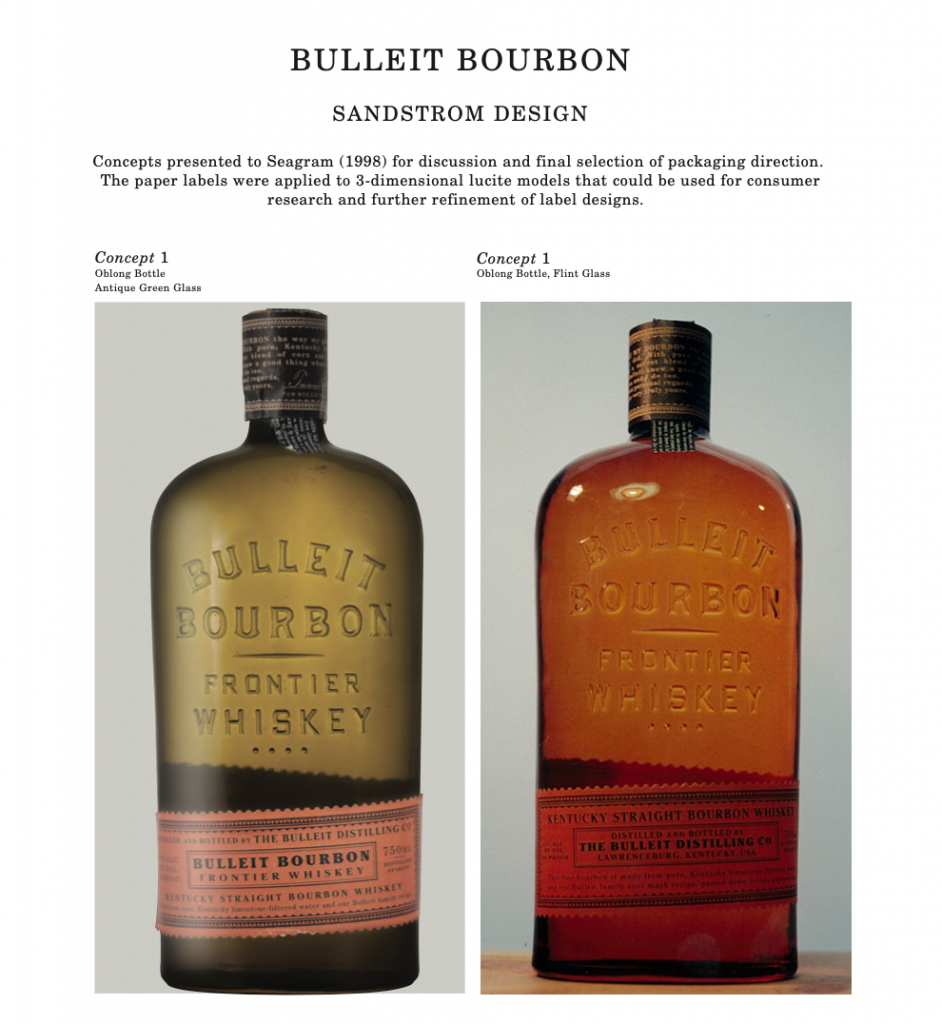 Worth goes on to write on her website that she worked with the first marketing agency that came up with the original labels, which according to Bulleit would have been Meridian Communications, and with all of the partnerships afterwards. 
"From that point on I was pivotal in the shaping of the brand and I worked for our first marketing agency that came up with the original labels," Worth wrote. "I was involved in all of our secondary partnerships after."  
However, Taylor and Sandstrom say she was not involved in any way. In a Facebook post from July 27, 2019, Worth says she's never met Steve Sandstrom—the designer of the current Bulleit bottle. When asked, Sandstrom says he met Worth only once, about ten years after the bottle's redesign. He had been invited to a Bulleit Bourbon sponsored dinner at a restaurant in Portland, where Bulleit was making a presentation. 
"I sat right next to her and we had a nice conversation about mostly St. Germaine, which is a French liquor that we had worked on, and it was probably about a year old in market at that time," said Sandstrom. "She was fascinated with how successful that brand was and how beautiful the bottle was. She was nowhere in the beginning."
In statements to The Bourbon Review, Worth insist that she did have influence in designing the bottle by funneling ideas through her father while she was studying in France. 
"I was traveling abroad at the time and would not have been in those meetings, but I was in contact with Tom Bulleit often consulting on the process," said Worth. "To be clear, I am not taking credit for the final product, I am claiming credit for consultation throughout as any co-founder would."
In what appears to be the first time, Worth gives credit to Steve Sandstrom for the Bulleit bottle, stating "The point is, everyone had ideas. Not all of them were great. Most of the good ones I had say in (through Tom Bulleit). Steve won the awards that he should have won for the bottle. Steve Sandstrom won awards for the St. Germain bottle too."
As far as where the creative ideas for the bottle came from, Sandstrom says it was left up to him. 
"The creative was pretty much left entirely in my hands with input from everyone—Seagram's and Jack and Bob. It was kind of like go do your thing, and we'll chime in. No one was out searching for glass other than me, and no one was designing labels other than me. I was using language that Bob had written, and I was using their frontier whiskey concept."  
"The First Lady of Bourbon"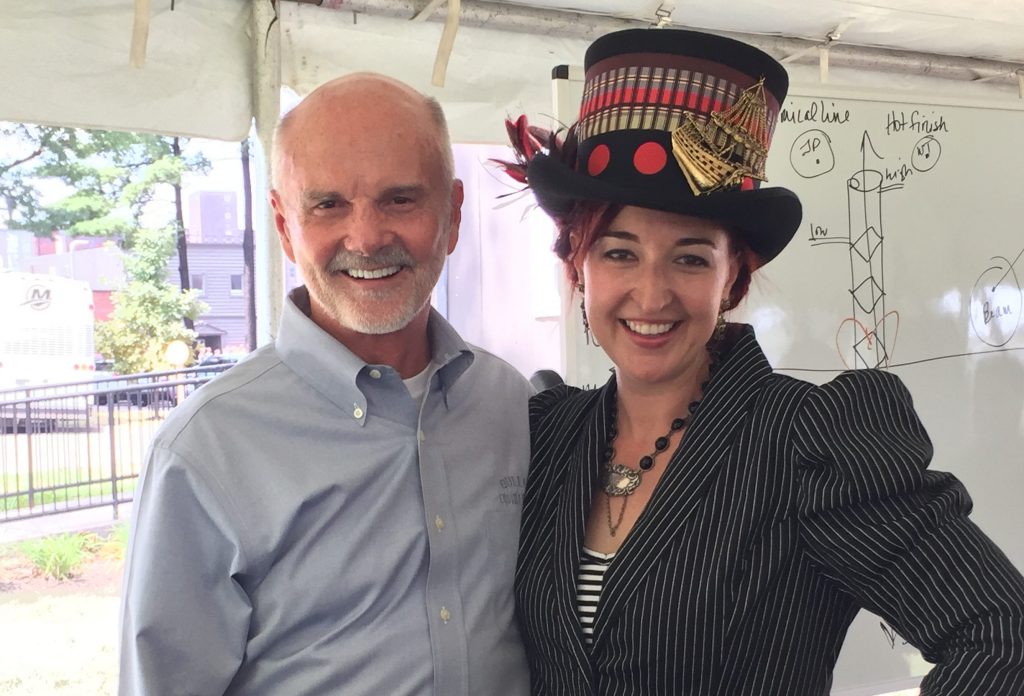 It was in 2006 that Bulleit said he came up with the idea for Worth to start working with Bulleit Bourbon. Diageo contracted Worth for a brand ambassador role, a position she held from 2006 to 2016.  
"I went to Diageo and said maybe Hollis could be a brand ambassador," said Bulleit. "She started off as a very well-paid independent consultant as a brand ambassador to promote Bulleit [Bourbon]. She would travel and visit accounts and do tastings, talk about the brand. She would appear at Whiskey Fests."
We spoke at length with a former supervisor of Worth's, who held an executive-level position with Diageo for over a decade. They have asked not to be named for fear of endangering their job. Worth's former supervisor confirms that she was brought on, "at the request of Tom Bulleit" and that "he thought she would be an amazing asset to us."
"When [Worth] was on, she was a very effective ambassador for the brand," stated Worth's former supervisor. "She brought a lot of spirit and a lot of personality to her persona. She actually had like a persona, she would dress up with hats that she would design, like beautifully decorated and designed hats, and she really brought an artistic side to the brand that made it more appealing to the audiences."
On her website, Worth writes, "I was the woman who dressed up in elaborate homemade costumes and was never a diva because I believed in the credo that it was my place to be in service of my customers. And in my business everyone was an important client." She adds on her website, "I was the girl who wasn't afraid to get dirty – the one who washed over 2,500 glasses prior to whiskeyfest. I never had a secretary, or a travel agent."
We also discussed her role with Steve Beal, a former Senior Master of Whisky who worked with Worth at Diageo during his 20-year tenure. Beal's portrait is featured at Bulleit Bourbon's distillery in Shelbyville, KY where plaque refers to him as the "Pioneer of Market Expansion." He says his principal responsibility was the California market, which was Bulleit Bourbon's largest single market and the place it began its rise to popularity. 
Bulleit had modest gains in case count but saw a tremendous jump when it went from over 200,000 cases sold in 2011 to over 500,000 in less than five years in 2014. It is estimated that Bulleit is approaching 1.5 million cases sold to date.
"I helped develop a marketing plan which reached out to bartenders and basically salespeople, and it turned out to be a pretty successful program," said Beal. "It revolved around working with bartenders and more of a personal approach rather than your typical marketing approach."
Beal, who led the brand ambassador team known as Masters of Whisky, says that while Diageo contracted Worth in a brand ambassador role, she did not work with the rest of his team, but in "kind of a part-time position she worked about 100 days a year." 
"The Masters of Whisky were basically 24/7 full-time employees, and they had a big plate, a lot of things they needed to do on a full-time basis," said Beal. "Whereas Hollis' only role, as I recall, was to represent the brand as needed. She would kind of come and go on call.  I was told she was well paid for that."
In a statement to The Bourbon Review, Worth states she believes "Diageo illegally had me listed as only a 'part-time' worker." Worth says that she "worked well beyond 100 days a year for most of my time with Diageo." 
According to financial documents, provided to us by Bulleit that were given to him by Worth, it shows that in 2014 and 2015 Worth was paid $196,500 and $193,325 by Diageo for her role as a brand ambassador.  
Eventually, Hollis' former supervisor said that she began noticing Hollis going through extreme ups and downs, stating that, "her highs were high, and they were good, and that her lows were chaotic at best to the point of her being combative. It appeared to me that she would misinterpret. Sometimes when things would happen, she would misinterpret them being directed at her when they might have had nothing to do with her."
After Worth's move to Los Angles, her former supervisor remembers noticing a change in her behavior. "She believed things were entitled to her because she was Hollis Bulleit," adding that there was a shift in Hollis' attitude about herself after she hired an attorney who primarily represented celebrities. 
"Intended or not, it was part of her persona with her costumes and her hats and then only requiring a certain amount of time for an appearance, and then needing a certain amount of time to travel to a certain appearance, and needing a certain amount of time to rest between travel," said her former supervisor. "I kind of did feel like I was dealing with a celebrity at times, but we just sort of adapted to it because we found when Hollis first started, that her persona and the way she behaved at the events was helpful to the brand. Then it became not helpful, so then we limited how much we would actually send her out because there we so many of these constraints around the way that she was going to work with us." 
Worth would also bring up that she owned her own name and owned her rights, said her former supervisor, saying that Diageo, "could never use her name or her rights for any products—which by the way we never said we wanted to. She would always make a point of letting us know that we were not allowed to do that."
Worth's supervisor said she would come back from events upset about how she was treated or citing inappropriate behavior directed towards her; however, when asked for more details so the situation could be formally handled, "she would shut down, and she wouldn't give specifics." 
When her former supervisor would try to intervene on Worth's behalf, "she would become very secretive about it. It was just a very odd situation that made me question the validity about the kind of accusations she was making about anybody at any given time." 
"Then after doing my own investigative work I would find that that person was not, in fact, a Diageo employee they were industry people that Hollis herself had chosen to spend time with at given industry events, whether it be Tales of the Cocktail or another type of event," said her former supervisor. "But she would choose to spend time in those places with these particular people. If there was poor behavior happening, I told her, 'you need to leave.'"
Worth's former supervisor said they started sending Worth to fewer and fewer events, "because we found the risk of sending her to events was greater than the reward."
In the summer of 2016, Bulleit said he got a call from his daughter expressing for the first time that she felt her job was in jeopardy. 
"She called me and was really in a panic she said, 'Dad, I really think I'm going to lose my job. They're not using me at all,' said Bulleit.
Bulleit said after his conversation with Worth, he reached out to Ed Bello, the Global Brand Director for Diageo. Bulleit said that Bello admitted that they hadn't been using Worth as a brand ambassador very much, and he asked Bello to consider renewing Worth's contract. However, Bulleit insists that he did not have the power to insist that they renew Worth's contract—since Worth did not work for him.  
"Suggest but not insist," said Bulleit. "I had no power to insist on anything. I consult because I am the institutional memory of the brand. Since 1997, I have never run the day-to-day operations of Bulleit."
Bulleit stated that Bello and Worth decided it would be a great idea for Worth and Cher to move back to Kentucky since they had opened the Bulleit experience at Stitzel-Weller, were building a new distillery and visitor center and were becoming Kentucky-centric. At this time, negotiations began on Worth's next contract, since her current one was due to expire at the end of 2016.
"She said, 'well, I think I want to move to Louisville and be a part of the new infrastructure you're creating in Louisville.' I think the idea was kind of a mutual thing. I think Ed thought it was a good idea, Betsy and I thought it was a good idea; she thought it was a good idea," said Bulleit. "Doing what she was doing, you could live anywhere. Now we were creating this infrastructure for the first time, Stitzel-Weller, a visitor center, and a couple of distilleries. So, she and Cher came to Kentucky." 
At the end of 2016, Worth was told during contract negotiations that she would not be able to work for the brand after her contract was up and a new one was in place. Bulleit claims this triggered Worth into a manic-depressive episode and she became extremely withdrawn from the family. 
"She got this letter from Diageo that said you really can't work for us after your contract until we get a [new] contract," remembers Bulleit. "At this point, she went into a complete meltdown, withdrew from the family, and stayed at home. Withdrew from everybody."  
In a Facebook post on June 2019, Worth confirmed that Diageo said once her 2016 contract ended that she was, "not to represent the brand anymore in any shape, form, or matter. This was a shock to me because this was in contrast to the previous decade; when I would work in good faith and forgo my consulting fees until we had an agreed upon a new contract. This coincided with Cher and I being un-invited from the family Christmas, which was also a shock because this would have been our first family Christmas together. In my opinion, it appeared like a coordinated effort to remove me from the family business and now Diageo."
On March 14, 2017, the Bulleit Distillery held a Grand Opening in Shelbyville, coincidentally on Bulleit and Betsy's 30th wedding anniversary. In a Facebook post from October 5th, 2019, Worth wrote, "In 2017 and 2019, neither Hollis nor her wife were invited to the distillery openings. One of which would not even exist without Hollis' input over 25 years ago (had she not had the idea of calling a whiskey Bulleit). Hollis still has not set foot on the distillery that she helped to create."
Bulleit insists that Worth and Cher were invited. "We had seats up front reserved for Hollis and Cher and she refused to come, she said she wasn't invited, but we sent her a written invitation, we called her," said Bulleit. "The week before we had the family and friends [event] and we invited her to that, everyone invited her to that written invitation and by phone. One of the ladies in charge of PR up in New York called her and said, 'Hollis, please come, we really want you and Cher there,' and she refused to come." 
In April of 2017, Bulleit said that a contract was finally agreed upon between Diageo and Worth; however, Worth elected not to enter into the contract and instead to pursue her career independently. She believed, though, that her time with Bulleit Bourbon should be compensated beyond the completed contracts.
"Family Royalties"
In a statement to The Bourbon Review Worth states "Tom Bulleit has said I just want money. Yes, I do want my fair share of the family royalty that I worked decades to procure and do not benefit from." 
Worth has stated on multiple occasions she was promised royalties by both her father and Diageo. In a Facebook post from August 27, 2019, she says, "After several promises from Diageo that I would receive my own royalty in lieu of a larger salary or bonus structure they gave a larger royalty to Tom Bulleit 'for the family.' I think that we can all agree that it is highly irregular for your boss to give your Daddy your bonus."
In an email from May 13, 2017, made available to us by Bulleit, Worth asks her father for "a non-retractable trust that reflects the money and time I spent working on the brand that is well over 5 million dollars. This is a reasonable ask considering that so far you have received $23,331,516.81 for a 'family' royalty." 
Bulleit showed The Bourbon Review a letter sent to him from Worth's attorney, dated from April 29, 2019. In the letter her attorney expresses "I do understand the royalty contract names you as the payee, however Hollis was consistently told by you and Diageo that the royalties were 'for the family' and that she would be compensated through you."
Worth's attorney then asks Bulleit for what she says her client was promised "the equivalent of the 'job for life' in the family business: $10,000,000." Worth's attorney then writes that she encourages Bulleit to "give this offer serious consideration and to consider your legacy, your family and your reputation. Any litigation over these matters would, by their very nature, be expensive, time consuming and very public." 
Bulleit says that there is no "family royalty" only the royalty agreement that he made back in 1997 for himself when he sold Bulleit Distilling Company to Seagram's—that carried over to Diageo. He also said that Diageo never promised Worth a royalty—only the salary she received for her brand ambassador role. 
"Honey, you really need to get a job"
In the same Facebook post from July 2017, where Worth claims to being "erased publicly," she also writes, "My family does not pay my bills." 
Bulleit vehemently denies this claim. Bulleit claims in great detail that he has provided financial aid for Worth and her partner Cher, not only during her entire extensive academic experiences, but also made significant financial contributions during her career as a brand ambassador for Bulleit Bourbon.  
When Worth was 32, she had finished a master's program at NYU and had been trying to make a career as an artist.  Bulleit provided financial documents that showed he was depositing $6,000 a month into Worth's account to pay for an apartment in the East Village of Manhattan during her time at that program, which was from 2004 until 2005.   He has also provided credit card statements that Bulleit has said he paid for Worth during those years. It was then, in 2006, that Bulleit claims he planted the idea of Worth working for the brand full-time.
"I said, 'Honey, you really need to get a job," said Bulleit. "I want you to pursue your career because you have such an extraordinary education, and you're a good artist. It's physiologically good for people to support themselves. That's where people find their self-identity, and that's where they find their self-worth. She wasn't very happy about that at the time—like any sort of young person. At this point at 32, Hollis now has two degrees and two significant, very expensive art certificates. We had spent an enormous amount of money on Hollis up to that point." 
Bulleit claims he has paid for all of Worth's previous education expenses, which according to him include a degree from Smith College in Massachusetts (costing over $100,000 in tuition), a year studying art in France, and a post-baccalaureate certificate to study at Brandeis University, also in Massachusetts. He has shown The Bourbon Review financial documentation to back his claims.
Bulleit says he quit paying the rent for Worth when she took the full-time position with Diageo but continued to help fund her lifestyle.  Bulleit has provided financial documents that show that from 2011 until early 2017, he gave Worth close to $28,000 per year, the highest amount allowed to give someone without a tax penalty for the recipient. Worth has confirmed in a statement to The Bourbon Review that "Tom Bulleit and Betsy Bulleit used to give me an annual gift, which they have ceased to give." According to Bulleit, he stopped giving his daughter an annual gift in 2017, when Worth blocked communication and accused him and his wife of homophobia. 
When Worth moved from New York to Los Angeles in 2008, Bulleit says he paid for Worth and her partner Cher's move.  He also said he paid for extravagant furnishings that were requested for their new apartment, like a $4,000 brass bed and multiple TV's over the years.  
Bulleit has also provided financial and legal documents that support his claim that in 2016, he gifted Worth a $1,000,000 Spendthrift Trust.  The legal document claims Worth can draw up to 5% of the trust's value every year. The legal document also states the trust is irrevocable, and neither Bulleit, his wife nor son Tucker can have any say in how the trust is distributed. 
"In about August of 2016, I said to Betsy, 'Hollis goes in and out of our lives, I want Hollis to be safe and secure.' So, we set up a million-dollar spendthrift trust where she can draw out 5% of it every year," said Bulleit. "I paid the taxes on it. It is a non-revocable trust; I can't get it and don't want the money back. It has power of appointment, so in the event, for instance, if Hollis were to pre-decease Cher, she could give it to Cher or whomever she wants. I have zero control of the trust."
Bulleit also provided documents that, as early as July of 2016, he gifted Worth $125,000 via a bank transfer for Worth to use towards a down payment on a house in Louisville, KY. He has also provided bank statements that show transfers into an account that he says belongs to Worth from August 2016 until May of 2017 that total $118,395.65 that he says were used for renovations for the new home.  
Bulleit denies Worth's claim that she and her partner Cher were not invited to spend the Christmas holiday with them.  He remembers that Worth and Cher were both present at their house for Thanksgiving in 2016 and claims the next month they were present at their son's Christmas party of the same year at his house, which is located within a few miles of where Bulleit lives.  This would also fall into the same time frame when Bulleit was still depositing money into Worth's bank account for the Louisville home renovations. 
In an email, which Bulleit shared with The Bourbon Review, from Worth on May 13, 2017, she demands her father "pay off the mortgage of this house [in Louisville]. And I would like a non-retractable trust that reflects the money and time I spent working on the brand and that is well over 5 million dollars." She also accuses Bulleit of a lack of sibling parity between her and her brother. 
Worth's former supervisor said that her feelings of jealousy toward her brother were very apparent—especially in the workplace. "There was clearly a lot of jealousy about her brother, Tucker, or her adoptive brother as she likes to refer to him, and she definitely seems in her conversations as the years went on that she was being slighted and not being given the same kind of opportunities from her father."
In the previously mentioned podcast episode with Spirit of Rock Podcast Network, Worth mentions her brother.
"I get to see this other sibling, who's heterosexual, get benefit from the money that I helped make the family," said Worth. "And it's not that I want to go out wheeling and dealing and even if I did then that would be fine, but I don't need three cars. My brother, I think, has like 10 or something—he has a fleet. I don't need a fleet, but I'd like to have two cars and feel okay about it. But more importantly, I would just like to feel like I had enough money for Cher and I because I earned it."
"Black-Balled" Due to Homophobia? 
Bulleit says in the spring or summer of 2017, Hollis blocked all communication with him and Betsy, moved, and did not tell them where she and Cher had relocated. He says he has not been able to communicate with her since then. 
On Worth's website she writes that, "I began to go public with my story in June of 2017, by discussing my experience with homophobia in the workplace and from the Bulleit family on my social media; which was removed in January of 2018 as per a "resolution agreement" with Diageo (the parent company of Bulleit). In those posts, Worth accuses Bulleit, Betsy, and Diageo of being homophobic. She writes that she was "black-balled and ostracized" from the industry due to her family's homophobia. In a statement released at the time to Fox News, Diageo says that is inaccurate. 
"Any implication that she was fired, or that failure to agree to terms on this contract was due to her LGBT identity, is simply false," the company stated to Fox News. "In advance of Hollis' contract expiring in 2016, we offered her a multi-year extension. Despite it being an increase versus her previous arrangement, we were unfortunately not able to reach an agreement with her on this new contract."
Worth also specifically called out Diageo and their corporate policies. 
"Because family was business and intertwined with a global corporation, I find it odd that I did not benefit from the departments and safeguards that are put into place to either intervene or provide mediation or educational diversity training as would be the expected protocol for employees in this type of situation," Worth wrote on Facebook. "In light of my experience, I do not understand how the company I worked for is on many of the top 10/ 50/ 100 "best places" for LGBTQIA employees to work."
Worth announced on her Facebook page in January 2018 that she and Diageo "have reached a mutually acceptable resolution of Ms. Bulleit's relationship with Diageo. Both parties are pleased to move forward and wish each other success in future endeavors." Online industry publication just-drinks reported that as part of the settlement Worth received a payment of $1.2 million, corresponding to the amount Diageo says she would have received had her contract been renewed. 
We spoke with several of Bulleit and Betsy's close friends and family, many who are in the LBGTQ community, who say homophobic claims against Bulleit, Betsy and Diageo are false.  
Steve Beal, Bulleit Bourbon's Pioneer of Expansion, says he has been "very out and very proud for 25 years," In addition to being in the whiskey business, Beal is an Episcopal Priest who renewed Bulleit and Betsy's wedding vows several years ago.  
"For their 25th wedding anniversary, they were in San Francisco, and I came over to the cathedral, and I blessed their rings and renewed their vows," said Beal. "A very moving and special thing. Tom and Betsy have always been extremely kind and generous to me over the years."
He also says Diageo is regarded as one of the most LGBTQ friendly business organizations. 
"They're really supportive of the gay community in general. I have represented Diageo a couple of times at national conferences. One of them was in Minneapolis and was called 'Out and Proud at Work' or something like that." 
Lisa Schulte, who is featured at the Bulleit Distillery as their Pioneer of Art and Culture, is a collaborator for Bulleit's Frontier Works projects. In 2017, Schulte, often referred to as the Neon Queen, created a 26-foot neon installation for Bulleit in Los Angeles' historic Grand Central Market.  
"I haven't felt any discrimination, nor has anyone else in my company felt any kind of discrimination by Diageo or Tom Bulleit himself, it's the opposite. Complete acceptance," said Schulte. "I have all kinds of people who work for me. At the time, I had a transgender woman working for me, and Tom and all those people met her. I have young kids that are part of the LGBT gay community and transgender community, and I myself am. I think for the first allegation if they were homophobic, I don't think they would have come here and worked with me."
Jim Gray, former openly gay mayor of Lexington and openly gay candidate for US Senate and Congress, says, "I've known Tom and Betsy Bulleit for a very long time, and I never saw them show any behavior even remotely homophobic…I can't believe they ever would frankly." 
However, Worth claims on her website that even the $1,000,000 Spendthrift Trust her parents gifted her in 2016 is an example of their homophobia. 
"In 2016, I was not given a copy of my trust when I signed it, nor advised to have an attorney present because I was working on good faith," wrote Worth. "Therefore, I conceded to housing that trust at my stepmother's financial firm. I felt like that was a conflict of interest. Especially later when I found out that my stepmother is listed as an executor of my trust along with my stepbrother who is 18 years my junior. I was horrified in the summer of 2017 when I received the actual documentation that specifically states that I cannot pass along my trust to anyone, not even an heir, and the trust can be revoked at any time for no reason. My partner Cher and I had been together for almost a decade at the time. I would never have signed that trust if I had known about Cher's exclusion from it. We have consulted professionals in the legal community who see this phrasing as egregious and it could be read as homophobic." 
In a statement to The Bourbon Review pertaining to the trust,Worth writes "the Bulleit family who are in charge of the trust, Tom, Betsy, and Tucker have mental problems that I believe disqualify them from running the trust." She also writes "Betsy Brooks Bulleit has been employed by Hilliard and Lyons for several decades and we believe that the trust should not have been housed with an investment firm that has such close ties with "the family." 
Betsy states that while the trust is managed through Hillard Lyons, where she is employed, that she is not an executor or a trustee. "It is completely out of my hands. It's managed in Louisville by Hilliard Lyons, but I don't have any control of it, and it doesn't revert back to us. It will always be a growing amount of money."
At the request of Bulleit, Bruce Reynolds, his estate-planning attorney who drafted Worth's trust personally sent The Bourbon Review a letter outlining its terms. In the letter, it states that upon the primary beneficiary's death that she may appoint, by will, a new beneficiary to receive the remainder of the trust. It says, "the trust is irrevocable, and the settlor has no power to alter or amend the trust." It also says, "neither Betsy, Tucker, nor any other member of Tom's family present or future has any power to alter or amend the trust in any respect."
Serious Allegations of Sexual Abuse
Worth's most recent allegations, however, are even darker than her claims that her family is homophobic. In a Facebook post from August 13, 2019, Hollis details a childhood rife with sexual abuse. "From a young age I was touched and fondled inappropriately, posed for photos naked against my will, explicit sexual language was used when communicating with me, and I was shown age-inappropriate sexual media in several forms."
Bulleit denies these claims, painting a picture of a healthy, happy, privileged family. Before the creation of Bulleit Bourbon, Bulliet moved his family from Virginia to Lexington, Kentucky, when Worth was about three years old, and began work as an attorney at a successful practice. 
"Hollis was raised in love and in privilege—I was a practicing attorney, and I did fairly well," said Bulleit. "She was educated in public schools at Cassidy Elementary, Morton Middle and Henry Clay High School in Lexington where she performed exceptionally well academically and as a student-athlete swimming. We took her to hundreds of swim meets from age five until she went away to college."
Bulleit says that his daughter's childhood consisted of family vacations to the Caribbean and trips to New York to buy clothes for school, visit art museums and go to shows. He recalls him or his ex-wife dropping Worth off and picking her up from school and swim practices every day. When she turned 16, Bulleit remembers he gifted his daughter a new Ford Mustang convertible. 
Bulleit states that nothing from Worth's claim on Facebook is true, calling it "ridiculous." He said he could only think one photograph that his daughter could possibly be referring to, taken when she was a baby.  
"She was my darling little daughter—the love of my life," said Bulleit. "I brought a Nikon camera back from Vietnam and took thousands of pictures of her throughout the years. There is one where she was about one and a half and she had earphones on, and there was a whole record player in front of her, and she didn't have any clothes on, but had her earphones on. The picture was from the back. It was the cutest little picture you've ever seen." 
In 1986, Bulleit divorced Worth's now-deceased birth mother, Stephanie. After the divorce, he went on to marry his current wife, Betsy Bulleit. In 1988, Bulleit was granted full custody of his daughter after an acrimonious child custody battle, where the family's lives up until then were put under a microscope. 
Bulleit says that the custody hearing was "a terrible experience for her mother, for Hollis, for Betsy—it was absolutely terrible. I said to Betsy at the time that I would rather go back to Vietnam than go through that week again."   
Bulleit shared the court documents from the custody hearing with The Bourbon Review, which ultimately states, "The court is persuaded by the evidence that Thomas Bulleit offers a stable environment in which this adolescent child may benefit from loving and thoughtful guidance."  
The documents also detail Worth's mother Stephanie's drug use and state that "during her visitation with Hollis, the mother shall not use or permit the use in her home or presence of illegal drugs, nor shall she permit any male friends to occupy her home."  
The documents also include the deposition from Dr. Stuart A. Cooke, a licensed psychologist, who interviewed the entire family and the family's doctor, Dr. Cooper, as part of the trial. The deposition includes a statement from Dr. Cooper about a specific event where he was called to the family's home after Stephanie had broken her nose. Bulleit says his ex-wife fell due to being intoxicated. 
Worth described the incident in the same Facebook post from August 13, 2019, saying she witnessed "extreme violence as a young child" between her mother and father. "He smashed my mother's face into a wall, breaking the wall and her face," said Hollis. "I stood between my mother and my father to stop him from beating her further."
In the deposition, Dr. Cooke details Dr. Cooper's official legal statement, for the trial, surrounding that specific event including that, "Hollis came into the room afterwards. She did not witness it." He also said in the deposition that "Dr. Cooper indicated that if he was going to put reliance in anyone's testimony, he would put it in that of Tom Bulleit."  
Dr. Cooper stated to Dr. Cooke that Stephanie "was obviously very inebriated. He indicated that Stephanie was incoherent. Her nose was broken. Dr. Cooper indicates that she was acting irrationally. It was apparent that she had been throwing things." He goes on to say, "The whole dynamics does not appear to be in keeping with spouse abuse." 
In another part of the deposition, Dr. Cooper says, "I think in terms of relevance to the child custody issue, no one has ever alleged that Tom has ever been physically abusive towards his daughter. Betsy has not alleged any physical abuse of Tom towards her. Hollis has assured me that she has never felt any physical threat from her father." 
As part of the custody trial, Commissioner Shelia Isaac also interviewed Hollis individually and privately, and at that time, no allegation of abuse was made by Worth. 
Worth says in a statement to The Bourbon Review, "The court documents prove nothing, besides a teenager who was put into circumstances that no 13 year is equipped to deal with emotionally or otherwise. The fact that the abuse continued on until I was in my late teens, after the custody suit speaks much louder to the actual reality of the situation."
In the aftermath of the divorce, once Bulleit as awarded full custody of Worth, Stephanie ended up moving to Florida and cut off communication with both him and her daughter. Sadly, she passed away due to breast cancer in 2008.
In 1991, the entire Bulleit family underwent even more scrutiny when they adopted their son. Bulleit said the family, including Worth, was interviewed by the Kentucky Department for Human Resources, the California Department of Human Resources and the investigation was coordinated by a federal agency since the adoption involved multiple states. 
"When Hollis was 18, the summer before she went off to Smith, we adopted Tucker," said Bulleit. "In the context of an adoption there are exhaustive investigations to make sure that the child is going into a secure environment where the child can be educated and protected. Social Services investigators came out looked at our house, we gave them financial statements and made sure we had no civil or criminal charges." 
According to Bulleit, all reports, interviews, and investigations were positive and resulted in their adoption of Tucker and, in his mind, add a layer of credibility to his claim that he has not sexually, physically, or verbally abused his family.
In 2005, Bulleit says that Betsy began the process of legally adopting Worth, since it was an adult adoption Worth had to agree to it and sign off on it. Bulleit says they also had to notify Worth's birth mother living in Florida at the time. In a statement to The Bourbon Review Worth calls the adoption "fake" and that she believes it was merely a "business transaction." 
"I signed paperwork mere days prior to Tom Bulleit going into cancer surgery that we were unsure that he would survive. Those papers were akin to adoption papers for Betsy Bulleit, who was slated to inherit all of Tom Bulleit's fortune. To me the adoption deal was a business transaction between Tom and Betsy Bulleit and how they intended to disperse the inheritance if at all. I believe that Tom Bulleit asked Betsy Bulleit to adopt me in return for signing over the Bulleit fortune. Betsy Bulleit had several occasions to act like a mother, or to adopt me prior to 2005 (estimate). They got married when I was 13 and by 2005, I was 31 years old."
Bulleit says that the Betsy's adoption process of Worth began before he found out that he had cancer and was never meant to be used as any kind of estate planning but rather out of love. Bulleit has shared the Kentucky Clerk's Certified copy of the adoption. Betsy echoes that her adoption of Worth was not done as an act of estate planning. 
"My adoption of Hollis was an act of love," said Betsy. "While my love, care and support of Hollis has been present for 32 years now. I wanted to take that extra affirmative step in adopting her as an adult."
"Our hearts have been steadily broken"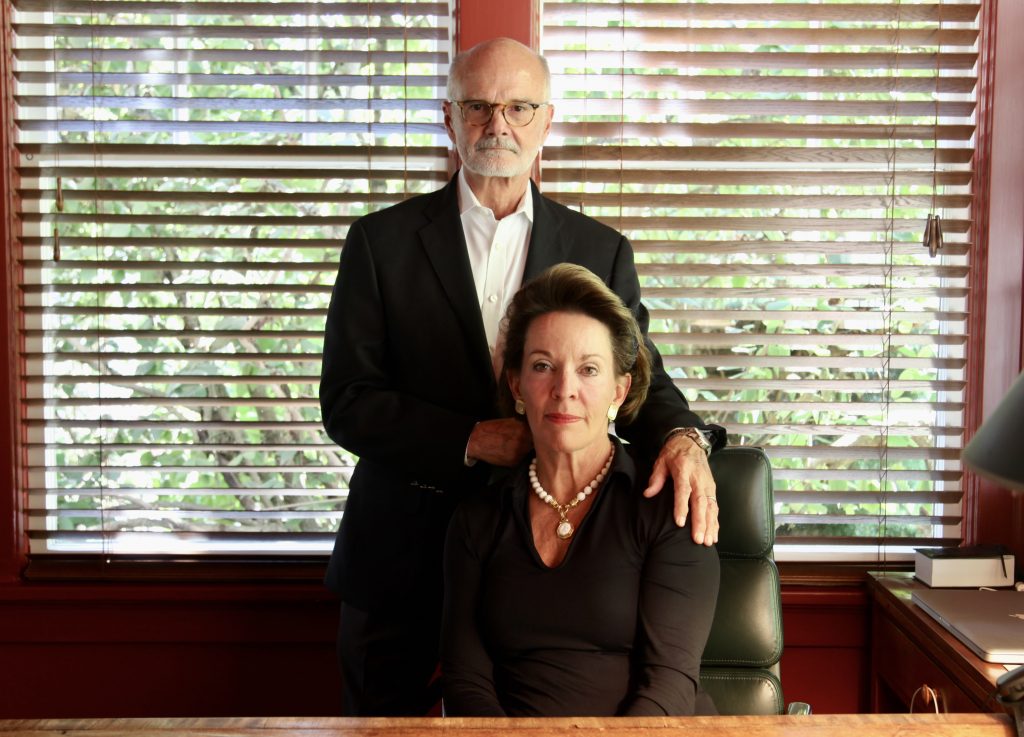 When asked if he felt like reconciliation with his daughter was possible, Bulleit said ultimately "wants Hollis to find peace and love with Cher" and that he would have to love her from a distance.
"We have lived with this for so long. People say, 'this must be heartbreaking for you because this is your daughter,'" said Bulleit. "While I love my daughter, this is not breaking my heart. It is a great sadness. It's compromising the industry. It's a terrible situation. But as far as breaking our heart, our hearts have been steadily broken, and Betsy and I are used to this. We're used to her extraordinarily aberrant behavior."
Meanwhile, Worth has created an online petition on change.com entitled: "Call for Diageo to end the disparagement & erasure of Hollis Bulleit, and demand equal pay." When this article was published, 1,242 people had signed. 
There's an old saying in the bar business when a conflict arises between two parties that goes: There's always three sides to the story. Their side. The other side. And the truth. 
If Worth's allegations are true, Diageo needs to make it right by her, and give her credit for her accomplishments. In addition, Bulleit needs to be held responsible for his actions. The same could be said even if she's partially telling the truth. 
If Worth's allegations are not justified and have been used to solely extort Bulleit for the decades of work he has put towards building Bulleit Bourbon, then you would think Worth would need to be held responsible as well. 
Regardless of the truth ever coming to light, one thing seems to be certain from this family conflict. There doesn't seem to be a true winner.