Recipe and Photos by Pate Giltner found here at www.thegandmkitchen.com.
"These brown butter bourbon doughnuts are half baked good and half cocktail, and they are delicious. It's your basic doughnut turned on its head. It takes the already amazing fried yeasted doughnut, and then adds brown butter and bourbon. What could be better than that?"
Editor's Note: We love these Brown Butter Bourbon Donuts with this Basil Hayden's Bourbon Iced Coffee as a special bourbon treat!
THE BROWN BUTTER:
The trick to browning butter is to cook it long enough for dark brown bits to form but not so long that it burns, and those bit turn black. Cook it on medium heat, cooking it on high could burn it prematurely. Also, cutting the butter into sections helps it to melt evenly.
THE DOUGHNUT DOUGH:
This dough is super easy to make. It's adapted from an NYT recipe, and it's so simple to through together. It does make a very wet, springy dough, but it's very easy to work with after the 1st rise.
THE ICING:
I'll be honest; this is a super potent icing. Once you mix the powdered sugar and bourbon together and give it a taste, if it's too strong keeping added sugar until it reaches a flavor you like.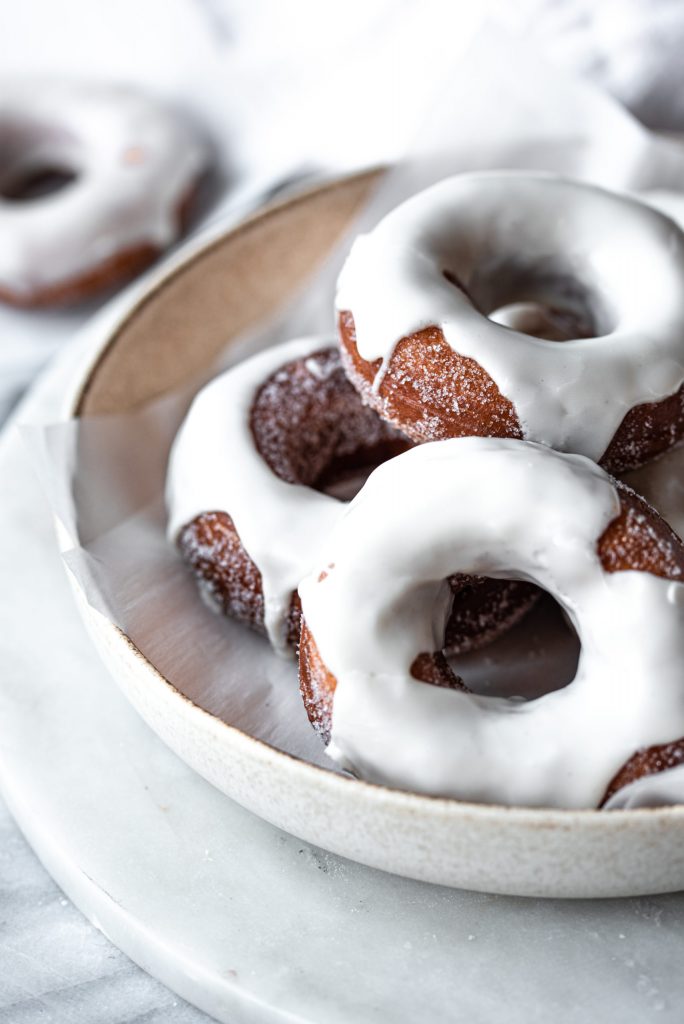 INGREDIENTS
For the doughnuts:

1 1/4 cups milk
2 1/4 teaspoons (one package) active dry yeast
2 eggs
8 tablespoons (1 stick) butter
1/4 cup bourbon
1/4 cup granulated sugar
1 tablespoon vanilla
1 teaspoon salt
4 1/4 cups all-purpose flour, plus more for rolling out the dough
2 quarts neutral oil, for frying, plus more for the bowl.
For the icing:
2 cups power sugar
1/4 cup bourbon
---
INSTRUCTIONS
For the doughnuts:
Brown the butter by cutting it into 1 tablespoon cubes and heating them in a skillet on medium heat. Add the 1/4 cup bourbon and cook until the butter takes on a light brown color and little brown bits start to form about 5-10 minutes. Remove from heat and let it cool.
Heat the milk until it's lukewarm, about 90 degrees. You need it warm enough to activate the yeast, but if it's too hot it will kill the yeast.
In a bowl fitted to a stand mixer fitted with a dough hook, combine the yeast and the milk. Let it sit until it starts to foam—about 5 minutes.
Add in the butter, eggs, sugar, vanilla, and salt and beat until combined. Add in half the flour and mix until combined. Scrape down the sides with a spatula and, in the remaining flour, beat until smooth.
Transfer to a greased bowl, cover with plastic wrap, and let rise for 1 hour.
Once risen, turn the dough onto a floured surface and roll it out until it's 1/2 inch thick. Cut out doughnuts with a 3in circle cookie cutter and then cut out the center with a 1in cutter. Place cut out doughnuts on parchment paper with plenty of room inbetween, cover, and let rise again for 45 minutes.
About 15 minutes before doughnuts are ready, heat your oil in a large pot until it reaches 375 degrees. When the oil is ready, fry about 3 doughnuts at a time—cooking each side about 30 seconds- 1-minute per side. You are looking for a nice golden brown color.
Place on paper towel-lined plates.
For the glaze:
Mix the bourbon and powdered sugar in the medium bowl and mix until there are no lumps.
Drizzle the glaze around each one of the cooled doughnuts.