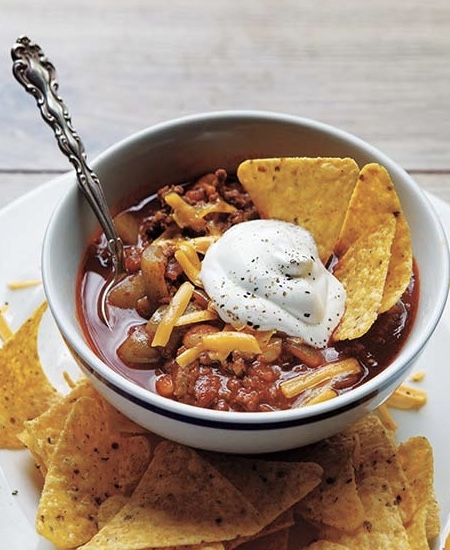 Photo and Recipe Edible Louisville
Every chili recipe should have a secret ingredient, and what's better than Bourbon? Originally published at ediblecommunities.com, this recipe uses ingredients inspired by the Woodford Reserve Flavor wheel to blend flawlessly with the generous helping of whiskey. The recipe calls for Woodford Reserve to be one of last ingredients added to ensure the Bourbon still has a little bite left when it makes it to the bowl.
Ingredients
2 pounds ground chuck
1/4 teaspoon salt
1/4 teaspoon pepper
2 tablespoons olive oil
1 medium yellow onion, chopped
2 green bell peppers, chopped
4 garlic cloves, minced
1 teaspoon dried oregano
1 teaspoon dried sage
1/2 cup orange juice
3 tablespoons ancho chile powder
2 teaspoons smoked paprika
2 teaspoons ground cumin
1/2 teaspoon ground chipotle pepper or minced chipotle in adobo
1/4 teaspoon cayenne pepper (optional, to taste)
11/2 teaspoons kosher salt
1 (28-ounce) can crushed tomatoes
3 cups water
1 (15-ounce) can or 11/2 cups cooked black beans, drained
1 (15-ounce) can or 11/2 cups cooked Great Northern beans, drained
1/2 cup Woodford Reserve
Sour cream
Cheddar cheese, grated
Tortilla chips
Instructions
Brown the ground chuck in a Dutch oven or soup pot. Season lightly with salt and pepper. Drain off excess fat and set the meat aside. Add the olive oil to the pan over medium heat, and then add the onion, pepper, garlic, oregano, and dried sage. Sauté until the vegetables begin to soften.
Deglaze the pan with the orange juice. Stir in the ancho chile powder, smoked paprika, cumin, ground or minced chipotle, cayenne pepper, salt, and crushed tomatoes. Bring to a simmer for a few minutes. Stir in the water, beans, and reserved cooked meat. Bring to a simmer again and check the seasoning. Simmer for 15 minutes, add the bourbon, and simmer for 15 to 20 minutes.
Serve garnished with sour cream, Cheddar cheese, and tortilla chips.