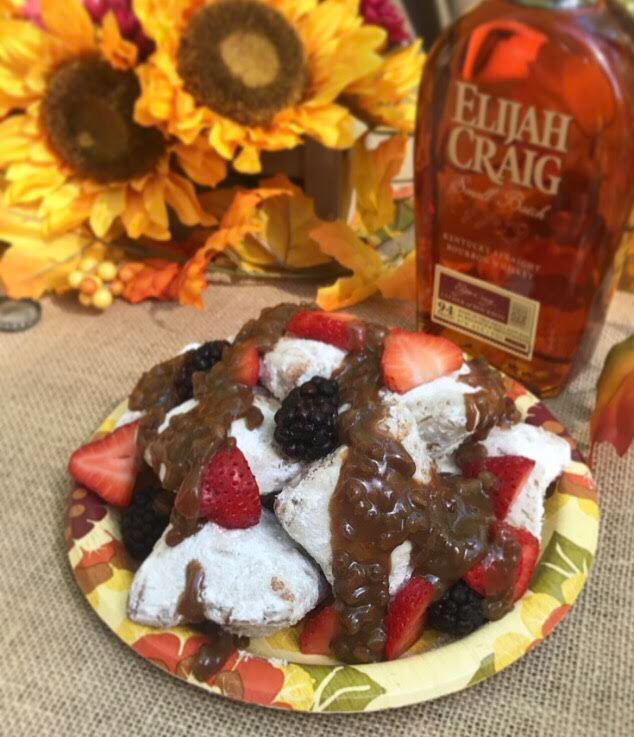 We think that Bourbon is the perfect complement to food year round, but fall is the perfect time of year for caramel-covered everything! This Bourbon Pecan Praline sauce is perfect for dipping apples, spooning on ice cream, or drizzling on warm beignets or apple cider donuts – a quick, easy, and boozy way to take dessert to the next level.
Ingredients
½ cup coarsely chopped pecans
2 tablespoons unsalted butter
½ cup packed dark brown sugar
½ cup whipping cream
2 tablespoons milk
2 tablespoons cornstarch
1 tablespoon bourbon
1 teaspoon vanilla
1 dash salt
Directions
1. Place pecans and butter in heavy medium saucepan. Cook over medium heat 4 minutes or until nuts are toasted, stirring frequently.
2. Add ½ cup dark brown sugar and ½ cup cream; stir until smooth. In small bowl, blend 2 tablespoons milk and cornstarch. Stir cornstarch mixture into sauce.
3. Increase heat to medium-high; cook until mixture comes to a boil, stirring constantly. Boil 2 minutes or until thickened, stirring constantly.
4. Remove from heat; stir in 1 tablespoon bourbon, 1 teaspoon vanilla and dash salt. Serve warm.
5. Store sauce, covered, in refrigerator. If too thick after reheating, stir in 1 to 2 tablespoons milk.
Originally posted here at www.epicurious.com.