CLERMONT, KY – James B Beam Distilling Co (Jim Beam) doesn't do anything small and why should they? They're the #1 producer of American Whiskey (by volume) in the world and it's not even close. Of the 10,300,000 (and change) barrels of liquid resting and nesting in Kentucky, Beam claims over 4,000,000 of that stock. One company with 40%+ of the Bourbon State's prized libation commodity. They biiiiiig.
It's only fitting and right that for their official rollout of the new Homestead Experience, you guessed it, they did it BIG.
Live music. Fancy passed hors d'oeuvres. Yummy cocktails (my fave, Paper Plane, they did a strawberry twist using Old Overholt Rye, straight fire!). Fancy clear ice (KY Straight Ice). Even valet parking. It got bougie.
Guest list included, well, most of the entire surrounding community. And of course, high level political dignitaries. We spotted Senators Damon Thayer and John Schickel immediately who each are major supporters of Kentucky's Bourbon industry. It sounds a bit odd, but yes, in the Bourbon State, the "sinners juice" can have its fair share of difficulties getting support from the hill. KY Gov. Andy Beshear both attended and took part in the speech procession. As did Beam Suntory (global) CEO Albert Baladi.
And of the distilling guard, you know its a darn good day when you look out in the crowd and see the legendary Jimmy Russell, his lovely wife Joretta (they're the sweetest thing) and Baker Beam. Couple of Bourbon Hall of Famers – no big deal.
The re-launch was initially scripted for 2020, Beam's 225th Anniversary year, but the pandemic had other plans.
We'll have more on the experience particulars soon, but in the meantime, here is a snapshot of the new happenings at the iconic maker of Bourbon. Relatively new that is. As noted, this official celebration has been delayed for some time due to the pandemic.
KITCHEN TABLE
Inspired by the Noe family kitchen table, KT features fare from local farmers and producers. The 5,000-square-foot restaurant and bar has a stunning view of the beautiful Clermont countryside. Impressive variety of culinary offerings ranging from wood fired pizzas, fried catfish, country ham, burgers…elegant comfort food – ideal for soaking up booze! And matching culinary might, the cocktails are on point. Really impressive setup and a big add to the distillery based Culinary & Cocktail scene within Bourbon Country.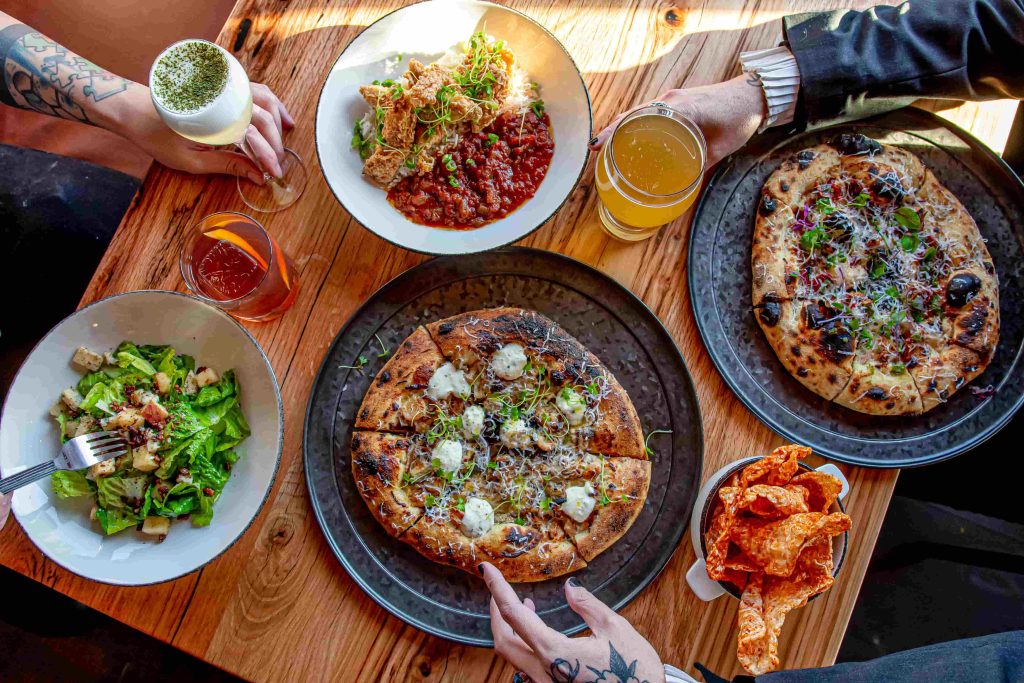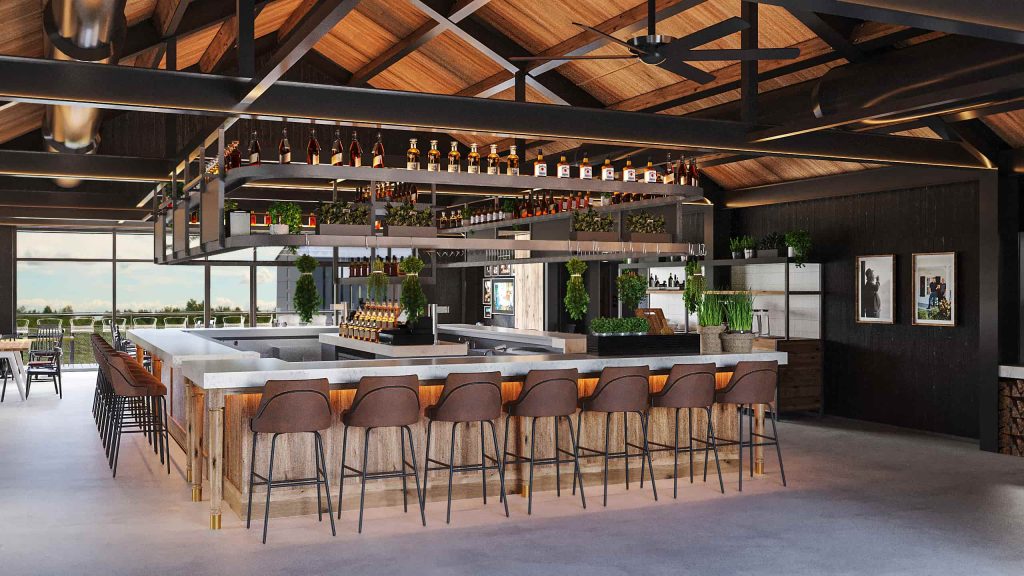 BEAM MADE BOURBON
An immersive consumer tour is a visual educational experience showcasing how to make bourbon the "Beam Way." Essentially your very own 'Cliff's Notes' version of how Beam Whiskey is made. Met with an enchanting waterfall upon walking inside which showcases Kentucky's limestone enhanced aqua. From grain to barrel char all the way to glass – it has your "how they do that" box checked and done well.
Fred B. Noe Craft Distillery
Announced in 2019, the new home for small-batch and next-generation whiskies will also serve as a functional production facility to explore new fermentation and distillation techniques.