Much like its namesake, Baker's Bourbon often flies under the radar of consumer demand and brand attention. But ask anyone entrenched in the bourbon industry — or anyone who values quality over marketing campaigns — and you'll find many Baker's fanatics hoping their little bourbon secret never becomes so trendy that they can't find it on store shelves.
Unfortunately for those folks, that's all begun to change.
After more than 25 years, Baker's Bourbon, which is part of Jim Beam's Small Batch Bourbon Collection, has gotten a makeover thanks to Master Distiller Fred Noe and his team at the James B. Beam Distillery. The rebranding comes with a sharp, slick new bottle, and although they're keeping it at its signature 107 proof with a seven-year age statement, the bourbon now will come from a single barrel.
The new bottles have hit shelves across the country this year, and in honor of the brand's legacy, Beam also released a limited-edition, 13-year-old single-barrel Baker's, packaged in a fancy premium gift box that had most bourbon collectors chomping at the bit.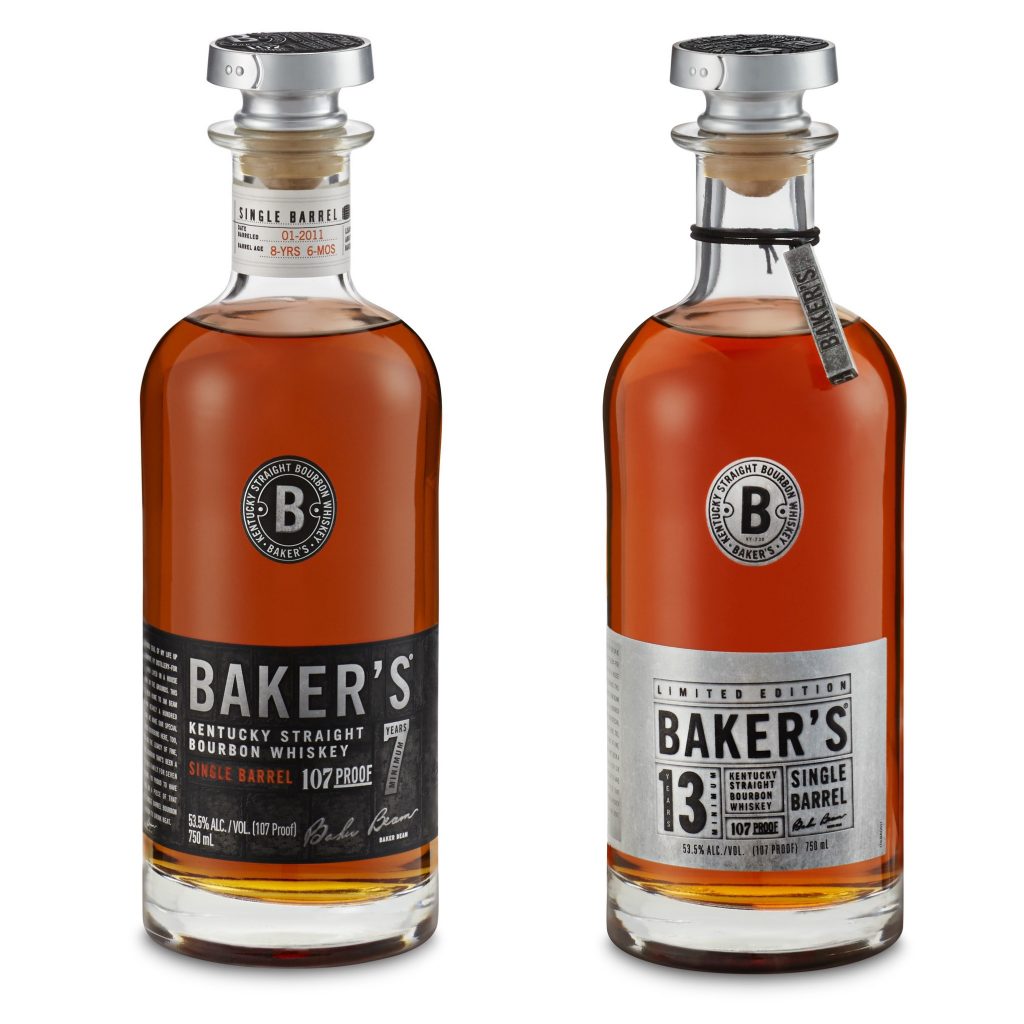 Baker, who today turns 84, is a sixth-generation Beam distiller and grand-nephew of Jim Beam who put in a solid 38 years at the Clermont distillery and is now enjoying the retired life. Occasionally he'll pop in at the distillery for events, to sign bottles or just watch the organized chaos of distillery life and reflect on his past, which included working alongside his brother David Beam and cousin Booker Noe.
Baker, after all, has seen the rise of bourbon in the '50s, '60s and '70s, its ultimate fall in the '80s and '90s, and then the resurgence of America's only native spirit in recent years. As soft-spoken and humble of a man he is, Baker has a wealth of knowledge that can only be attained by living it. And these days, he has become somewhat of the Jim Beam historian. He's got quite a collection of historical documents, vintage bottles and priceless photos that showcase more than 200 years of the Beam family business.
Baker, a tall and lanky man, lives in a ranch-style home not too far from the Clermont distillery. In fact, his backyard view gazes upon several 50,000-barrel rick houses that sit off into the distance. Baker says he likes to be close to the action, and he often sits outside — with his cat Zero by his side — to listen to the familiar sounds of bourbon being made on the Kentucky hillside.
We stopped by Baker's house one Monday afternoon for a quick chat, as suggested by his nephew Troy Beam, and Baker was every bit as hospitable, humble and honest as we had expected. He was gracious, genuine and appreciative to tell the stories of his past.
Bourbon or Trucks?
Baker first officially started working at the Beam distillery in Clermont in 1954, following in the footprints of his father, Carl "Shucks" Beam, who was still working seven days a week. Baker's first love was for trucks, and he remembers being enthralled by the 18-wheeled monstrous machines as they delivered grains to the distillery every day.
He even toyed with the idea of driving trucks for a living, but those jobs were hard to get back then, and he decided the distillery was the best place for him to be. Yet he was so enticed by the vehicles, he finagled a part-time gig behind the wheel, using his vacation time from the distillery to haul grains for about six weeks on and off.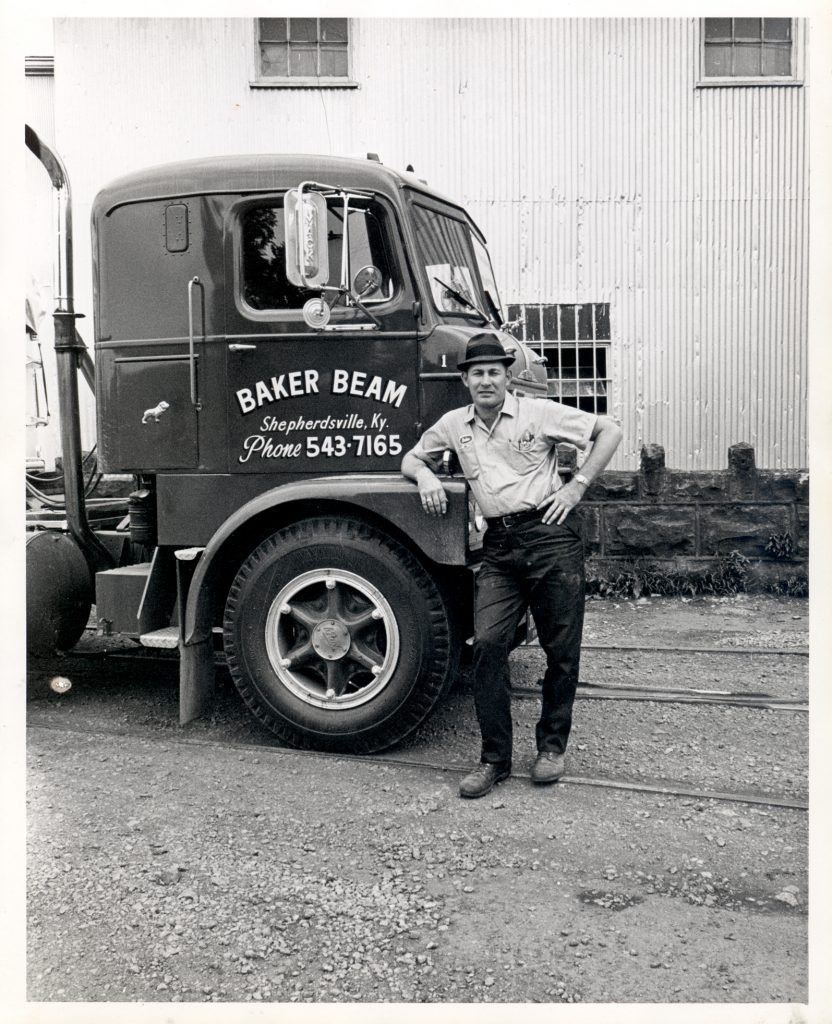 One of Baker's first jobs at the distillery was night-watch duty, so he'd traverse the Beam campus every hour on the hour, making sure doors were closed and keeping an eye out for unwanted visitors and any signs of a fire.
Thankfully, nothing really happened much on Baker's watch.
"I had an owl dive at me once," he recalls. "But I wasn't smart enough to be scared."
When his father officially retired about five years into Baker's distilling career, Baker gave up the trucks to devote his time to the distillery. David Beam, Baker's younger brother, came on board during that time as well, and he took the position of nighttime distiller, while Baker was in charge of daytime distilling duties.
He proceeded to work every job there was at the distillery, from grain handler and mash operator to yeast man and fermentation chief. The biggest thrill for Baker was the mechanical, hands-on approach to the job.
"There wasn't a computer," he says. "There wasn't anything automatic. I ran all the jobs — there were about six jobs in the distillery — and we had to manually turn the valves. We never knew what was going to happen in a day."
The Family Business
Baker worked right alongside his cousin, Booker Noe, who was about 10 years his senior and was stationed primarily at the Boston, Ky., distillery. And another close family member was his cousin Parker Beam, who worked for Heaven Hill as master distiller, following in the footsteps of his father, Earl Beam (Baker's uncle), at the competing distillery.
But back then, the Beams didn't view it as competition. It was a steady job in the family business — even though it was for a different family. Baker remembers Earl working as his father's assistant in the distillery, but when Heaven Hill reached out to his father to see if he'd come work for them, Carl suggested Earl take the gig since he lived in Bardstown at the time.
"That's how Earl ended up at Heaven Hill, and then Parker, his son, came along and worked there, too. And Parker's son, Craig, worked there, too, for a bit," says Baker. "My dad stayed here, I stayed here, and my brother stayed here."
Baker and Parker were quite close and often bonded over the business and their shared interests in trucks and motorcycles.
"Between trucks and the distillery, we could talk till we run out of whiskey," Baker quips.
Baker also shared a close bond with Booker. At the beginning of Baker's career, he would lean on Booker's expertise in the business. Booker was the one who spent more time in the rick houses, searching out honey barrels and experimenting with blending. And for the most part, Baker stayed inside the distillery, which he preferred.
Booker and I had a great relationship," Baker says. "After my dad retired, Booker was who I'd check with if I ever had a problem. He was always there to point me in the right direction when needed. I remember how outgoing he was and how he was never afraid to venture out to the unknown."
Baker recalls taking a trip to New York City once with Booker in 1962 — it was the first time he'd been on a commercial airplane. The two were to represent the Beam company to the New York Society of Security Analysts, which now goes by the name of CFA Society New York, the organization that deems a company worthy to be on the New York Stock Exchange, which is how Baker explained it.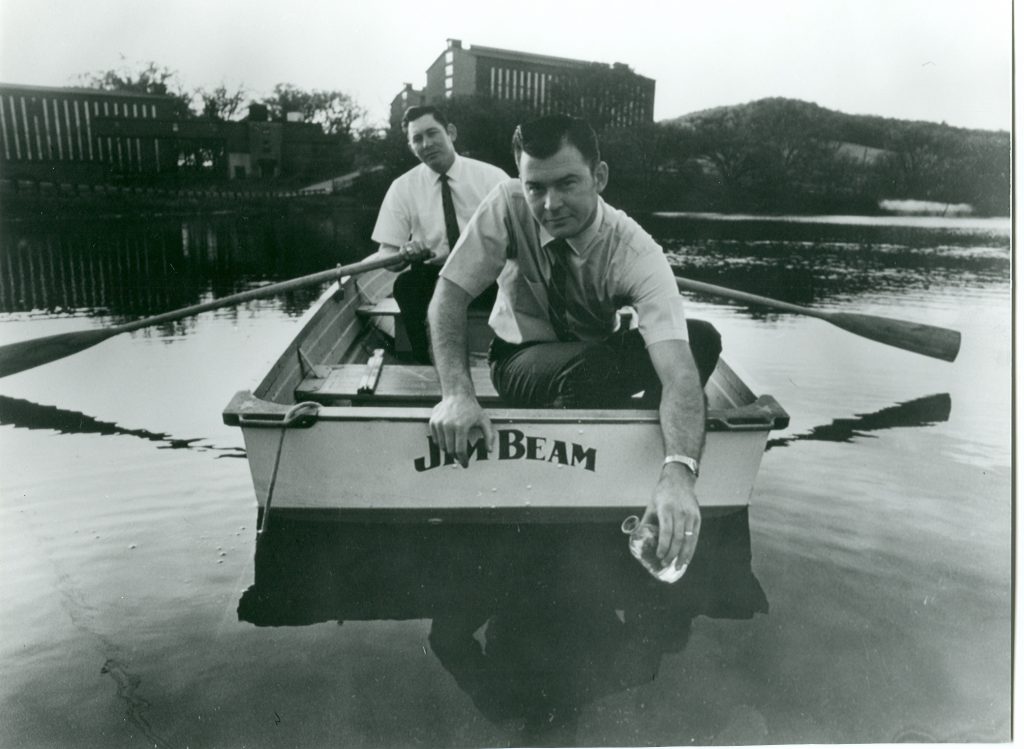 "Booker and I had no idea what we were supposed to be doing," he says. "We stayed in a fancy hotel, got to meet the vice president of the Beam company — the son-in-law of Harry Bloom (a Chicago businessman who first financed the Beam company). They took us to a Broadway play — I had never seen anything like it before. We went to eat first, and I've never been to a place fancier. We were even taken by a limousine. Booker and I went on that trip, and sure enough Beam had gotten on the New York Stock Exchange."
In 1992, coincidentally the same year Baker retired, it was Booker who launched Jim Beam's Small Batch Bourbon Collection — featuring Basil Hayden's, Knob Creek, Booker's and Baker's — which many bourbon scholars believe was one of the first steps toward reigniting passion for the spirit by modern-day consumers. (Blanton's, one of the of the first single-barrel bourbon products, came out in 1984 and also is credited with helping the cause.)
Baker on Bourbon
Of course Baker has a cabinet full of Baker's on hand in his kitchen, including both new bottles. He says it's for company, mostly, and as a gracious host, he even offered us tastes as we discussed the current industry success.
"Whiskey is something that has always been here. I suppose it'll always be here," he says. "During my time at the distillery, we knew people liked our bourbon, but I don't think anyone in our family set out thinking we would become what we are today."
While Baker admits he's not an authority on aging barrels — "Booker was the one who would sample from the barrels," he says — he does believe the aging process has a sweet spot at about seven years old.
"I think a barrel has done all it's going to do in seven years," says Baker. "Eight years is fine, but after that you get more into prestige. But that's just my opinion."
It's also why Baker's has always come with an age stamp at seven years and why that's not changing anytime soon. It's also still bottled at a stout 107 proof, which many bourbon aficionados prefer.
Baker says he enjoys most of the Beam portfolio, despite imbibing a little less these days.
"I've always just drank Beam," he adds. "But I don't drink as much as I used to. You get up in the years and you can't drink as much. You just kinda slow down. I talk about it more than I drink it now."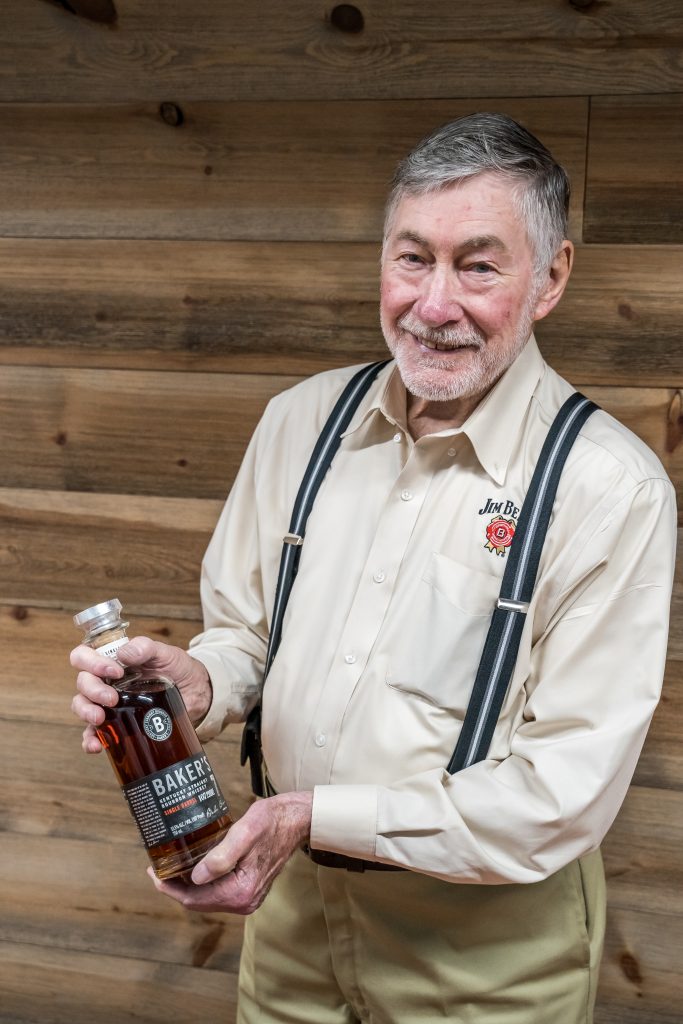 The Man, the Myth, the Cat Rescuer
We wanted to hear personal stories about Baker, since he prefers to stay more in the shadows than the limelight, so we reached out to some industry folks who all share a deep love and respect for the bourbon legend.
We first talked with current Master Distiller Fred Noe, Booker's son, since the two of them are still close today. Fred always looked up to Baker, even as a kid whose playground was a bourbon distillery.
Baker was always a little bit of a rebel. He rode his motorcycle into the distillery for work and would park it right out in front. I remember Dad yelling at Baker to get that dang motorcycle out of the parking lot, but it didn't seem to stop him.
"Personally, I've always looked up to Baker, even when I was a kid and thought it was cool to spend time with him. One time on my birthday, he came and picked me up in his big truck, and I got to ride around with him while he made grain deliveries. Sounds simple, but it was one of my favorite birthdays."
Baker's nephew Troy Beam, who works as the executive director of Shepherdsville-Bullitt County Tourism, often stops by Baker's house to check in and catch up, especially now that his father, David, passed away. Sometimes he brings bottles for him to sign, and sometimes he brings adoring fans — like us — to reminiscence the past.
Back in the '70s, Baker had a Harley and it had a black-and-white TV on it. I remember that as a kid," he says.
Growing up, Troy loved playing at the distillery with his brother, and oftentimes Baker and David would put them to work.
"On weekends, my dad would scrap iron. Around the distillery there's a lot of iron and metal that comes and goes. Back in the day, they would allow them to come in and scrap this iron. Baker has always been able to drive an 18-wheeler. They'd take the scrap and put it on his truck, drive to Louisville and sell it.
"We'd have the run of the place," Troy continues. "Back when they made decanters, if a decanter was broke, they'd throw the whole thing away. We'd collect all the pieces and put them back together, then roll them down the hill and watch them break. Of course they didn't have anything in it."
Nowadays, Troy and Baker laugh about those great adventures. He calls Baker a big book of knowledge and notes that he continues to take care of everything he owns in an orderly and very neat fashion.
"Everything Baker has had he keeps real nice," Troy says. "Even his house — you could eat off his garage floor! You could drop a chicken leg and pick it up and eat it, not even think twice about it. Everything is in order, and he likes it that way. He's a jewel to talk to."
Whiskey Ambassador Bernie Lubbers — who worked for Beam Suntory from 2005 to 2012 and now reps for Heaven Hill Brands — recalls a Baker biker story he loves to share.
"A few years ago I was at a (Kentucky) Bourbon Festival event and saw one of my favorite guys in the industry, Baker Beam," Bernie says. "I went up to him and we exchanged handshakes and pleasantries. Now keep in mind that Baker has ridden motorcycles most of his life, and he just loves it. I asked him, 'Have you been riding Bak?' He smiled and said, 'I got a new bike, Bernie — it's a 3-wheeler.' I said, 'Oh yeah?' And Baker responded, 'Yeah … well I had to. I rode up on a red light, stopped, and forgot to put my foot down.'"
The final story touches on Baker's love for animals and how his cat Zero just strolled into his life. Beth Burrows, who works as an ambassador for Beam Suntory, says it's one of her absolute favorite accounts about Baker and shows just how good-natured he really is.
She met with Baker regularly about two years ago when she hosted a nationwide event to honor Baker for his 81st birthday. The two would talk about the past, and they'd look through photo albums he kept at the house. It was the first time she met Zero, who Baker calls "Z" for short.
"One of my favorite things about Baker is the love he has for his cat Zero," says Beth. "It's a rescue cat he found in a field in the middle of winter, hence his name is Zero. It went from him finding this cat in the field in the cold, to him putting up a place outside for him to stay warm, to him eventually bringing the cat inside because he didn't want him to suffer.
"And now they're just the best of friends. They sit together — it's so precious."