When we talk about bourbon culture in 2019, the conversation is often about rebuilding. From the revitalization of an industry brought to the brink of extinction two decades ago, to the unstoppable momentum of the whiskey industry today as it brings back once-derelict brands, there's a Spring-like spirit of renewal guiding the whole industry. And while Louisville, Bardstown and Lexington may be centers of this growth, the balance is beginning to shift North.
Northern Kentucky is a bourbon region coming alive at this very moment. It's not constrained by the identity issues and second guessing that come from being a stone's throw from the legendary likes of Maker's Mark or Buffalo Trace.
Yes, Northern Kentucky has great food. Yes it has great restaurants. But at least for the moment the most important thing it has is a level of authenticity that's been lost in the shuffle of commoditization. It's a region just starting to find its stride.
North of the Border
To understand Northern Kentucky, what you really need to understand is Cincinnati, Ohio. It may seem counterintuitive, but the bourbon-making culture of this Kentucky region is closely tied to the revitalization of parts of this Ohio city once abandoned entirely.
Nowhere is this more clear than in the historic Over-the-Rhine neighborhood of Downtown Cincinnati. Initially a home to a large population of German immigrants, this beautiful place, with its late 19th Century architecture and charming streets filled with butcher and chocolate shops, pho and burger joints and the popular Findlay market, wasn't exactly thriving 20 years ago.
Now it's a gorgeous, mural-laden district of fine food, historic walking tours, and, culinary surprises. It's the same way with the region's distilling. Once Northern Kentucky was barely a blip on the bourbon radar; now it's home to some of the coolest up and coming distilleries.
Makin' Bourbon Up This Way
Cincinnati and its over-the-river sister city of Covington have a symbiotic relationship, and both the bourbon boom and Cincinnati's growth seem to have benefitted both sides of the river.
And much like Cincinnati's urban renewal, distilling in Northern Kentucky is taking unexpected turns, and what's perhaps most surprising is how little these distilleries have in common. There isn't a style, and there's little regard for the Bourbon Disney Worlds from the further south. While many distilleries may be setting up tours and inviting guests in for the experience, they're focusing most of their efforts on making unique and quality whiskey.
Take New Riff, for instance. Earlier this year they produced their first bottle of Bottled-in-Bond bourbon, with several other bottles coming along in the next few months.
Their approach would surprise most craft distillers, who begin putting out unaged products to keep the lights on. But New Riff's founder and master distiller both wanted the first bottle to be affordable, drinkable, and a statement of what's to come. Finding their products might be a little difficult outside of the area–they've made bottles available in the distillery and a few shops have since picked up limited supplies–but well worth the trip to taste.
Their main focus is on water quality: rather than latch onto municipal water like most distilleries do in 2018, instead an aquifer provides New Riff a limited but effective supply daily of clean, mineral-laden water to cook and cool in the distilling process.
There's also Boone County Distilling Co., which is producing some of the best sourced bourbons at the moment under their Eighteen 33 label, while they wait for older products to be ready. The Tanner's Curse line of young white spirits is a promising indicator of what's to come once the house recipe has had some time to age (and in the meantime they make some damn good cocktails).
And then there's Neeley Family Distillery in Sparta, Kentucky. Most Kentucky distilleries have a generational heritage, but in the Neeley's Case, it's actually son Royce that started the whole thing. At an age that might surprise you, Royce was caught by his mother following in the family footsteps, and distilling without a license, in his college dorm. After some hard talks, the family eventually realized that his talent and passion deserved some support, and since then Royce has become possibly the youngest licensed distiller in the country, and has begun putting some delicious whiskey into barrels.
The B-Line
And then there's The B-Line. As Northern Kentucky's answer to the Bourbon Trail, The B-Line is a mixture of distilleries, bars, and restaurants considered tastemakers for the region. The B-Line's ever-growing number of stops can be done in a well-planned weekend by the brave of heart and stout of liver, but you'll miss a lot trying to cram here, much the same way you miss something of the magic by trying to squeeze all of Disney World into a single weekend.
Part of it is the people. Setting aside just an hour for something like the Prohibition Bourbon Bar at Newberry Bros. Coffee would be a great disservice to the 2,000-plus bottles, let alone to the hospitality. Much like another bar stop on The B-Line list, Bourbon Haus 1841, Prohibition is the sort of place where your bartender will spend more time trying to find you a new favorite bourbon.
The good news is there's no better time of year to go than the present. If you go, we recommend a weekend spent collecting The B-Line passport stamps.
New Riff Distilling 
24 Distillery Way, Newport, KY
(859)-261-RIFF(7433)
This Newport, Kentucky distillery released its first whiskey–a bottled-in-bond bourbon–earlier this year, which has been only available in limited markets near the distillery as they ramp up supply. With more whiskeys on the way and a unique distilling concept at play, it's a must-visit. Make time to go here.
Boone County Distilling Co.
10601 Toebben Drive, Boone County, KY
(859)-282-6545
While their sourced label Eighteen 33 has become a reliable, delicious dram on shelves, Boone County Distilling Co.'s younger mashes under the Tanner's Curse brand are some of the tastiest we've had in recent years. The distillery's tour is a quick and charming way to see what's up in the craft world, and how bourbon can be "made by ghosts."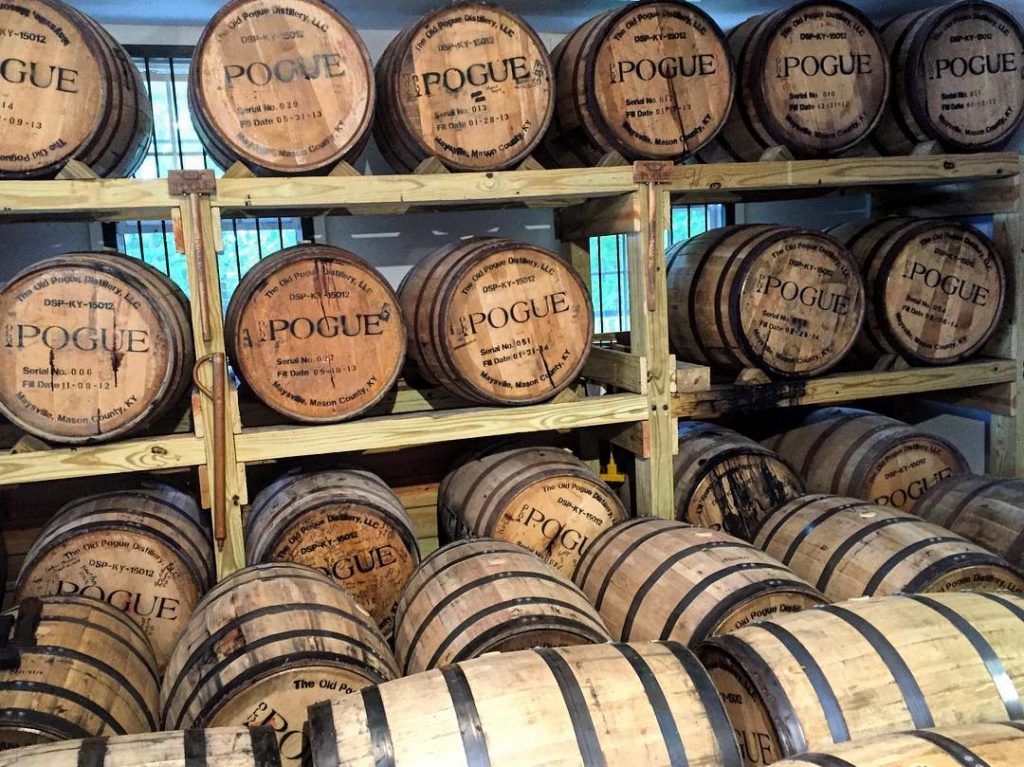 The Old Pogue Distillery
716 W 2nd St., Maysville, KY
The reincarnation of Pogue whiskey in the form of Old Pogue is a welcome addition to the ranks of the most historied brands. Old Pogue is a new building on the same land, and the history-minded bourbon lovers among you would do well to check out what this fifth and sixth generation of distillers is up to.
Old Kentucky Bourbon Bar
629 Main St., Covington, KY
(859)-581-1777
There's nothing easy-going about a 600-bottle whiskey collection, and yet Old Kentucky Bourbon Bar is a chill, easy-going bar when everyone needs to take a break, have a seat, and put a glass in their hand. The cocktail program is nothing to scoff at here, if for some reason you don't get enticed by one of hundreds of neat pour options.
Newberry Bros. Coffee & Prohibition Bourbon Bar
530 Washington Ave., Newport, KY
(859)-261-9463
As crazy as it may sound (and it sounds crazy) the biggest draw of the Prohibition Bourbon Bar at Newberry isn't the 2,000-plus bottle selection, but rather the immense knowledge and hospitality of co-owner Peter Newberry, who led even us on a wild and surprising flight of tastings. There's truly something for everyone here (the coffee is great too) but your favorite pour will likely come from a whiskey trust fall. Trust us: with the Newberry family, you're in good hands.
The Globe
12 East 5th Street, Covington, KY
(859)-261-1267
Built in the shell of Covington's Club Venus (a one-time gentleman's club) the stylish and modern Globe is a good late-night spot just a few blocks from the stellar Hotel Covington, with a decent bourbon selection and a strong cocktail menu. It's a good last stop (you know, before the nightcap). Two words: board games.
Bourbon Haus 1841
522 Main St., Covington KY
(859)-888-7038
Bourbon Haus is a friendly and welcoming bar with a great outdoor seating option, but you should forgo fresh air for the friendly and knowledgeable bar staff and the view of their ever-evolving whiskey selection. The staff will help you find new favorites, and their barrel picks are top tier.
Wiseguy Lounge
603 Main Street, Covington, KY
(859)-916-5209
The upstairs bar at Wiseguy Lounge may find it's identity somewhere between The Great Gatsby and The Sopranos, but the cocktail program and service here is of too high a quality to be pigeon-holed. Wiseguy Lounge is home to one of the best Ramos Gin Fizzes in Kentucky. Oh, and their bourbon selection is great, too.
Bouquet Restaurant
519 Main St., Covington, KY
(859)-491-7777
This two-story Covington bistro is the place to feast and cap a long weekend of exploration. An incredible (and massive) charcuterie board and a nothing-but-winners menu mean everyone will get something they like. The whiskey selection is well-tended, with a fair number of OKI picks, among other things.
Tousey House Tavern
5963 N Jefferson St, Burlington, KY
(859)-586-9900
Tousey House Tavern is your perfect lunch pick after a morning of whiskey tasting. With a quaint interior and charming outdoor space, it sets and delivers on a hospitable, welcome-all environment. The big, delicious portions of American and Southern favorites are amazing on their own, but with a few whiskeys in your system it's the perfect meal to follow. 
Chandler's on Market
212 Market St., Maysville, KY
(606)-564-6385
As the something-for-everyone American/steakhouse option, Chandler's on Market is Maysville's tasty sit down option. It's a great option for the first night of a weekend trip, as it finds that balance between casual and comfortable that's just what you need to get your trip started off on the right foot.
Purple Poulet
603 6th Avenue, Dayton, KY
(859)-916-5602
The whiskey selection at Purple Poulet is enough of a reason to pick this spot for a relaxed dinner, but the food here is elegant, refined, and tasty. Old favorites and new spins on them abound, but the chicken and waffles and bourbon fried catfish are special, comfort-food treats.
Neeley Family Distillery
4360 KY-1130, Sparta, KY
(859)-394-3258
An up-and-coming distillery with a multi-generational moonshining legacy, Neeley Family Distillery is a genuine, theme-park free distilling operation. Check them out while we eagerly await the debut of their first bourbon release. Once it's out we suspect things will get a lot more crowded.
Coppin's Restaurant at Hotel Covington
638 Madison Ave., Covington, KY
(859)-905-6600
The best place to wrap up any day in Northern Kentucky, Coppin's has a great mix of satisfying plates to end a long day of whiskey tasting, as well as plenty of light bites worth stopping for between distillery tours and other activities. Their bar is no slouch, either, with a solid number of rare bottles and a fine beer list.