The intersection of bourbon and the culinary arts continues to flourish, and people can't seem to get enough. Perhaps that's why this past August, the Jim Beam Distillery enhanced their visitor's experience with the addition of Fred's Smokehouse. This marks the 1st restaurant on the grounds of the distillery in Clermont, KY. Named after 7th generation master distiller and great-grandson of Jim Beam, Fred Noe III, the Smokehouse is inspired by the bold, rich flavor of some of Beam's best-known whiskies. The menu features items such as Devil's Cut Pulled Pork BBQ on a Brioche Bun, Aunt Mimi's mouthwatering bourbon baked beans and a signature homemade chocolate bourbon pie with Graeter's Jim Beam Bourbon ice cream. Menu prices range from $1.49 to $8.99.
Make sure to check it out soon, or you'll have to visit next year. Fred's Smokehouse is open from 11 a.m. until 5 p.m. in November, and will have limited hours December through February. For more information, visit www.AmericanStillhouse.com.
"What an honor," said Noe. "Not only does the distillery's first café bear my name, but Fred's Smokehouse truly embodies my family's heritage. It's a place where our friends can pull up a chair, enjoy some bourbon favorites and be a part of our family."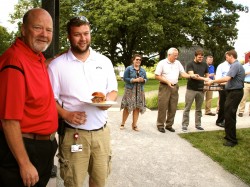 The Smokehouse embodies the same heritage of the historic Beam family smokehouse built by Jim Beam himself and still located in Bardstown, Ky., while offering a modern, bourbon-inspired twist to traditional Kentucky fare. The red-barn building, which was originally built on the distillery grounds in 2005, was used to house Jim Beam's antique fire truck until the distillery restored and reopened it as a counter-service café overlooking the rolling foothills of Kentucky and the historic Jim Beam Distillery.
About The Jim Beam American Stillhouse
The Jim Beam American Stillhouse has welcomed more than 100,000 guests since it opened in fall of 2012. A replica of a 1930s stillhouse, the Jim Beam American Stillhouse showcases the centuries-old Jim Beam Bourbon-making process from start to finish. Guided tours ($10) start with Beam's natural limestone water well and take guests through the mashing, distilling, barreling, storing and bottling lines. A total whiskey immersion engages the senses, while also offering guests a historical look at The First Family of Bourbon. Complimentary self-guided tours are also available.
The Jim Beam American Stillhouse also offers guests a one-of-a-kind retail experience with branded items featuring Knob Creek Bourbon, Red Stag, Devil's Cut, Basil Hayden's, Old Tub & Old Grand Dad, as well a couple exclusive offerings, including:
Jim Beam American Stillhouse 2013 Clermont Limited-Edition Bourbon
Hand-numbered and signed by Noe, only 7,500 bottles of this seven-year-old whiskey are available (retail price: $39.99)
 Fred's Smokehouse Decanters
Since the early 1950s, hundreds of Beam decanters have celebrated history, sports, politics and more. The limited-edition ceramic decanter commemorates the grand opening of Fred's Smokehouse and retails exclusively at the Jim Beam American Stillhouse for $149.99. The decanters were hand-crafted by Louisville Stoneware.